Maharaja gone! Air India rebrands itself under Tata Group; here is new colour, logo & design
According to Tata Sons Chairman Chandrashekaran, the emblem represents hope and optimism.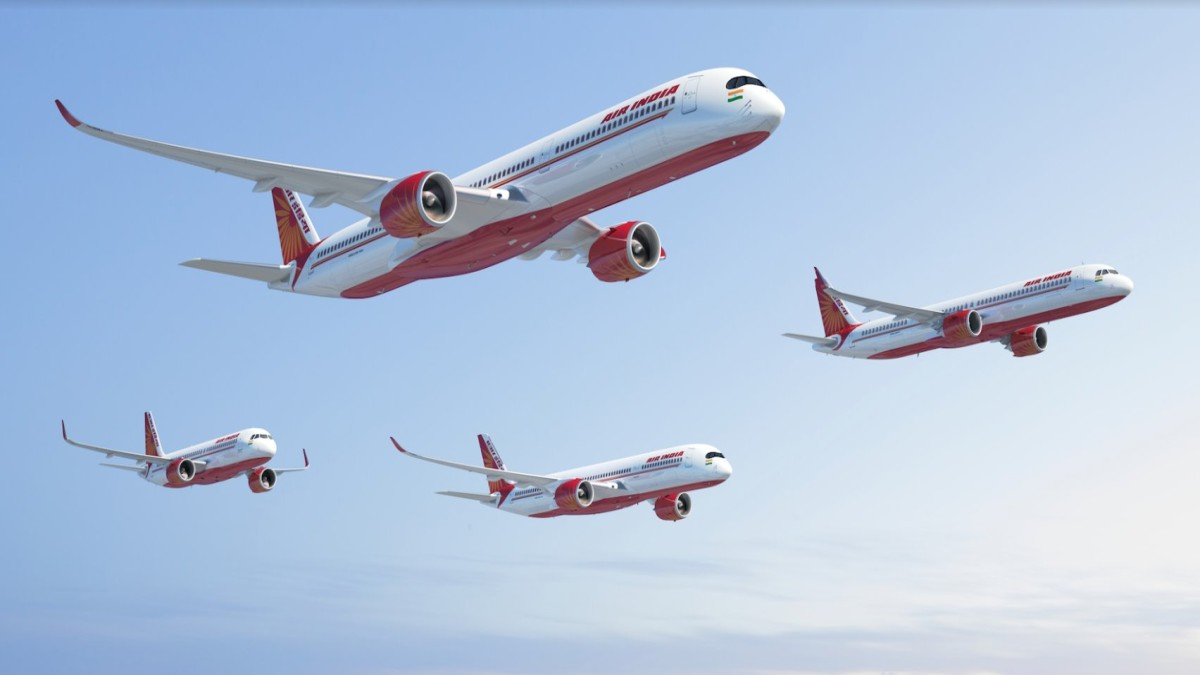 New Delhi: The Tata group's biggest airline, Air India, has introduced a fresh new corporate identity and a visually appealing aircraft livery. Air India, which wants to acquire 470 new aircraft in a multibillion-dollar agreement, revealed its new corporate logo and aircraft livery on Thursday.
The new brand identity will be known as 'The Vista.' The airline unveiled its new tail design in addition to its theme song. Instead of the red swan with orange spokes, the new logo for the airline has a pattern of golden, red, and purple.
Revealing the bold new look of Air India.

Our new livery and design features a palette of deep red, aubergine, gold highlights and a chakra-inspired pattern.

Travellers will begin to see the new logo and design starting December 2023.#FlyAI #NewAirIndia

*Aircraft shown are… pic.twitter.com/KHXbpp0sSJ

— Air India (@airindia) August 10, 2023
According to Tata Sons Chairman Chandrashekaran, the emblem represents hope and optimism.
As part of its plan to become a major player in the Indian and international air travel markets, Air India is now implementing all its information technology systems, N. Chandrasekaran said on Thursday.
Air India unveils new logo and new livery.#AirIndia pic.twitter.com/ZB2hxjVq5q

— Imadh (@MSimath) August 11, 2023
The Maharaja logo, the iconic symbol of Air India since its inception, has been given a refreshing new look while keeping its timeless appeal. This change represents Air India's growth and transformation as an airline that honours its past while flying into the future.
"Our transformative new brand reflects an ambition to make Air India a world-class airline serving guests from around the globe, and that represents a new India proudly on the global stage," Mr Campbell Wilson, CEO of Air India, said.
According to him, the new Air India is not just bold, confident, and dynamic, but also kind, with deep roots in the culture and history that have made Indian hospitality a model for the world.
There's a new window of possibilities rising in the sky.

Our new look reimagines the iconic Indian window, also part of our history, into a gold window frame, symbolising a "Window of Possibilities".

The identity will begin rolling out by December 2023.#FlyAI #NewAirIndia pic.twitter.com/ibxtxTEWIY

— Air India (@airindia) August 10, 2023
When Air India adds its first Airbus A350 to the fleet at the end of this year, passengers will be able to view the new logo for the first time.
New @airindia logo perfectly captures our country's continued illiteracy towards good design 👏🏼👏🏼 pic.twitter.com/coRvvg5sGA

— Jugal Mistry (@holy_photon) August 10, 2023