Vijay Shekhar Sharma to become Paytm's top shareholder, here is how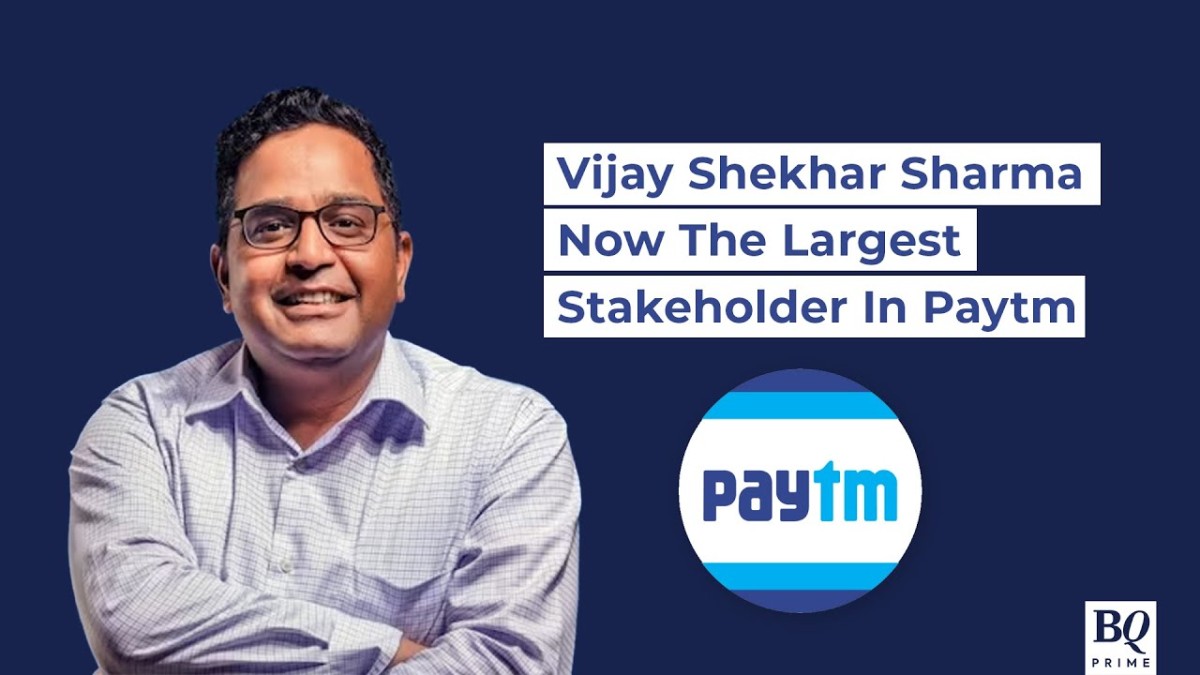 New Delhi: By agreeing to purchase 10.3 per cent of One97 Communications Limited from Antfin (Netherlands) Holdings BV for $628 million, Paytm CEO and founder Vijay Shekhar Sharma is now going to become the company's largest stakeholder. As a result of the transaction, One97 Communications, which does business as Paytm, will now be owned mostly by Indians rather than Chinese.
#CNBCTV18Market | Paytm surges 11% after after Vijay Shekhar Sharma enters into agmt with Antfin to acquire its 10.3% stake in the company pic.twitter.com/Yi3N8aud5F

— CNBC-TV18 (@CNBCTV18Live) August 7, 2023
Due to its decreased stake of 13.5%, Antfin is no longer Paytm's top shareholder. After the deal closes, Sharma's stake in the firm will climb to 19.42%.
At the previous close of Rs 796.6 per share, Sharma's acquisition of Antfin's interest in Paytm is worth $628 million. Sharma's foreign company, Resilient Asset Management, will be responsible for the purchase.
🚨 China's Ant Financial to transfer 10.3% stake in Paytm to founder Vijay Shekhar Sharma

Sharma's stake will increase to 19.4% after this deal, becoming the largest shareholder

Ant Financial will not be the largest direct shareholder, now with a 13.5% stake pic.twitter.com/wBQ6hKoIC3

— The Arc (@thearc_hq) August 7, 2023
Sharma, when asked about the transaction, proudly said that Paytm is a real advocate of made-in-India financial innovation. He also elaborated on how the business has helped expand access to formal financial services in India by changing mobile payments.
I am proud of Paytm's role as a true champion of made-in-India financial innovation and our achievements in revolutionizing mobile payments and contributing to formal financial services inclusion in the country. As we announce this transfer of ownership, I would like to express… https://t.co/poNwQIHs7Y

— Vijay Shekhar Sharma (@vijayshekhar) August 7, 2023
With this deal in place, neither the management nor the control of Paytm would change, since Sharma would remain in his role as Managing Director and CEO and the current board would remain in place.
"As we announce this transfer of ownership, I would like to express my sincere gratitude to Ant for their unwavering support and partnership over the past several years," Sharma said.
In order to comply with regulations, Antfin had to reduce its 29.6 per cent interest in Paytm to below 25 per cent before the business could be listed.
While Alibaba Group sold off all its 6.26 per cent direct ownership in the business in January and February, its affiliate Antfin retained its position as the company's largest stakeholder, holding onto about 25 per cent.
The new structure, according to Shriram Subramanian, Managing Director of InGovern, also keeps the business below the SAST (Substantial Acquisition of Shares and Takeovers) threshold of 25%.
That's E&Y replacing PwC as auditor of PPSL. https://t.co/g8BIhh6rrT

— Vijay Shekhar Sharma (@vijayshekhar) August 7, 2023