BTS' Jungkook grooves to 'Naatu Naatu', surprised Indian fans, 'RRR' makers react (WATCH)
He vibed to the song by shaking his head close to the steps from the songs and even lip-synced a few lyrics.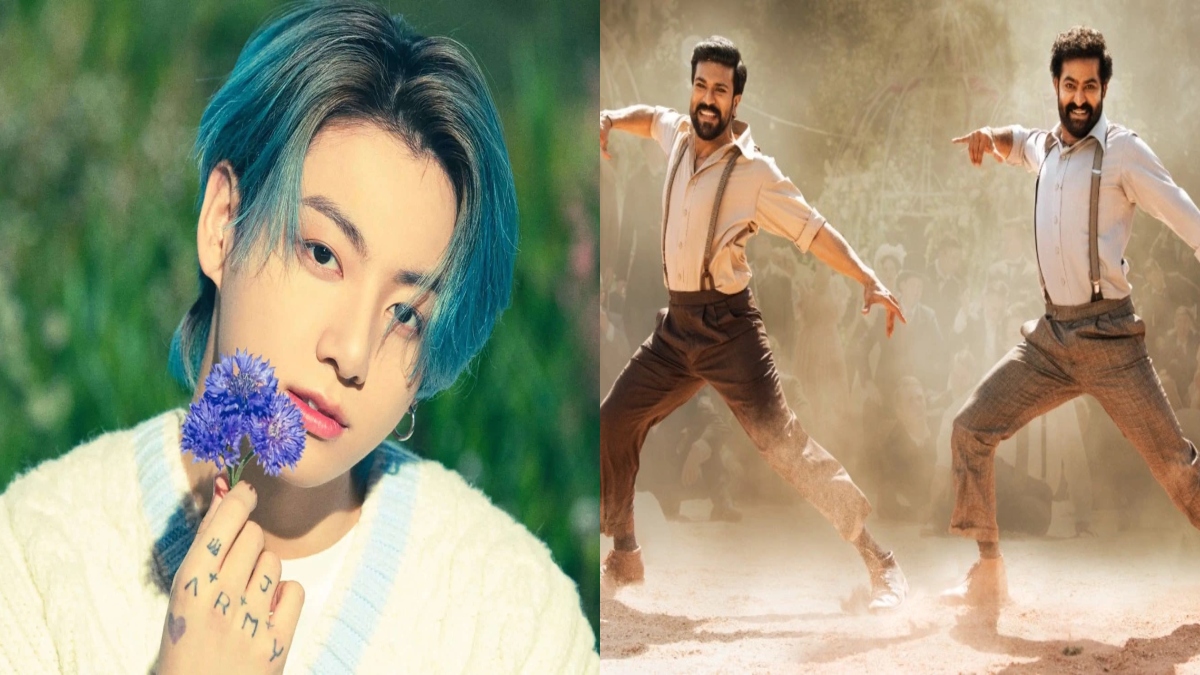 New Delhi: BTS' Jungkoook took Indian fans by surprise as he was seen grooving to RRR's global hit song 'Naatu Naatu' in his latest WeVerse live session. He vibed to the song by shaking his head close to the steps from the songs and even lip-synced a few lyrics. The video soon went viral and the ARMY went gaga over it.
'Naatu Naatu' won the Golden Globe award and has been nominated for the Oscars 2023. The song has been a global hit and the South Korean singer grooving to it is proof of the same.
JUNGKOOK….❤️‍?❤️‍?❤️‍?

It's amazing to know that you loved #NaatuNaatu so much.??

We are sending a ton of love to you, the #BTS team, and the whole of South Korea.?? #RRRMovie pic.twitter.com/ktAEfc56xB

— RRR Movie (@RRRMovie) March 3, 2023
The video went viral on the internet and in the clip, Jungkook can be seen in a dark room with colourful lights as he enjoys the Telugu song. RRR's official Twitter handle also shared the video and wrote that it was 'amazing' to know that Jungkook loved the song.
Indian fans called it 'wholesome' and shared emotional reactions to the video.
jimin watching ?? jungkook singing
3 idiots to naatu naatu

our south asian representative kings pic.twitter.com/pkfX1KIWTe

— 박지민(jimin park)? (@miniekkuu) March 3, 2023
jungkook vibing along to NAATU NAATU is the best thing to happen in 2023pic.twitter.com/UdgEsFfk9i

— kootonin ᥫ᭡ ⁷ (@cadburyggukie) March 3, 2023
im saying yall, im never going to let go this video of jungkook vibing to naatu naatu ? pic.twitter.com/kST5KTAul3

— ꕥ | «FACE»?«on the street» (@filterrchim) March 3, 2023
DAMN this MaN ?? I'm getting obsessed ??

Jungkookie vibing to RRRs viral hit Naatu Naatu ?? ek hi toh Dil hai sahab kitne bar jitoge ??

WE LOVE YOU JUNGKOOK ??
JUNGKOOK LIVE
RESPECT JUNGKOOK
#JUNGKOOK #Jungkooklive #NaatuNaatu #BTS #BTSJUNGKOOK pic.twitter.com/ZSgc81ZUrQ

— Land Of BL GL (@land_of_bl_gl) March 4, 2023
Look at Jungkook Vibing cutely on Naatu Naatu, singing some parts in between… He's such a adorable human 🙁pic.twitter.com/zdADTD82OK

— ʙᴛssᴏᴍᴍᴀ | ?? ? | slow (@btssomma) March 4, 2023
And what if Jungkook has tried the NAATU NAATU choreo and danced to it off screen??? ??pic.twitter.com/D1qZGK3vdp

— Manya⁷⟬⟭ON THE STREET?? (@Manya_jdope) March 4, 2023
Jungkook also slept during the live session and WeVerse automatically switched off the live stream after some time. The Korean singer was in news for deleting his Instagram account and talking about the same he said that he did it because he does not use it much and would do WeVerse Live instead.
jungkook falling asleep during his live and sleeping until weverse turns it off ~ full version [14min] pic.twitter.com/brPaQpWCYA

— jk vids ? (slow) (@jjklve_) March 3, 2023
'Naatu Naatu' is composed by MM Keeravani and penned by Chandrabose. 'RRR' and the song have been one of the most appreciated Indian cinematic pieces globally.