Canadian singer Shubh reacts to Cancelled India Tour says,"India is my country too…"
Shubhneet Singh, a Punjabi-Canadian rapper has found himself in a controversy after a social media post that has caused a strong reaction.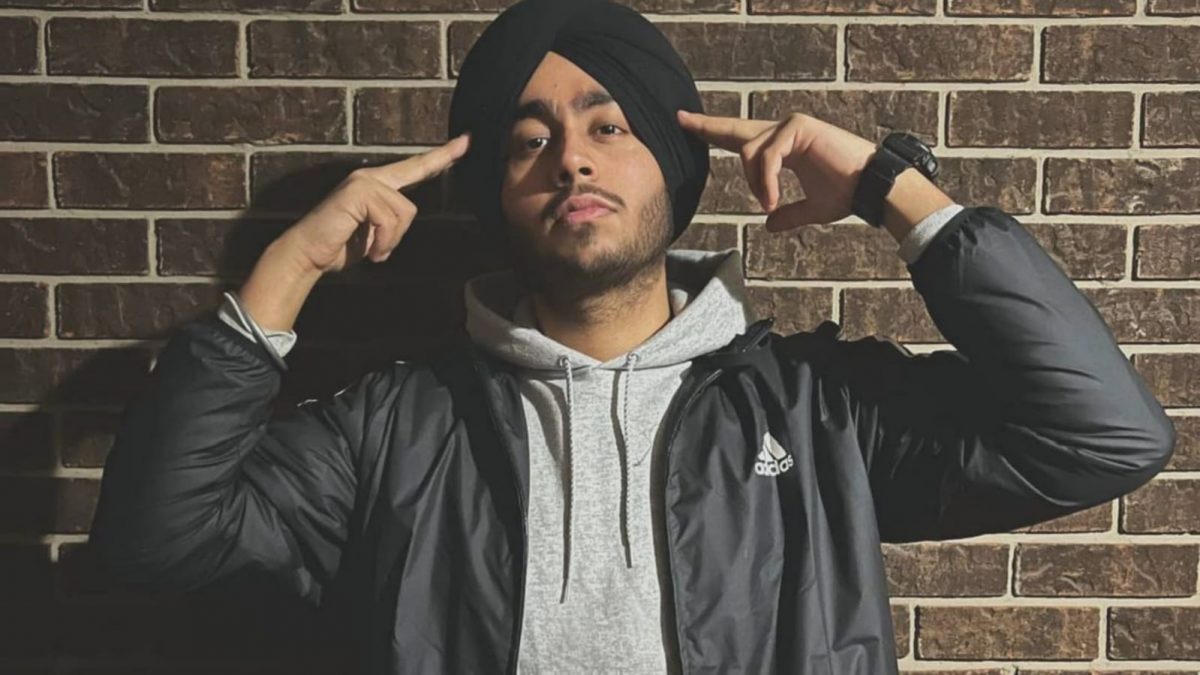 New Delhi: Shubhneet Singh, a Punjabi-Canadian rapper known as Shubh, has found himself in a controversy after a social media post that has caused a strong reaction. It's important to mention that this incident happened during a time when there is tension between India and Canada on a diplomatic level. In response to the situation, Shubh has expressed his thoughts on social media.
Shubh's reaction after India tour Cancelled
Canadian Punjabi singer Shubh, whose shows in India were canceled, took to Instagram to express his feelings. He stated that India is his country as he was born there, and it holds significance for him as the land of his Gurus and ancestors. However, Shubh has faced criticism and backlash, with allegations of him being a supporter of Khalistani elements. As a result, his concert in Mumbai was canceled.
Shubh shared an Instagram post where he expressed his disappointment about recent events. He mentioned that as a young rapper-singer from Punjab, India, it was his lifelong dream to showcase his music on an international stage. However, the recent incidents have caused his hard work and progress to come crashing down. He wanted to express his feelings of sadness and disappointment, stating that the cancellation of his tour in India has left him extremely disheartened.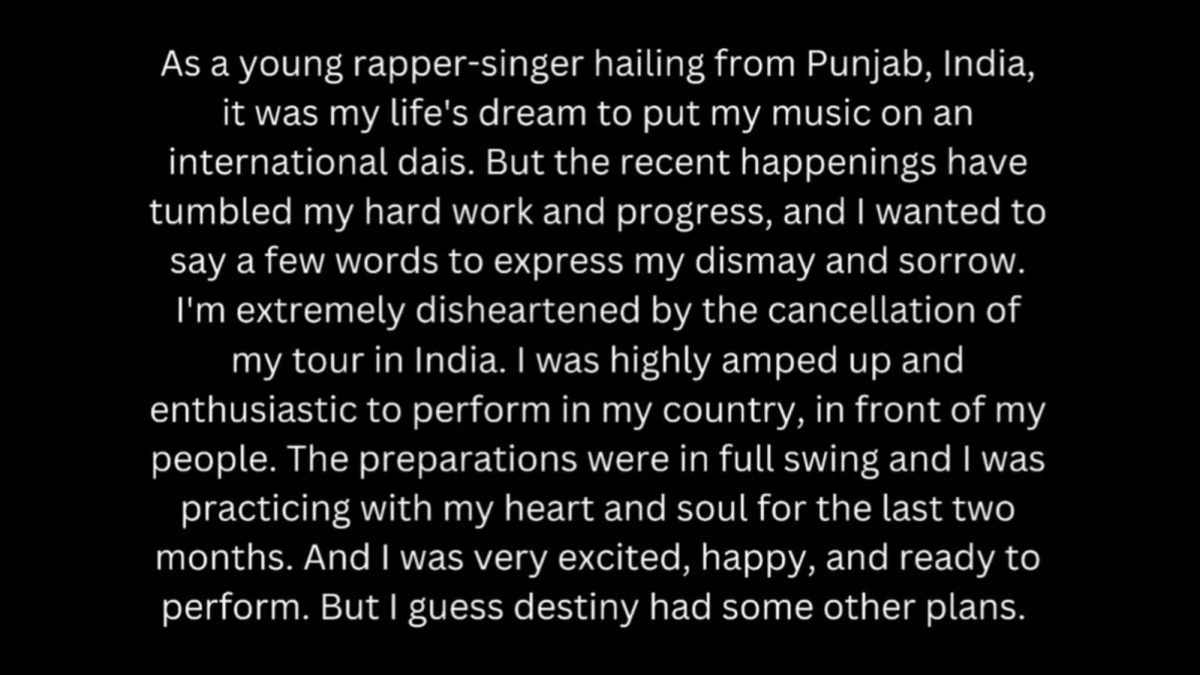 Shubh expressed deep disappointment about his tour in India being canceled. He had been eagerly preparing for this moment, working hard on rehearsals for the past two months. He was excited to perform in front of his fellow countrymen.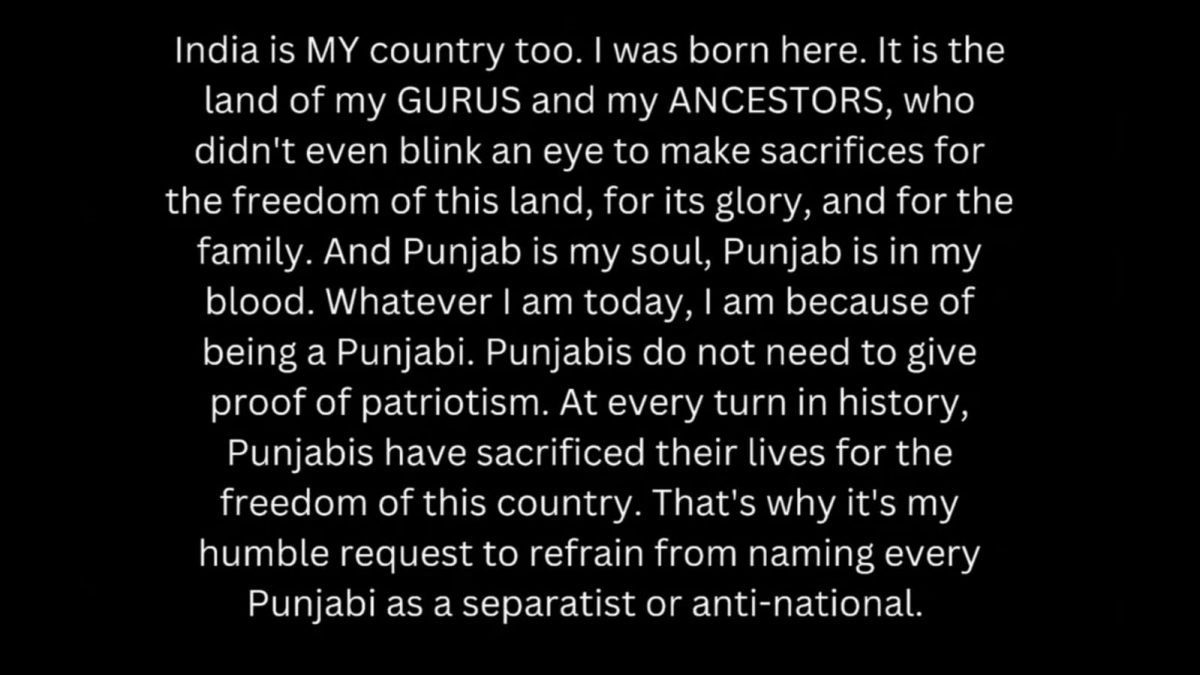 Shubh highlighted his strong connection to India, where he was born, and where his roots trace back to the land of his gurus and ancestors. He talked about the sacrifices made by Punjabis in the past for the freedom of the nation. He urged people not to label every Punjabi as a separatist or anti-nationalist, emphasizing that Punjabis have a long history of patriotic contributions.
Regarding the controversial post, Shubh clarified that he shared it to express prayers for Punjab amidst reports of electricity and internet disruptions in the state. He insisted that there was no bad intention behind the post and he didn't mean to hurt anyone.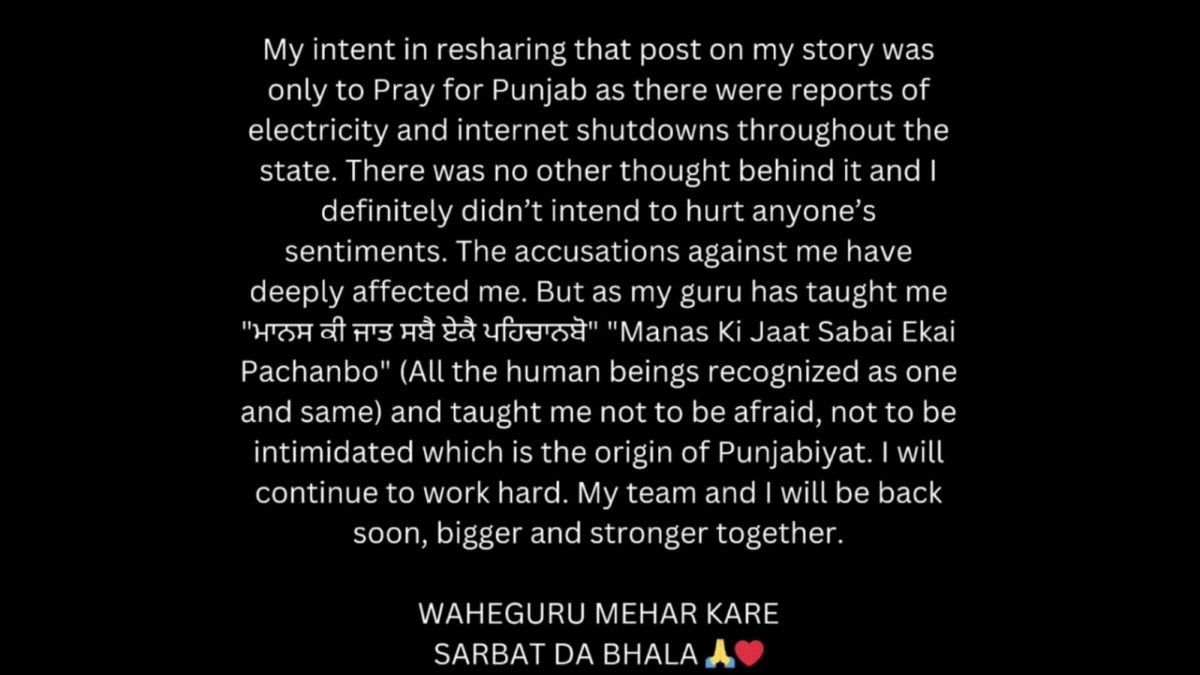 Despite the accusations and backlash, Shubh found inspiration from his teachings, stressing the unity of all people and the importance of not giving in to fear or intimidation. He promised to keep working hard and assured his followers that he and his team would come back even stronger.
In short, rapper Shubhneet Singh, known as Shubh, faced controversy due to a social media post during a sensitive diplomatic time. Despite criticism, he expressed his deep connection to India and Punjab, explained the intention behind the post, and remained determined to continue his art and uphold his values.
About Shubh
Shubh, whose full name is Shubhneet Singh, gained popularity in 2021 as a Canadian singer. He became well-known after his collaboration with Irman Thiara on the single 'Don't Look'. His songs 'We Rollin' and 'Offshore' further solidified his presence in the desi music scene.
Originally from Punjab, Shubh moved to Canada, where he started his musical journey. In addition to singing, he is also skilled in rapping and music composition. Shubhneet is the younger brother of Ravneet Singh, a renowned figure in the music industry who is also a singer and actor.