Kajol & Madhuri had too much fun, made video at Manish Mahlotra's Diwali party: Watch here
Here, you can see how Kajol and Madhuri Dixit got along during Manish Malhotra's party: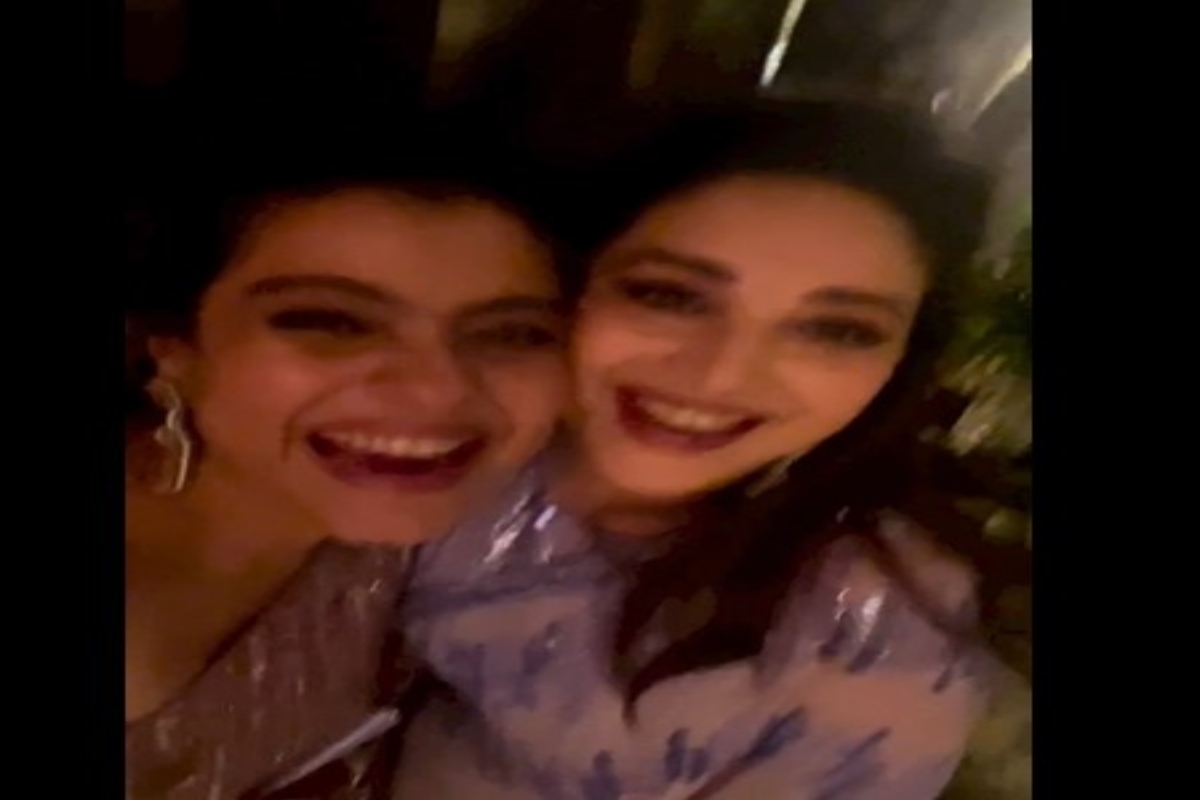 New Delhi: We are all aware of the significance of music in everyone's lives. Any moment, whether happy, sorrowful, or festive, is enhanced by music. The current festive season is similar, and Diwali is quickly approaching. You can't have much fun if there isn't some music or dancing. Kajol's most recent Instagram post. It would be accurate to say that nothing was lost at Manish Malhotra's Diwali celebration. The acclaimed fashion designer's celebration was made more exciting, glamorous, and starry by the who's who of Bollywood, including Aishwarya Rai Bachchan, Katrina Kaif, Madhuri Dixit, Kajol, Shilpa Shetty, Karisma Kapoor, and Kiara Advani.
We had a lot of fun watching these two 90s queens have a good time at Manish Malhotra's Diwali party. Kajol can be seen dancing alongside Madhuri Dixit, the "original Dancing Queen," to an Abba song. The couple appear to be having a good time as they sing and dance around the party. "With the original Dancing Queen! Madhuri Dixit, thank you for making me have so much fun on the floor," Kajol captioned the video she shared. In addition to this, Kajol sent a touching message to the show's host, Manish Malhotra. It said: "Thank you, Manish Malhotra, for making that possible. wishing everyone a happy pre-Diwali season! "
View this post on Instagram

Madhuri Dixit responded to Kajol's Instagram post after she had posted the video by labelling her "stupendous." "The joy was all mine," she wrote. You are amazing. " Guys, happy Diwali!
Even the Pataudi family's daughter, Soha Alia Khan, left a comment on her Facebook praising the amusing clip starring Madhuri Dixit and Kajol. She wrote, "Love," and continued, "Only you have the power to create that crazy moment." "And happy pre-Diwali."
Here, you can see how Kajol and Madhuri Dixit got along during Manish Malhotra's party:
Manish Malhotra celebrated Diwali in style in his Mumbai home in 2022, just like he does every year. It was a night to remember because all the hotties and famous people from Bollywood were sighted at the party. Along with her husband, actor Abhishek Bachchan, Aishwarya Rai Bachchan arrived for the event. While Abhishek wore a red kurta combo, she looked stunning in a baby pink traditional attire. Vicky Kaushal and Katrina Kaif made a stunning entrance in pastel green and black outfits. Gold was the preferred colour for Sara Ali Khan and Kiara Advani.