OTT Releases This Week: An Action Hero, Shotgun Wedding and More!
While Pathaan breaks records in the theatres, there are some very entertaining releases for you to consume in the comfort of your home on OTT. Here's a list!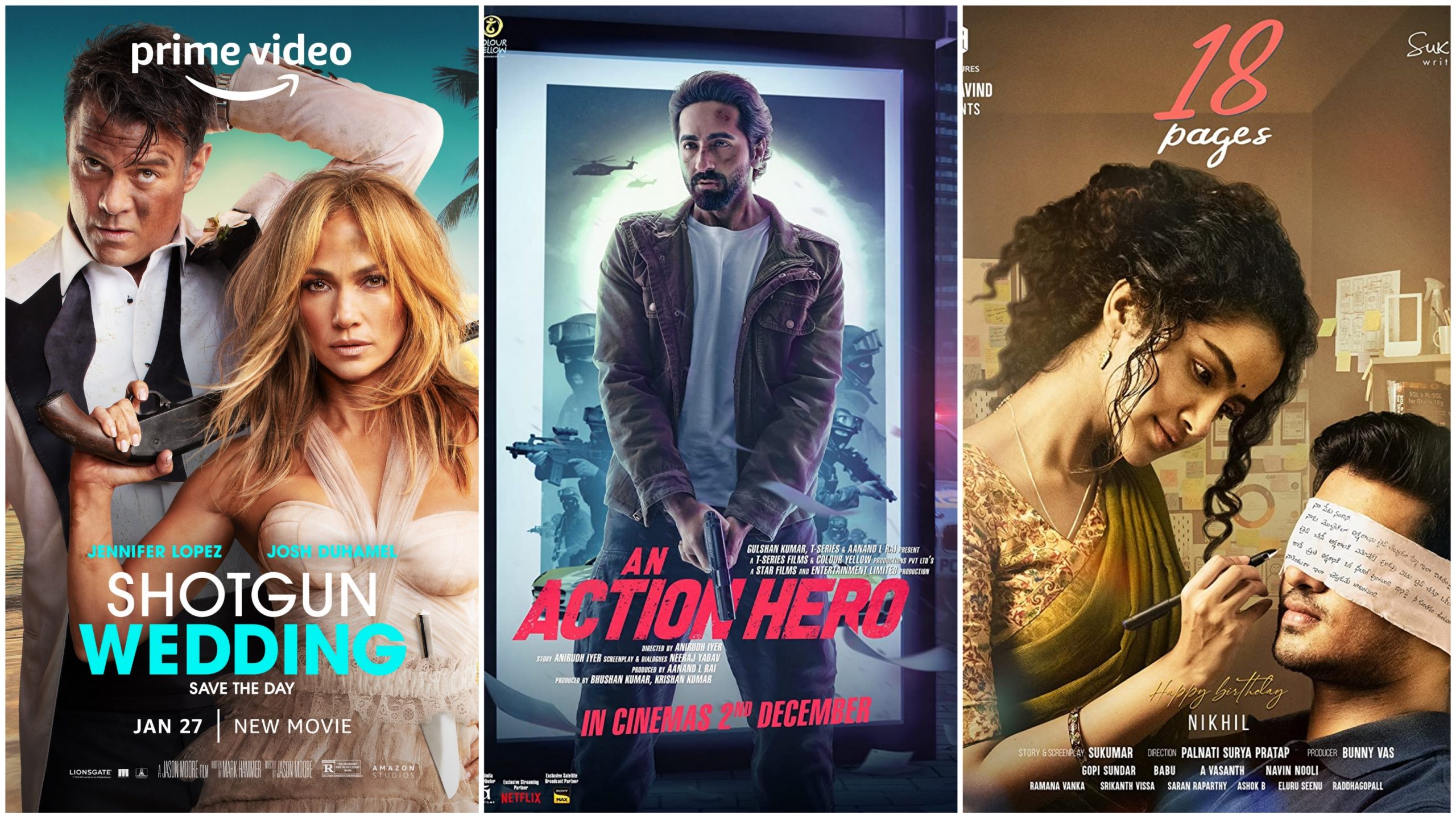 New Delhi: As we reach the end of January 2023 and the New year has started settling in, good OTT content in all genres keeps us going! While Pathaan breaks records in the theatres, there is so much on OTT to keep you hooked to your screens at home. Making the last weekend of the month interesting, here are some intriguing watches for all you film-buffs!
An Action Hero
Featuring the brilliant Ayushmann Khurana and extremely talented Pataal Lok actor, Jaideep Ahlawat, An Action Hero had its theatrical release on 8th December. Despite its inability to gather a lot of box office success, the film got considerable acclaim from critics and cinemagoers around the country. Now making its debut on the OTT, the film was released on Netflix on 27th January 2023. An Action Hero looks promising as a result of its accomplished cast members and is Now Streaming on Netflix!
18 Pages
Directed by Palnati Surya Pratap this Telugu-language film is a romantic comedy starring Nikhil Siddharth and Anupama Parameswaran. 18 Pages is the story of a middle-class boy named Siddhu who during a rough period in his life discovers a diary that belongs to Nandini. He reads this book as he moves ahead on road and develops feelings for Nandini. An old-school romance perfect for a light watch over the weekend, 18 Pages is Now Streaming on Netflix.
Ayali
Streaming on Zee5 Ayali has glowing reviews about its ability to make you retrospect and question patriarchy. Making for an insightful watch, Ayali is directed by Muthukumar and features Abi Nakshatra, Anumol and Aruvi Madhan. Based in Veerapannai in Pudukottai, the story revolves around village girls that aren't allowed to go to school once they hit puberty and in the midst of these superstitious beliefs is Tamil Selvi who aspires to be a doctor. Holding a mirror to society Muthukumar's Ayali is worth a watch!
Daniel Spellbound Season 2
Now Streaming on Netflix, the story of Daniel Spellbound moves with a young tracker in New York City who makes a fortune by putting elusive magical things for sale to sorcerers. But the twist is the uncertainty and danger in the work of magic. If you are looking for a good animated show to watch with your kids, this might be it. Providing entertainment to all age groups, Daniel Spellbound also has a first season you can binge through before getting to this new season.
Shotgun Wedding
JLo returns with another entertaining film for you to watch for a fun and relaxing weekend. Shotgun Wedding is the story of Darcy and Tom who have a hostage situation at their dreamy destination wedding and must do all in their power to keep their loved ones safe. Starring the gorgeous Jennifer Lopez, Josh Duhamel and Jennifer Coolidge, the film is Now Streaming on Lionsgate Play which will be available on Amazon Prime Video with an add-on subscription.
Dear Ishq
Featuring Sehban Azim, Niyati Fatnani, Kishwer Merchant and more, Dear Ishq brings back the love story of opposite poles attracting. With new episodes releasing every day from Monday to Saturday, the show portrays the unintentional falling in love of two polar opposite personalities and might be a good watch for you if you enjoy light entertainment. Dear Ishq is now streaming on Disney+ Hotstar.