#RamSetu trends on 'TOP': Twitterati says "Omg, it's gonna be a huge epic movie"
Soon after the new poster of Akshay Kumar starrer Ram Setu was released along with the announcement date, now hash tag #RamSetu is trending on twitter.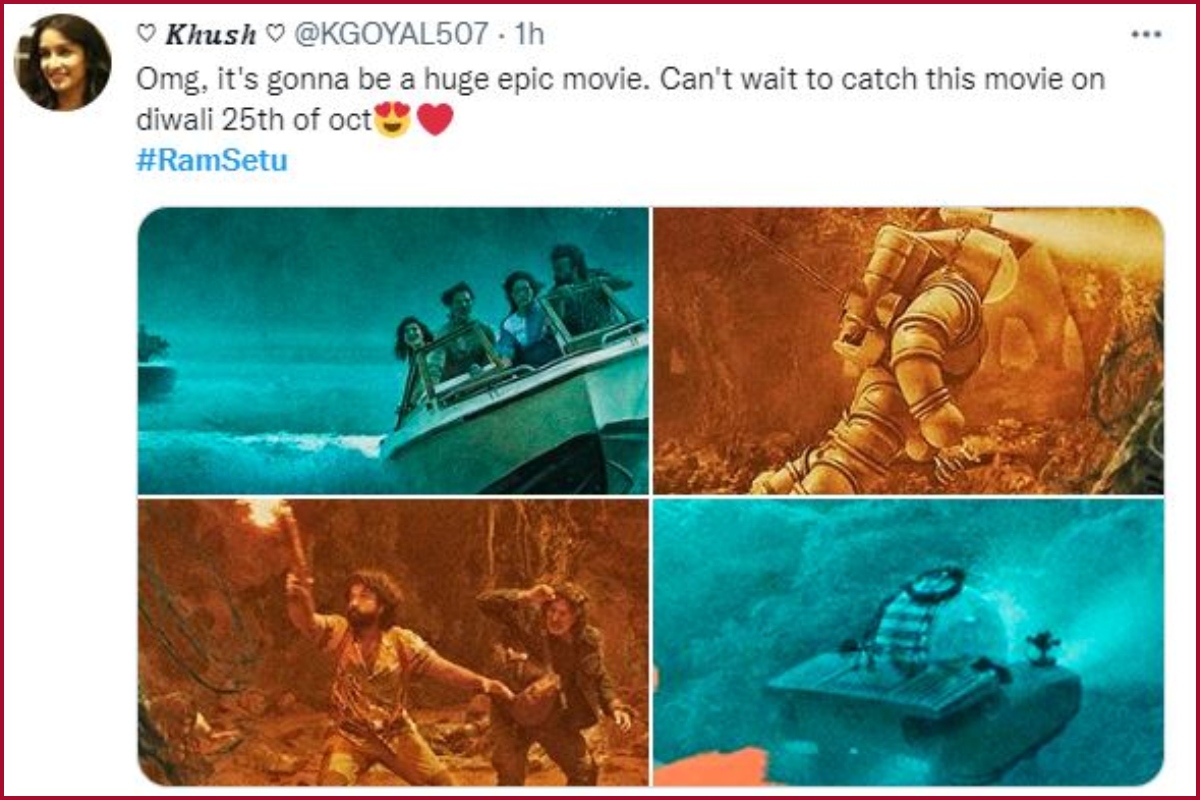 New Delhi: Hash tag #RamSetu started trending on social media soon after the release of  the news poster revealing the release date. The film is slated to be released on the occasion of Diwali-next month.
Akshay Kumar starrer Ram Setu will be released on October 25th in the theatres followed by its premier on OTT Platform.
Ram Setu, is directed by Abhishek Sharma and stars Jacqueline Fernandez, Nushrratt Bharuccha, and Satya Dev.
Here is how social media users are reacting:
Omg, it's gonna be a huge epic movie. Can't wait to catch this movie on diwali 25th of oct😍❤️#RamSetu pic.twitter.com/pyVf29tCD6

— ♡ 𝐾ℎ𝑢𝑠ℎ ♡ (@KGOYAL507) September 26, 2022
Can't wait to see more of this epic movie #RamSetu 🥺❤️ (Stay tuned for 12PM) pic.twitter.com/XZ5Me50jVF

— ♡ 𝐾ℎ𝑢𝑠ℎ ♡ (@KGOYAL507) September 26, 2022
It's now confirmed that #RamSetu is releasing on post Diwali, means if the trailer clicks opening would be 🔥🔥 pic.twitter.com/R6LlUlhbo8

— Arun (@ikhiladi_a) September 26, 2022
Did you notice it ?#RamSetu pic.twitter.com/PVd65HT1ky

— M A S A L U 🗡️ (@YourMasalu) September 26, 2022
This is Akshay Kumar 's and India 's Best Project till date 🔥

Look at description in poster 🔥

Jai Shri Ram 🚩#RamSetu pic.twitter.com/HmsWErXoPM

— M A S A L U 🗡️ (@YourMasalu) September 26, 2022
Underwater explorations,Cave exploration,Water Voyage,Running in the forest which makes it fall in the category of Dwayne Johnson's jungle adventures,something which hasn't been attempted by Bollywood from long ago.#RamSetu pic.twitter.com/6sJR2UeVnk

— 𝐓𝐚𝐫𝐢𝐧𝐢🎃 (@ARMYOFAKSHAY2) September 26, 2022
#Ramsetu poster detailing 💥 pic.twitter.com/0NYqakmwk5

— ErB (@ErBachchan1) September 26, 2022
#RamSetu is trending on no.5 Indiawide. Let's maintain it within top 5 until promo arrives at 12PM. pic.twitter.com/FwasRxuCuf

— Akshay Kumar 24×7 (@Akkistaan) September 26, 2022
WOW!! The detailing on the poster looks superb. Just can't wait for the teaser now. #RamSetu • #AkshayKumar 🚩 pic.twitter.com/iscVTMNLYx

— ROMEO👑 (@AkshaysStorm) September 26, 2022
#RamSetu 🔥🔥🔥
Action Adventure is mine fab genres 😁
This pics excite me more 💗

These pics made my Day ❣️ pic.twitter.com/q77CyADyuT

— Rowdy Ydv (@RowdyRathore188) September 26, 2022