Sidharth-Kiara Wedding: See what netizens are sharing while star couple gets ready for wedlock
Another user has posted screenshots in which the notifications are shown on the official Instagram handles of both Sidharth and Kiara, captioning, "So that i can see the pictures as soon as they post."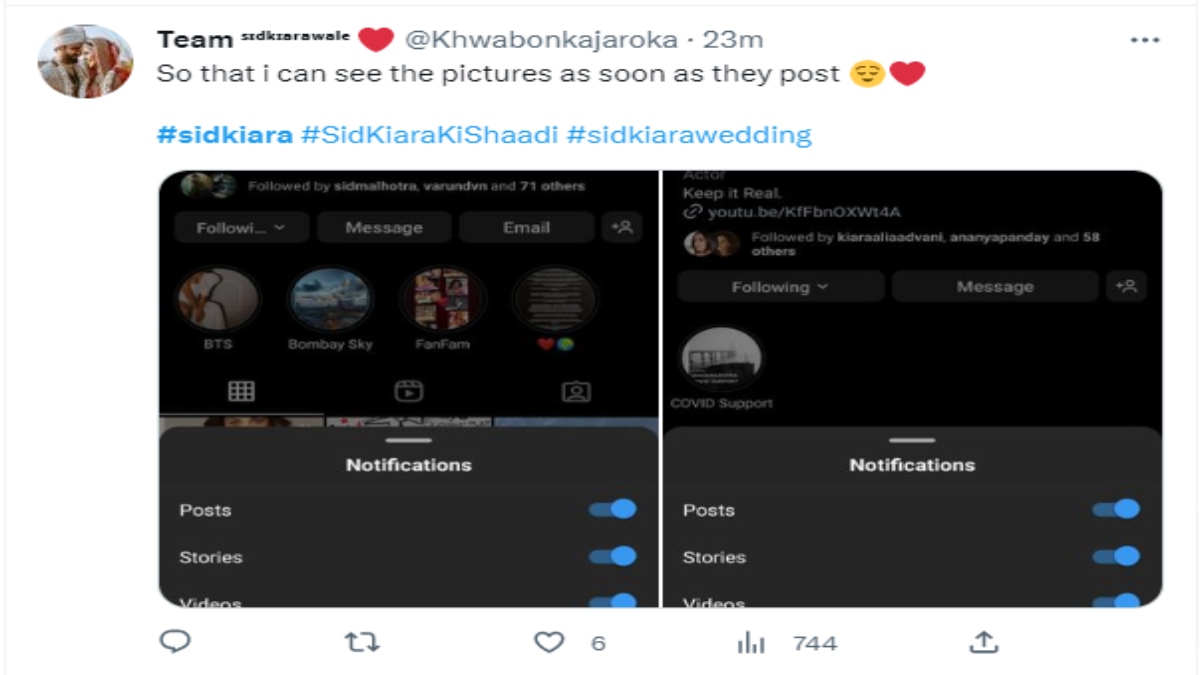 New Delhi: The D-day of the celebrity couple, Sidharth Malhotra and Kiara Advani has finally arrived! Today, on 7th February 2023 the duo is all set to tie the knot. While netizens and fans were eagerly waiting for the wedding date and went on a meme fest around the possible date, right now, it seems like the fans and supporters just can not wait to witness them as official husband and wife.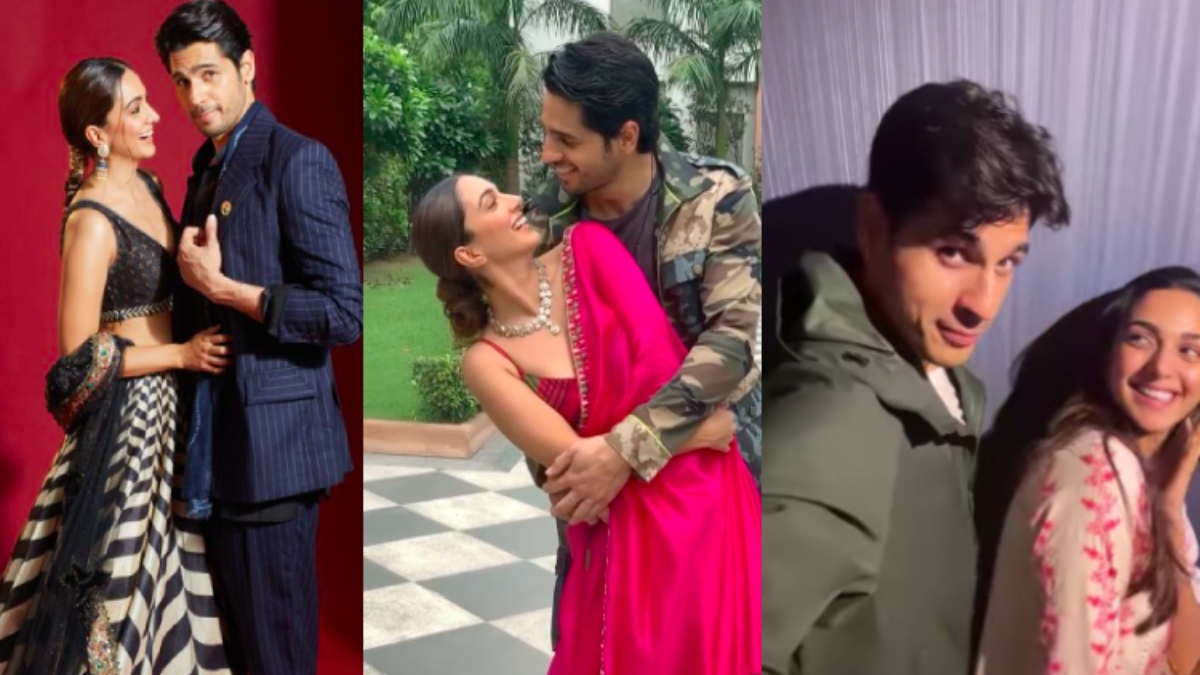 Taking it to social media platforms supporters shower love and wish on the future bride-to-be and groom-to-be, ahead of the wedding. Making the hashtags trend on Twitter, such as #kiarasidwedding, #sidharthkiarawedding, #sidkiara, #sidharthmalhotrakiaraadvaniwedding, etc, Twitterati shared "can't-wait-anymore" tweets for their favorite celebrities.
Take a look at them:
One of the users shared a cute gif saying, "waiting for the pictures be like".
Waiting for pictures be like #SidKiara #sidkiarawedding pic.twitter.com/yURmKoFpTe

— 🦋 (@Duskygl) February 7, 2023
Another user has posted screenshots in which the notifications are shown on the official Instagram handles of both Sidharth and Kiara, captioning, "So that i can see the pictures as soon as they post."
So that i can see the pictures as soon as they post 😌❤#sidkiara #SidKiaraKiShaadi #sidkiarawedding pic.twitter.com/3IUwgbFIEz

— Team ˢᶦᵈᵏᶦᵃʳᵃʷᵃˡᵉ ❤ (@Khwabonkajaroka) February 7, 2023
Finally, the day came when #SidharthMalhotra and #KiaraAdvani will tie the knot. We wish them a long and happy married life. @advani_kiara #SidKiaraWedding 💖 #sidkishaadi #sidkiara #SidKiaraKiShaadi @SidMalhotra #KiaraSidharthwedding #SidKiara #SidharthKiaraWedding

— Amit Raj roy (@alone_amit007) February 7, 2023
One of the fans has shared the video from outside the Suryagarh Palace, Jaisalmer and captioned it,"Cryinggg sobbing throwing up"
Cryinggg sobbing throwing up 😭😭pic.twitter.com/ryPtHf4d1D

— ˢ ᶦ ᵈ ᵏ ᶦ ᵃ ʳ ᵃ ʷ ᵃ ˡ ᵉ (@timepasshai) February 7, 2023
It's hard to believe that they are tying the knot today! 😭💖 #KiaraAdvani #SidharthMalhotra #SidKiara #SidKiaraKiShaadi.pic.twitter.com/gjhtj6Y9Jx

— Kiara'S Fan💝 (@aashuaaru1512) February 7, 2023
Intezar ki bhi ek hadh hoti hai mar na jayu main intezer karte karte… Picture upload koro sidkiara jaldi… 😢 #SidharthMalhotra #SidKiara

— Team LADKEWALE❤❤ (@Dmondal73949531) February 7, 2023
you cannot deny the fact that THE HORSE IS MORE LUCKY THAN US 😭🤌🏻#Sidkiara #SidKiaraWedding #KiaraAdvani #SidharthMalhotra https://t.co/TZnL2Gfrvj

— ᴷ ᶦ ᵃ ʳ ᵃ ᵂ ᵃ ˡ ᵉ (@kafiranasahai) February 7, 2023