Vijay Varma reveals being nervous filming romantic scene with Kareena Kapoor
Recently, Vijay Varma expressed his admiration for his co-star Kareena and shared his nervousness while shooting a romantic scene with her in the film.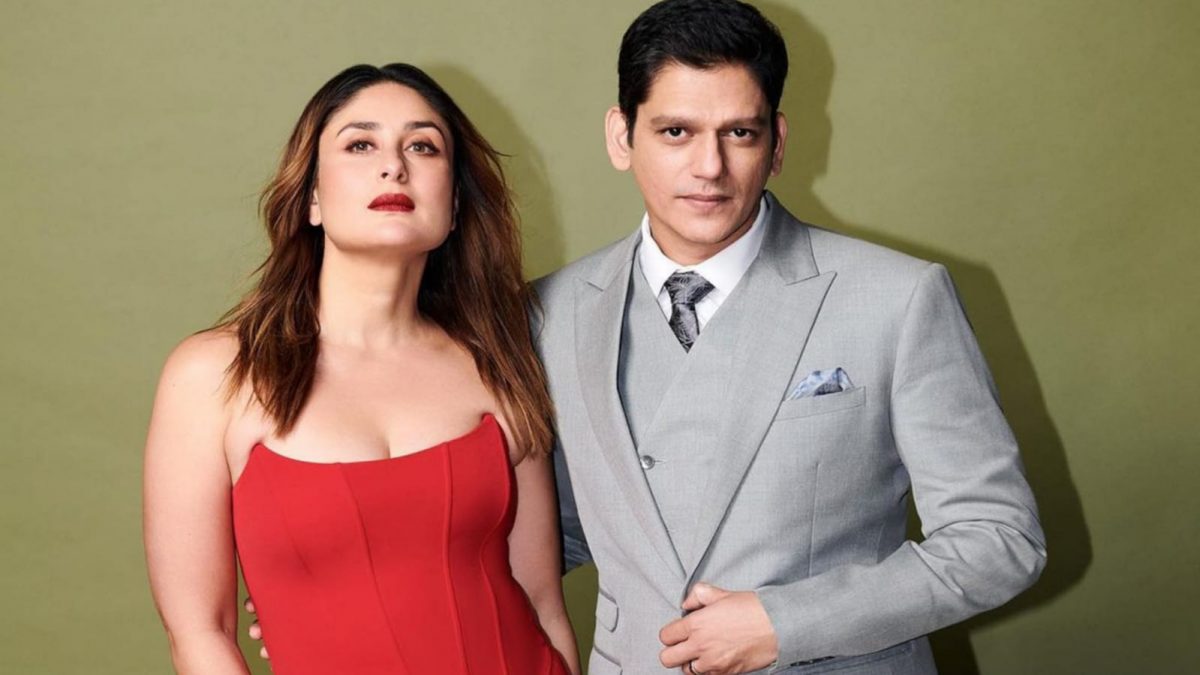 New Delhi: Kareena Kapoor Khan pleasantly surprised everyone at the trailer launch of "Jaane Jaan" when she shared an anecdote about her husband, Saif Ali Khan, encouraging her to elevate her performance while working alongside Vijay Varma and Jaideep Ahlawat. The Bollywood star expressed admiration for her male co-stars, playfully teasing them for their FTII background and their improvisational skills. It is evident that the admiration is mutual, as Vijay, in a recent interview, couldn't help but heap praise on Kareena, describing her as a secure and confident actor.
Vijay Varma is excited about his upcoming film "Jaane Jaan," directed by Sujoy Ghosh, where he stars alongside Kareena Kapoor Khan and Jaideep Ahlawat. The mystery-thriller also marks Kareena's debut in the world of OTT. Recently, Vijay Varma expressed his admiration for his co-star Kareena and shared his nervousness while shooting a romantic scene with her in the film. Excitement is building for this highly-anticipated project.
View this post on Instagram
Vijay Varma on doing romantic scenes with Kareena Kapoor
During a recent interview on Desi Vibes With Shehnaaz Gill, Vijay Varma shared his experience of shooting a romantic scene with Kareena Kapoor Khan in a film. He expressed his nervousness, recalling a particular scene where Kareena looked at him in a captivating way while singing. He humorously remarked, "As soon as that scene came, I broke into a sweat. It's something you just can't handle!"
During the chat show Shehnaaz complimented the actress, describing her as "hot." Vijay Varma joined the conversation, mentioning that the actress was not only attractive but also incredibly charismatic. He further commented, saying, "When she performs, she exudes a tremendous beauty. She possesses that unique grace and charm."
In a playful manner, Vijay admitted to sharing an "inside joke" with his FTII classmate Jaideep Ahlawat. They humorously refer to themselves as "Bebo ke babies," adding a lighthearted touch to their camaraderie.
Vijay Varma Reacts Kareena's Statement
During an interview with Film Companion, Vijay Varma was asked about Kareena's statement where she mentioned that Saif Ali Khan advised her to give her best while working with actors like Vijay and Jaideep. Initially, Vijay responded in a light-hearted manner, jokingly saying that Kareena might not have known who they were if Saif wasn't around. However, he quickly clarified that he was just kidding and that he had immense respect for both Kareena and Saif. He expressed his admiration for them, calling them both brilliant and beautiful people.
About Jaane Jaan
"Jaane Jaan" is a thrilling murder mystery featuring Kareena Kapoor as a mother and her daughter, who become suspects in a murder investigation led by Vijay Varma's character. As the case unfolds, it becomes clear that their neighbor, portrayed by Jaideep Ahlawat, harbors some disturbing secrets of his own. The film is written and directed by Sujoy Ghosh and produced by Shobha Kapoor, Ekta Kapoor, Akshai Puri, and Jay Shewakramani.