Home » Entertainment »
WATCH: Salman interrupts a fan speaking against SRK in The Kapil Sharma Show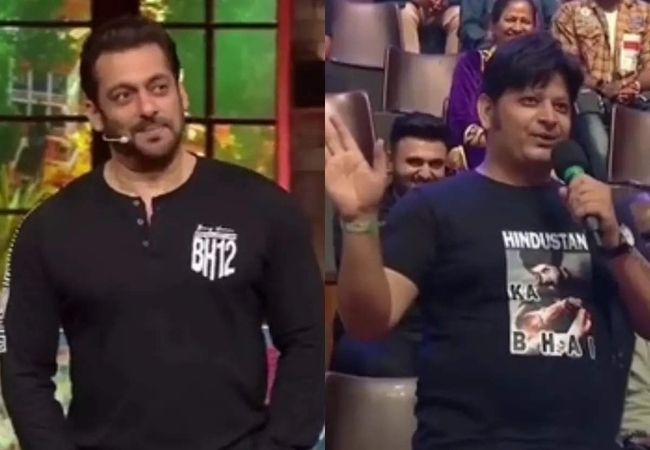 Salman Khan, the bhaijaan of Bollywood will be appearing as a special guest on The Kapil Sharma Show. The actor, who is also the producer of the show, was seen calmly interacting with the fans present on the show. Amongst several others, one of the fans who considered himself to be the diehard fan of the actor was asked to introduce himself on the national platform.
The fan introduced himself as a small-time artist to whom Salman Khan interrupted saying, no artist or art is big or small. Following this, the actor went on to express his thoughts by referring to one of Shahrukh Khan's dialogues. Salman asked the fan, "Woh Shah Rukh Khan Saab ka dialogue kya tha (What was that dialogue by Shah Rukh Khan sir)?" However, the fan replied, "Apun sirf bhai ko jaanta hai sir. Hindustan ka ek hi bhai hai (We just know one 'bhai' and he is India's only 'bhai' – Salman Khan)."
To this Kapil Sharma jokingly said, "Voh bhai nahi bhabhi hai (Is he not your brother but sister-in-law)?"
Salman Khan very calmly replied to his fan, "Lekin vo apna bhai hai (But he is my brother)." He further asked his fan, "Tumhare bhai ka bhai kya hua? (What will your brother's brother be called)?" to which the fan replied, "Apna bhi bhai (Even our brother)." Salman Khan concluding the interaction with his fan said, "Yeh mind mein leke chalo (Henceforth, keep this in mind)."
Watch the clip here:
View this post on Instagram
Kapil Sharma asked the fan from where he is from. He looked at Salman Khan, who is the host of Big Boss 15 saying, "Sir, I am Gorilla." Salman Khan burst out into laughter and said, "Achha, you are Gorilla." The fan was the one who dresses up as Gorilla and hands over the map to the contestants of Big Boss 15.