Who is Leena Manimekalai? Filmmaker who showed goddess Kaali smoking cigarette in the film
Who is Leena Manimekalai? Everything you need to know about this Filmmaker who showed goddess Kaali smoking cigarette in film.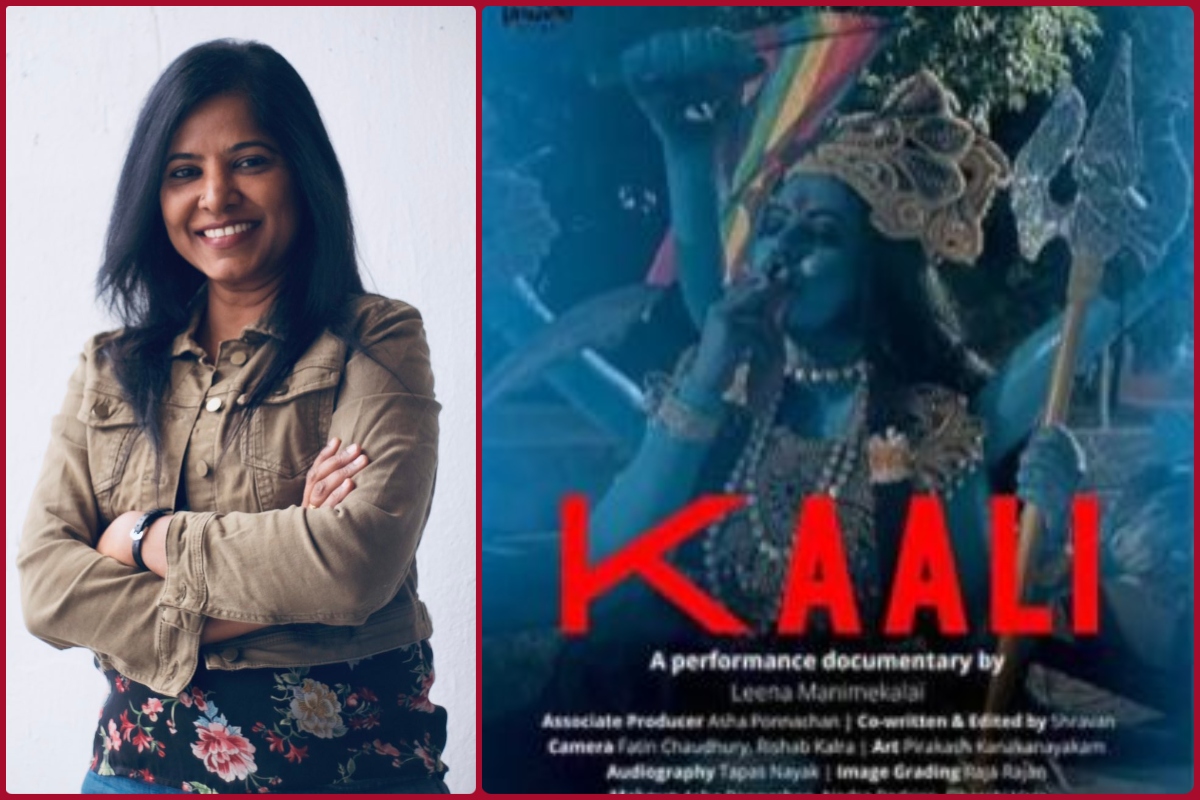 New Delhi: An FIR has been filed against director Leena Manimekalai by the Uttar Pradesh Police for deliberately hurting religious sentiments by sharing a poster of her new documentary film 'Kaali', in the poster a women dressed as the Goddess is shown smoking a cigarette.
Also, a flag of the LGBT community can be seen in the background.
This comes after the Delhi Police IFSO unit filed an FIR under IPC sections 153A and 295A.
UP police register FIR on charges of criminal conspiracy, offense in place of worship, deliberately hurting religious sentiments, intention to provoke breach of peace against filmmaker Leena Manimekalai for her movie 'Kaali' for the disrespectful depiction of Hindu Gods pic.twitter.com/XkLz67qEq5

— ANI UP/Uttarakhand (@ANINewsUP) July 5, 2022
Soon after  facing flak over her Kaali poster, she took to twitter to defend herself.
"எனக்கு இழப்பதற்கு ஒன்றுமில்லை. இருக்கும் வரை எதற்கும் அஞ்சாமல் நம்புவதைப் பேசும் குரலோடு இருந்துவிட விரும்புகிறேன். அதற்கு விலை என் உயிர் தான் என்றால் தரலாம்" https://t.co/fEU3sWY4HK

— Leena Manimekalai (@LeenaManimekali) July 4, 2022
Also, the High Commission of India in Ottawa released a statement on Leena Manimekalai's film KAALI whose poster shows Goddess Kaali smoking.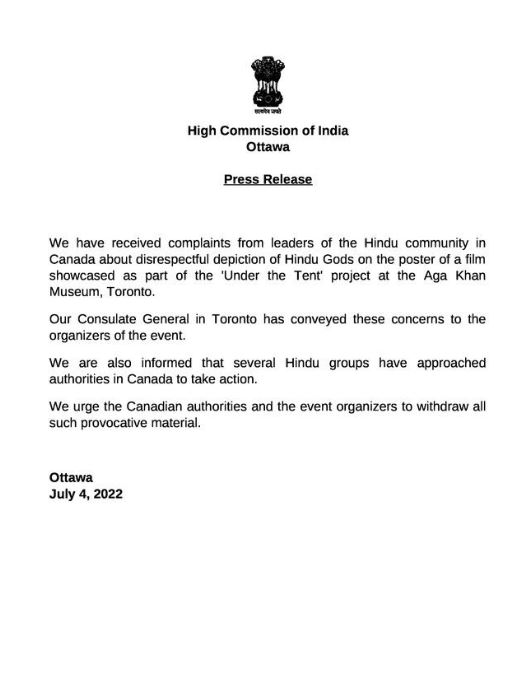 Poster of 'Kaali' 
Super thrilled to share the launch of my recent film – today at @AgaKhanMuseum as part of its "Rhythms of Canada"
Link: https://t.co/RAQimMt7Ln

I made this performance doc as a cohort of https://t.co/D5ywx1Y7Wu@YorkuAMPD @TorontoMet @YorkUFGS

Feeling pumped with my CREW❤️ pic.twitter.com/L8LDDnctC9

— Leena Manimekalai (@LeenaManimekali) July 2, 2022
Who is Leena Manimekalai?
Leena Manimekalai belongs to  the Maharajapuram village in Tamil Nadu's Virudhunagar.
She has internationally acclaimed films Madathi and Sengadal the Dead Sea to her credit.
She hails from the Srivilliputtur region. In 1995, she completed her secondary school from the Holy Cross Convent. Leena completed an EU Fellowship in Media and Conflict Resolution in 2005.
In 2012, she graduated from The School of Oriental and African Studies with a degree in visual ethnography.
She currently settled in Canada. She also owns the Leena Manimekalai Productions.
Here is how social media users reacted:
This needs to be stopped right now#Kaali#ArrestLeenaManimekalai pic.twitter.com/yhGWsTfCim

— आदर्श शर्मा (@AdarshS81511827) July 4, 2022
#Kaali is nothing but the shortest route for people like #LeenaManimekalai to reach the heart of break india forces. Don't let her get benefitted. Make her loose. #ArrestLeenaManimekali pic.twitter.com/pSvMz0veOs

— Indic Spectrum (@IndicSpectrum) July 4, 2022
#Kaali
Hindu God insulted by……!!!

They have only freedom of expression…!!??

We oppose….. pic.twitter.com/qjBKP91vBJ

— TARANATH POOJARY (@taranathpoojary) July 4, 2022
#Kaali #ArrestLeenaManimekali#LeenaManimekalai

1. Showing reality is propaganda & Islamophobic
2. Showing Hindu Gods in derogatory manners is Freedom of Speech pic.twitter.com/72VjDqtkhL

— Shruti (@kadak_chai_) July 4, 2022
Since she made a poster of Our Mother, it would be only fair to make one of her's ….drinking pig pee
Creative freedom!#Kaali #ArrestLeenaManimekali #LeenaManimekalai pic.twitter.com/M2QkJzoH8j

— Radhika 𑁍 (@yeahitsmee__) July 4, 2022