Will Kushi dampen the momentum of King Khan's Jawaan, here is what netizens think?
Kushi was released just a week before the release of Jawan starring Shah Rukh Khan.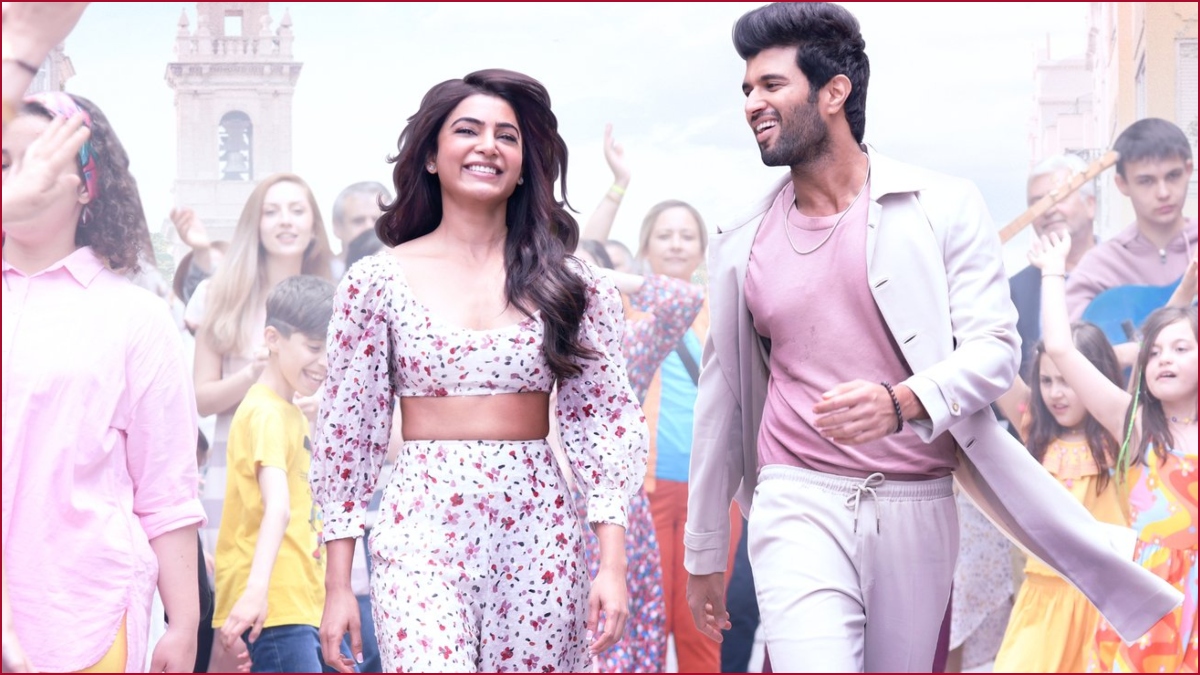 New Delhi: The much-anticipated film Kushi starring Vijay Deverkonda and  Samantha Ruth Prabhu has finally hit the theatres this Friday ( 1 September 2023). From the day when its trailer was dropped, the film has created much buzz among its fans. The teasers and music clips further added more excitement, making Kushi the most talked about Telugu release of this year.
As the movie hit the screens, discussions started buzzing on social media. Netizens started to give their views about the films that witnessed the romantic saga in the theatres. Based on the initial social media reactions flooding on Twitter, it appears that Kushi garnered positive reviews from the viewers. The audience are talking about the palpable chemistry between Vijay Deverkonda and Samantha Ruth Prabhu who are playing the lead role in the film. The film is a heartwarming family entertainer that attracts the audience through its drama and romance. One of the aspects that is being appreciated by the audience is Vijay Deverkonda's stellar performance.
Kushi was released just a week before the release of Jawan starring Shah Rukh Khan. The strategic scheduling of the date of release has sparked a discussion about the potential impact of the duo release on the box office, and whether Jawan's release will impact the box office collection of Kushi. Let's wait for the release of Jawan as Kushi is receiving positive reviews from the audience, here are some of them.
Finally Watched kushi❣️A magical love story👌Great come back by @TheDeverakonda ❤‍🔥 #Kushi #VijayDevarakonda #Samantha #blockbusterkushi #SalaarTrailer #OGTeaser #HUNGRYCHEETAH pic.twitter.com/4YS1Tzt9mZ

— Fan of Rebel star❤‍🔥 (@sainath37022094) September 1, 2023
#Kushi Review#VijayDeverakonda
A well-crafted family entertainer, "KUSHI" stands out as an engaging and refined film. Shiva Nirvana rightly presents a narrative that entertains throughout.@TheDeverakonda
A fresh entertainer after months 👏 @Samanthaprabhu2#BlockbusterKushi ❤️ pic.twitter.com/TL82mLPBHX

— Sahil Saifi (@Sahilsa29) September 1, 2023
#KushiReview #Kushi #VijayDeverakonda #Trending #TeluguCinema
A classic comeback with epical impression Vijay devarakonda never fails congratulations 🎉 team Kushi ❤️❤️❤️❤️❤️ pic.twitter.com/Az6AEAOMQN

— Shiva Reddy (@Theshiva150) September 1, 2023
A perfect family entertainer said one of the fan.
A complete family entertainer ❤️

Back with a blockbuster #Kushi #VijayDeverakonda #BlockbusterKushi #Samantha #Kushireview pic.twitter.com/NU8zBTAGoT

— CH3RRY. (@CH3RRY20x4) September 1, 2023
Done with 1st half ✅
Bngm❤️✨
Cute pair ❤️‍🩹🥹
Comedy scenes 😂
Overall Good❤️😍#Kushi #KushiOnSep1st #Kushireview #BlockbusterKushi #kushipremiers pic.twitter.com/Vj8KO89Lfl

— jr.Rusthum (@Rusthum45) September 1, 2023
Just Now Completed My show 🤩

What A Comeback From Rowdy Boy 🥵💥💥💥
First Half Is Good 👍👍
Second Half Excellent 💥💥
Sam and Vijay Chemistry 🤯👌👌
Interval and Pre Climax 🛐
Block Buster Confirm 💥💥
My Rating – 3.5/5 #Kushi #VijayDeverakonda #Samantha #KushiReview pic.twitter.com/4qQm07AyFa

— killbill (@Nithin_kumarrr) September 1, 2023
#KushiReview (Simple English)

Positives:
– Vijay Devarakonda and Samantha's solid performances. 😄👏
– Engaging ideas and humor-filled scenes. 🤩🎭
– Neat writing and fresh presentation. 📝🌟
– Music by Hesham Abdul Wahab with diverse cultural influences. 🎶🌍
– Impressive… pic.twitter.com/rPrepPlSez

— Movies4u Official (@Movies4u_Officl) September 1, 2023
The two hours and forty five minutes long film offers a wellpaced experience and engages audiences with its immersive cinematic experience. The story line has lot of emotions that leads to leave a long lasting impact on audiences. Music of the film is very soothing with soulful lyrics which adds a plus point to the film.