YouTuber Dhruv Rathee marries long-time girlfriend in Vienna; Shares pics
Indian YouTuber Dhruv Rathee married his long-time girlfriend Juli Ibr on November 24 in Vienna.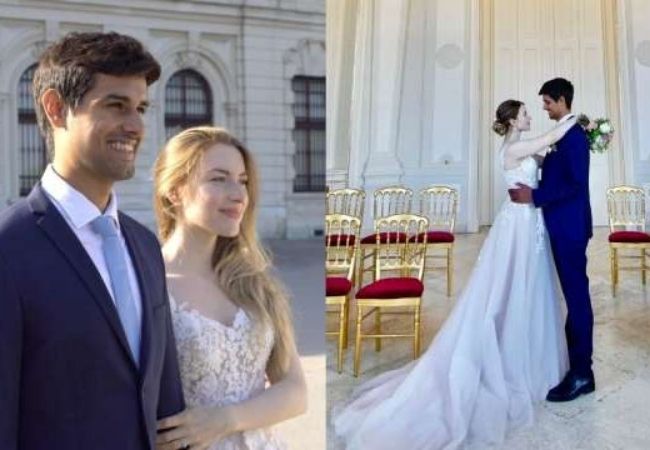 New Delhi: Indian YouTuber Dhruv Rathee tied his knot with his long-time girlfriend Juli IBr in a ceremony in Belvedere Palace in Vienna, the capital of Austria. Popular for his videos on news and fact-checking, the YouTuber met Juli in 2014, reportedly the same year he started his YouTube channel.
Born in Haryana and currently residing in Germany, the YouTuber has 6.29 million subscribers on his channel. Also known for his travel vlogs, Dhruv after dating his girlfriend for seven years married her on November 24.
Dhruv shared some of the glimpses from his wedding on his social media accounts. Taking to Instagram, he shared a picture of him holding onto Juli, captioning it as, "More than 7 years after we met, we finally got married. Guess the place and the city? A short video of our wedding day is coming soon too. PS: Thank you for all the sweet comments and congratulations!"
Some of our wedding pics..

Dhruv x Juli ❤️ pic.twitter.com/JcPmWNHJGI

— Dhruv Rathee 🇮🇳 (@dhruv_rathee) November 26, 2021
View this post on Instagram
View this post on Instagram
Dhruv also shared a video of their wedding on his YouTube channel named Dhruv Rathee Vlogs. The private wedding ceremony was attended by family and close friends and colleagues.
Dhruv in 2019 took to social media to officially announce their relationship. "After 5 years, she finally let me post a pic publicly," wrote Dhruv while posting a picture on Valentine's Day in 2019. Dhruv and Juli announced their plan to get married on the vlog posted on their channel on November 21 which showed the duo shopping for bride and groom's attire.