BAPS Africa Women's Wing celebrates Pramukh Swami Maharaj centenary at women's empowerment hall
Many volunteers shared their experiences of how Pramukh Swami Maharaj transformed their lives by building temples and starting the weekly assemblies in Africa.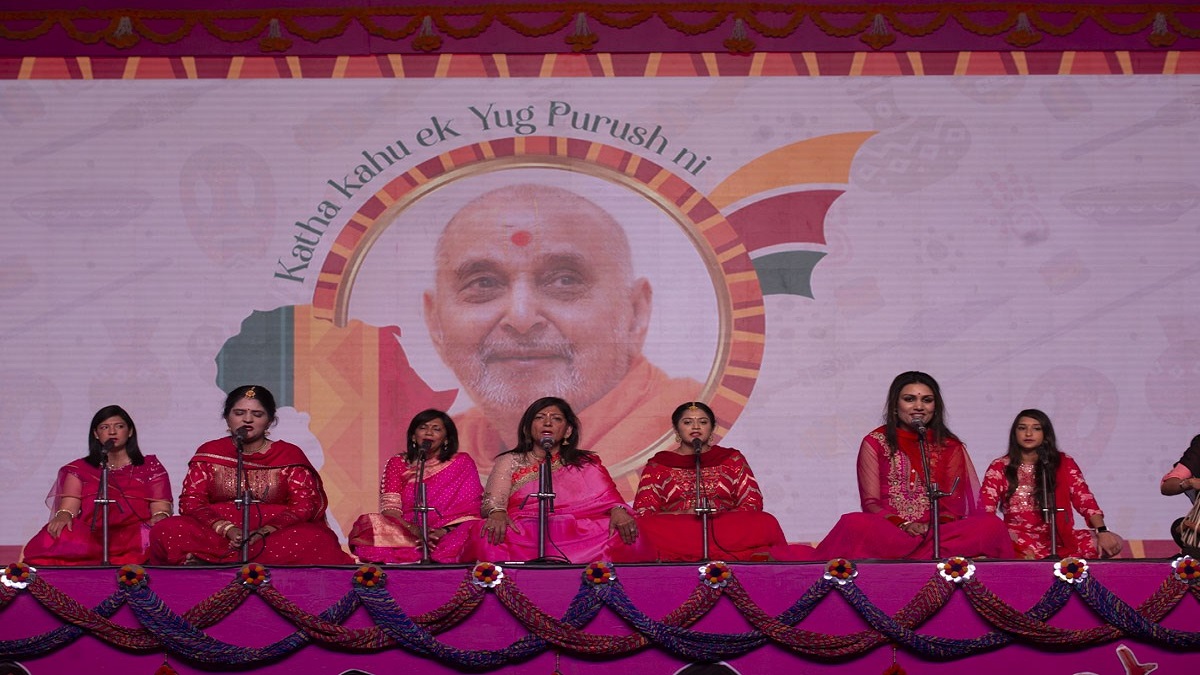 New Delhi: On 9 January 2023, a special program titled 'Katha Kahu Ek Yug Purush Ni' was organized by the BAPS Africa Women's wing in the Women's Empowerment Hall at Pramukh Swami Maharaj Nagar. The vibrant program enthralled the audience with the traditional musical dances of Africa and India, highlights from Pramukh Swami Maharaj's spiritual travels in Africa as well as an inspirational skit depicting a personal incident of a devotee who was facing many challenges of life with unshakeable faith in God and unwavering strength.
Some volunteers shared their experiences of how Pramukh Swami Maharaj transformed their lives by building temples and starting the weekly assemblies in Africa.
Ms. Alpha Mehta, BAPS Women's Wing volunteer from South Africa, said "When I came to South Africa with my husband and son, we did not know anyone. So, upon visiting the BAPS Swaminarayan Temple in South Africa, I felt a sense of belonging. Since I was newly introduced into the BAPS Swaminarayan Sanstha, I used to have deep discussions about theology and spiritual practise, and everyone patiently answer my questions. My curiosity led me to read the Swaminarayan scriptures, which further resolved my questions. I felt enlightened by the weekly assemblies and started getting involved in serving the community. These activities transformed me into a very productive and confident person."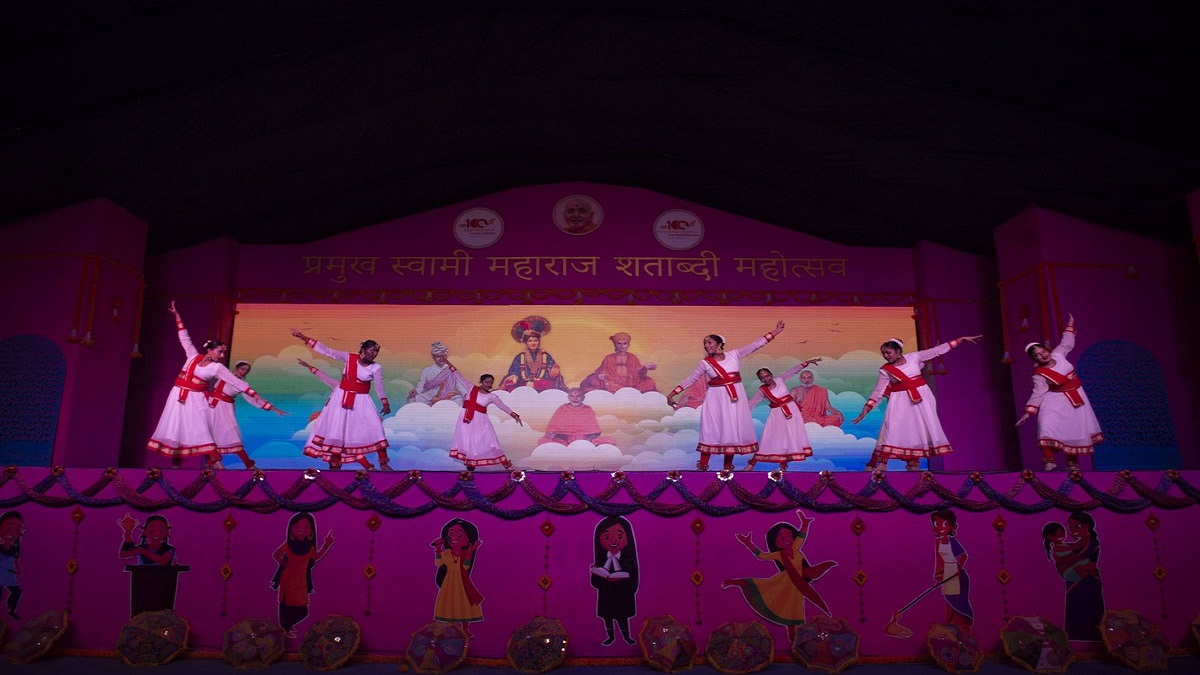 "When I initially came to South Africa, I barely knew how to cook basic recipes. Every week we would gather in the mandir to listen to spiritual discourses and celebrate the festivals. It was during these festivals that I learned many skills like how to cook various dishes, perform in various creative programs, and work together with groups of people to accomplish a goal. Later, when I met my in-laws in India, they were shocked to see how much more of an Indian I had become after moving to South Africa. I am so grateful for the BAPS community and mandir in South Africa as it is due to them, the current and upcoming generations will retain the values of our culture and refrain from the vices that are otherwise prevalent in society. The impact of the temple as well as its activities is so widespread that people from various professions are extending their support to encourage us. "
Mrs. Jyonita Patel a baker from Lenasia, South Africa, recounted an incident in which she discussed the influence of her strong, cultured mother in her life. She said, "My mother requested me to bake an aeroplane cake for Swaminarayan Bhagwan while we were planning for the Hindu New Year Celebrations in the BAPS Swaminarayan Temple. But because of my poor prior baking experiences, I was hesitant. She offered me encouragement and courage by reassuring me that Pramukh Swami Maharaj will lead me. She even persuaded a seasoned baker to instruct me in the art of icing. Today, I am a professional baker and I owe my success to her and Pramukh Swami Maharaj. When I reflect on this incident, Pramukh Swami Maharaj's wise words come to mind, 'One cultured mother is equal to 100 excellent teachers.'"
Narrating another personal incident in which Pramukh Swami Maharaj guided her, she said, "My mother was the glue that bound my family together. So when we lost my mother, my family and I were completely shattered. But Pramukh Swami Maharaj gave me the strength to look after my family in these trying times. It is because of him that I have transformed into the self-assured and self-reliant person I am today."
Mrs. Sarasvati Jivan, a teacher from Lenasia, South Africa, expressed the happiness she felt while performing on stage and celebrating Pramukh Swami Maharaj's life. She said, "I feel blessed to be a small part of Pramukh Swami Maharaj's Centenary Celebrations. Although I have anchored many events in the past, none of them have given me the same thrill that I felt when I got onto the stage today."
"In 1998, we went to London for Pramukh Swami Maharaj's darshan. At that point in time my husband had a few vices and so I had written a letter to Pramukh Swami Maharaj to help me persuade my husband to give them up. Much to my amazement after doing Pramukh Swami Maharaj's darshan, my husband had a change of heart. He expressed that he found the strength to give up his vices after looking into Pramukh Swami Maharaj's divine eyes. This experience reaffirms my belief that he is always listening to our prayers and guiding us onto the path of spirituality."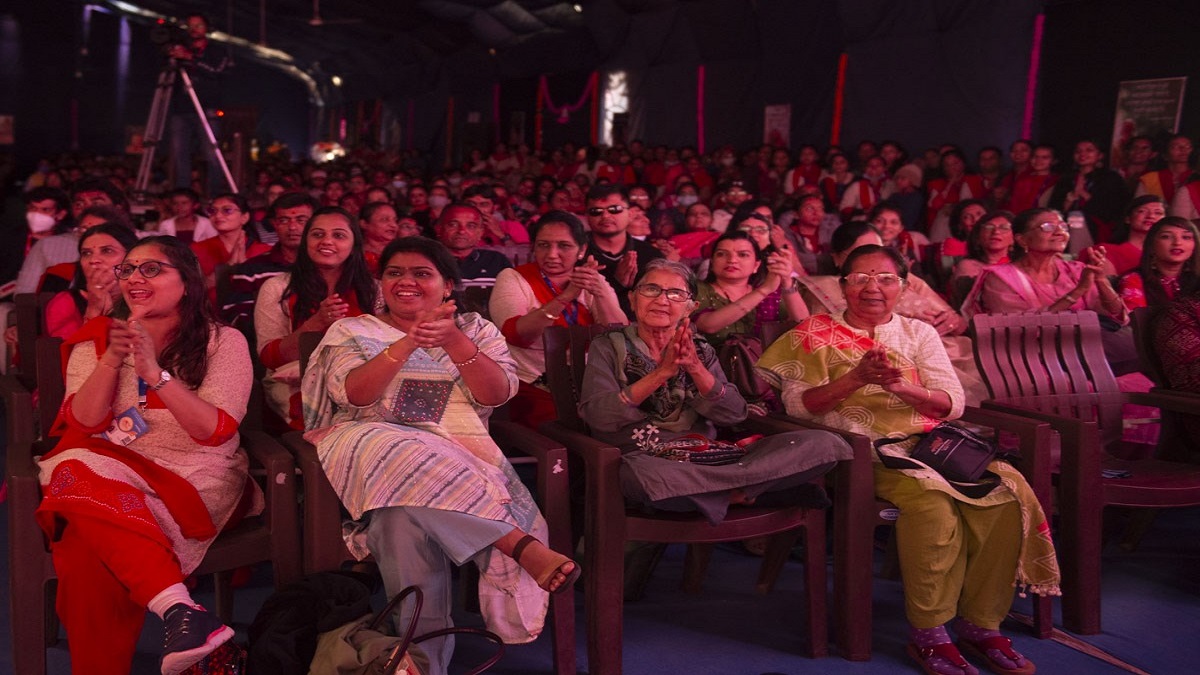 "Pramukh Swami Maharaj always said a mandir brings a community together. I had the pleasure of seeing those words come to life when we were building the temple in Johannesburg. People from different communities offered their services, some offered their time while some offered their resources. This helped bind us."
On this occasion, Dr. Jyoti Pandya Sheth was felicitated in the Women Empowerment Exhibition Hall.
Dr. Jyoti Pandya Sheth, National Vice President Mahila Morcha, BJP Gujarat, Former Mayor of Vadodara, Gujarat, expressed, "Magnificent is the only word that comes to mind when I think of this Nagar. The positive vibrations emanating from here will spread across humanity and will in the future help us survive peacefully. I am blessed to have had the opportunity to attend this program. The entire team of 80,000 volunteers has left a legacy for the world to follow."