Bikers perform 'Nagin dance' to truck's horn in Karnataka, welcome monsoon with joy (VIRAL VIDEO)
The incident happened in North Karnataka at the viewpoint of Dudh Sagar waterfalls.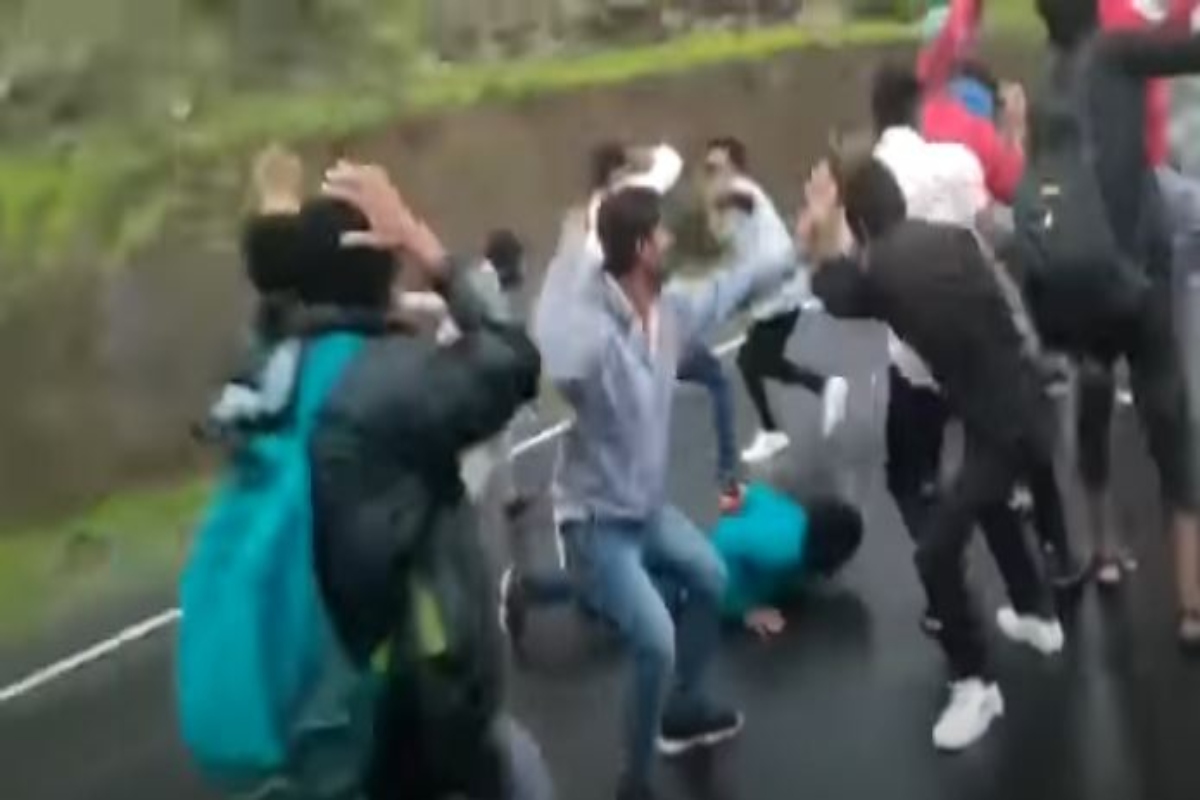 New Delhi: A video of bikers dancing to the music of a truck's horn went viral on social media. In India, monsoons witness such incidents where people come out of their houses and dance in rain. The incident happened in North Karnataka at the viewpoint of Dudh Sagar waterfalls.
In the video, a group of bikers is seen racing ahead of a truck. They quickly stop their bikes and gesture toward the truck after which the driver plays a tune based on the tune from the popular "Main Teri Dushman" song from Sridevi-starrer Nagina. The boys then start dancing to the tune on the rain-soaked road. In the video, one can see the enthusiasm with which they are dancing and screaming. Some of them also burst into the popular 'Nagin dance'. One of them even starts crawling on the road, depicting the snake.
Their video has gone viral as it has gained instant 5000+ views on YouTube as of now. The video is also trending on other social media platforms. Netizens are reacting to their hilarious dance and are adding to the joy as the monsoon begins.
A Twitter user, who goes by the name Gaurav Lal, shared another video writing, "It started from here."
It started from here pic.twitter.com/40aDzdcRCQ

— Gaurav Lal ?️ (@iGauravLal) July 12, 2022
The phenomenon of bikers dancing on a road is not new, as a person who was confused about it, tweeted regarding the same in 2019.
Why bikers do nagin dance while riding their bikes in the middle of the highway?

— R K (@rawwwhull) April 10, 2019
Another Twitter user shared a video which showed a contrasting image of the monsoon.
Difference pic.twitter.com/0AVcVZrIBq

— Datta Salve (@DattaSalve18) July 11, 2022
A person reacted using a popular clip of Ray Liotta laughing in 'Goodfellas'.
— Akki..? (@akshayotari) July 11, 2022
Boys will be boys ?

— A.B (@BeingAlyB) July 11, 2022
A netizen rightly quoted, "Happiness."
Happiness ?

— Sangram Jagtap (@Sangram_jaggy) July 11, 2022
Meanwhile, the India Meteorological Department (IMD) has indicated an intense rainfall in coastal regions of Karnataka.
(ii) A fresh intense wet spell likely over Gujarat, Konkan & Goa, Madhya Maharashtra and coastal Karnataka from 12th July, 2022.
Details Are Available At : https://t.co/ApXSEmstiv @ndmaindia @moesgoi pic.twitter.com/64JsRcDulz

— India Meteorological Department (@Indiametdept) July 10, 2022