Celebrating 'Gulf Countries Day' at Pramukh Swami Maharaj Nagar
Foreign Minister S Jaishankar and dignitaries from around the world paid tribute to Pramukh Swami Maharaj's work of harmony and selfless service in the Middle East.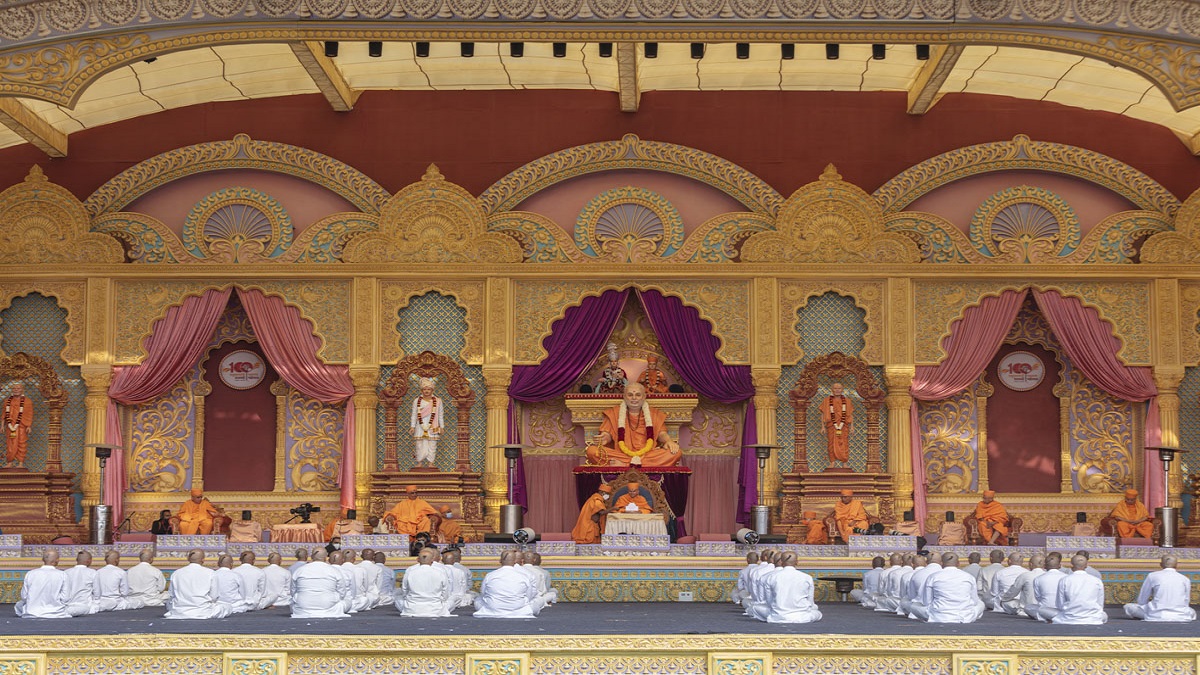 New Delhi: Pramukh Swami Maharaj championed amity and harmony between countries and religions. Through his vision and inspiration, Abu Dhabi is witnessing the rise of a spiritual oasis in the form of a temple. The upcoming BAPS Hindu Mandir in Abu Dhabi is the first of its kind in the Arab World and serves as a symbol of inspiration for the 3.3 million Indians living in the UAE, as well as those of other cultures and communities.
For centuries, India and the Gulf countries have had a deep cultural and spiritual affinity. When His Holiness Pramukh Swami Maharaj first arrived in the UAE in 1997, he prayed that a temple be built to nurture the spirituality of Hindus living in the UAE and promote interfaith harmony. During this visit, Pramukh Swami Maharaj affectionately met the First Amir of Bahrain, His Royal Highness Sheikh Isa Bin Salman Al Khalifa, Sheikh Hamad of Sharjah, Sheikh Sayed Saif bin Hamad bin Saud Al Busaidi of Muscat as well as the Royal Family of Dubai who were all inspired by Pramukh Swami's kindness and divinity.
Mahant Swami Maharaj continued the efforts to fulfil Pramukh Swami Maharaj's vision for a mandir in the UAE, and in 2019 performed the foundation-laying ceremony of this temple on a 27-acre plot of land that had been granted by Crown Prince of Abu Dhabi Sheikh Abdullah bin Zayed Al Nahyan.
Celebrating 2019 as the 'Year of Tolerance', the UAE organized a historic Global Conference of Human Fraternity in which senior BAPS swami Brahmaviharidas Swami delivered the concluding address. Mahant Swami Maharaj also visited the world-famous Sheikh Zayed Grand Mosque with BAPS swamis in 2019 at the invitation of Sheikh Nahyan bin Mubarak Al Nahyan, UAE Minister of Tolerance. In May 2002, BAPS participated in the Forum of Common Values among Religious Followers, the first interfaith conference held in Riyadh, Saudi Arabia.
Over the past several decades, BAPS representatives have also had affectionate meetings with the Bahrain Royal Family. During one such meeting, the need for a Hindu temple was proposed, after which land for the mandir was acquired by BAPS in February 2022 through the cooperative efforts of the governments of India and Bahrain.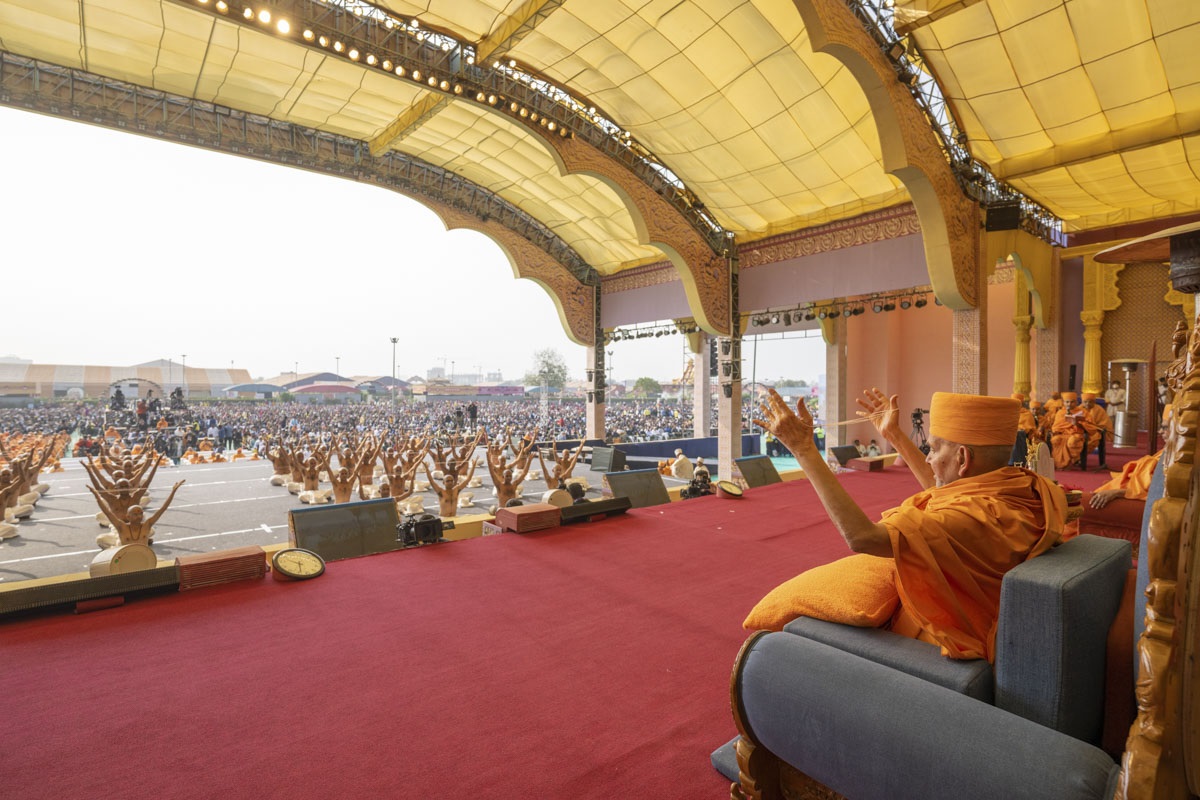 Evening Assembly
Pramukh Swami Maharaj's tireless spiritual travels resulted in the spread of faith and goodwill across the world. Over the next week at Pramukh Swami Maharaj Nagar, devotees from different countries are paying tribute to Pramukh Swami Maharaj for connecting them to their spiritual and cultural roots.
Today's evening assembly, dedicated as 'BAPS Gulf Countries Day', began at 5pm. It centred on four stories – of prayer, friendship, harmony, and transformation – that encapsulated Pramukh Swami Maharaj's travels and interactions with devotees in the United Arab Emirates, Bahrain and the region. Each theme was introduced by a short video and followed by an exposition on the theme.
The first video introduced the centrality of prayer in Pramukh Swami Maharaj's life. Ashok Kotecha, a BAPS volunteer from the UAE, narrated his personal experience with Pramukh Swami Maharaj from 1997 when he visited the desert and prayed: "May peace prevail here and everywhere. May all countries be free of internal enmity and progress in their unique way. May there be a temple in Abu Dhabi.' The temple being built today is the result of that prayer." Ashok Kotecha expanded on the on-going construction of the BAPS Abu Dhabi temple before Paramvandan Swami, a BAPS swami serving in the UAE, emphasised the power of prayer.
The assembly continued with a special video presentation introducing the theme of 'Friendship', after which Viveksagardas Swami, a senior swami of BAPS, elaborated on the friendship of Pramukh Swami Maharaj with the King of Bahrain.
The third theme was 'Harmony', which was introduced by a short video, after which Atmaswarupdas Swami, a senior swami of BAPS, narrated the visit of Pramukh Swami Maharaj to the Wailing Wall in Jerusalem in 1999 and his prayer for global interfaith harmony.
The final video was on the theme of 'Transformation', followed by an inspiring talk by Brahmaviharidas Swami, BAPS scholar and project lead for the BAPS Hindu Mandir in Abu Dhabi. He said, "The four stories of prayer, friendship, harmony and transformation reflected the love, harmony and peace of Pramukh Swami Maharaj. The temple rising in Abu Dhabi is a miracle taking shape due to the prayers of Pramukh Swami Maharaj, the integrity and will of Prime Minister Narendra Modi, and the generosity of Sheikh Khalifa bin Zayed bin Sultan Al Nahyan. With this confluence of spirituality, integrity and generosity, the impossible became possible.
"The will to spread love, harmony and tolerance is the basic foundation of the temple known as a spiritual oasis for global harmony. Scholar David Frawley once observed, 'All BAPS temples are inspirational. Akshardham is generational. The temple in Abu Dhabi is civilizational.'
"President APJ Abdul Kalam said to Pramukh Swami Maharaj, 'The way you are, the way you love, the way you include everybody – one day there will be a temple in Dubai.' He called Pramukh Swami Maharaj his ultimate guru and often said, 'All religions are unique and beautiful, but they are like a disconnected archipelago of islands. Pramukh Swami Maharaj is the bridge that connects every religion, culture and country.' The life of Pramukh Swami Maharaj was owned by nobody, but enjoyed by everybody."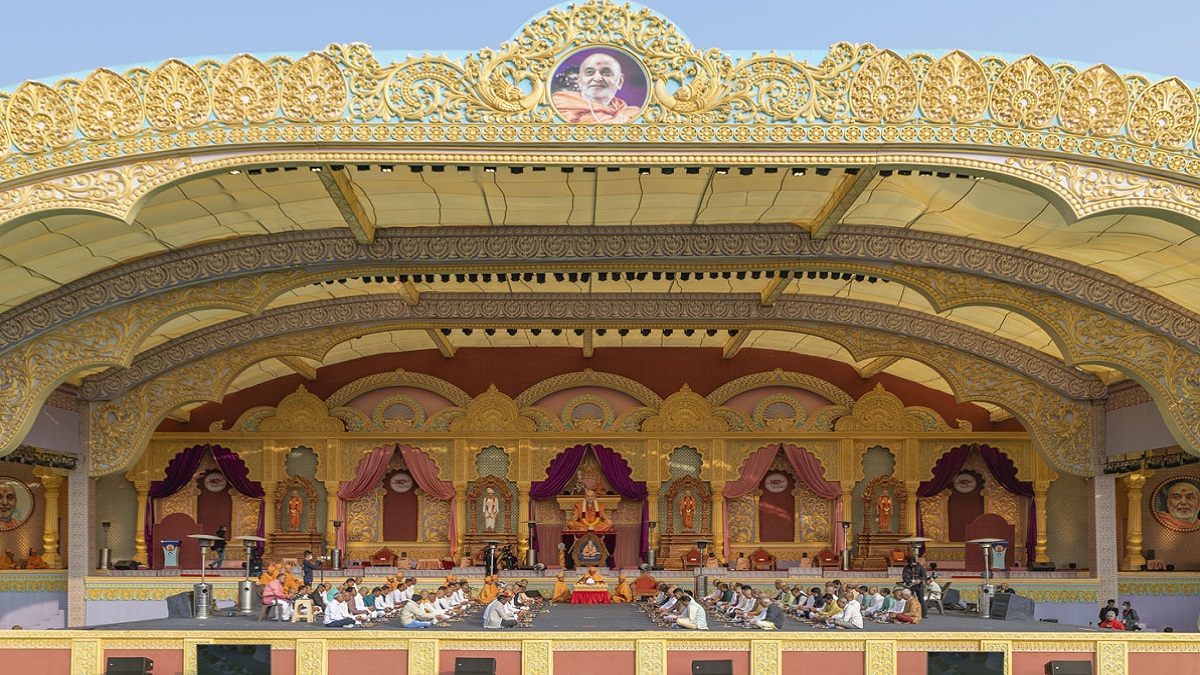 Several esteemed dignitaries were also present to pay tribute to Pramukh Swami Maharaj's life of selfless service.
Former CEO of the Abu Dhabi Investment Council Mr. Nazem Al-Kudsi, said, "As an Arabic man, my life changed forever when Pramukh Swami looked into my eyes. He inspired me to start getting in touch with my true nature. The breath of Pramukh Swami had an impact on me, but I did not appreciate that this breath would have such a deep impact on my part of the world. The breath of Pramukh Swami promised a mandir in Abu Dhabi and brought us great leaders like Narendra Modi under whose leadership your land will thrive.
"When devotion exists, it will move mountains in order for objectives to be achieved. I have come across many organisations, but none match this organisation. Pramukh Swami's breath has brought a wind of change for us. I hope we can have some of the same love that Pramukh Swami and Mahant Swami give to everyone."
H.E. Dr Bassam Alkhatib, Ambassador of the Syrian Arab Republic to India, said, "Human values lie in our heart, so we can know our future. Pramukh Swami Maharaj spread these human values around the world. I believe that celebrating the diversity of our cultures and religions is the best way to shape our future.
"Pramukh Swami Maharaj's relationship with God was most natural, but his relationship with people was supernatural, and he led them to God. He believed in peace and equality and spread that around the world. This was reflected in his message after the Akshardham terrorist attack to leave no mark of the tragedy visible so that not a single visitor would remember the violent incident."
Mr. Ylias Akbaraly, Chairman & CEO of Groupe Sipromad in Madagascar, said, "When I visited Pramukh Swami Maharaj Nagar, I was left speechless. It is so impressive that you have all these people yet no clamour or chaos, no litter; everyone is so calm and disciplined. This is the impact of Pramukh Swami Maharaj. This Nagar is a university of the world. What is happening here, I have not seen anywhere in the world.
"I have seen Pramukh Swami Maharaj's life. He lived the values of peace, harmony, humility, betterment and sharing, that is why he could transmit them so effortlessly and so widely. Pramukh Swami Maharaj invested time and effort in our children, teaching them the importance of education, helping and sharing.
"I am thankful to BAPS swamis like Brahmaviharidas Swami. Every time I sit with them, I learn so much. They speak of love, friendship, education, and forging a better future for our world."
Dr Aman Puri, Consul General of India in Dubai, said, "The values of tolerance, peace, non-violence, harmony and selfless service are what Pramukh Swami Maharaj stood for, and BAPS is spreading these values across the globe. I have visited several BAPS centres and temples in various countries which attract people from all faiths, which is truly remarkable.
"In Dubai, we are witnessing the rise of the largest Hindu stone temple in the Middle East, which is a historic milestone for UAE and India's relationship and for UAE's Indian community. Not only Indians but absolutely everybody is looking forward to the temple, which will truly help spread the noble values which Pramukh Swami Maharaj stood for."
Dr. S. Jaishankar, Indian Minister of External Affairs, shared, "The world called Pramukh Swami Maharaj "the People's guru" and "the global guru" because he had travelled to over 50 countries, visited more than 17,000 cities and villages, established more than 1,200 mandirs, and wrote more than 750,000 letters. He met global leaders and kings, but also ordinary and poor people whom he embraced. As a result of his efforts, BAPS is taking India and the world forward.
"The Abu Dhabi temple story was referred to as a miracle. It is. It is also diplomacy and relationships, a story of hearts and minds, and a story of the generosity of kings. But ultimately, it is the result of divine Providence. Abu Dhabi's temple is one miracle, and the second will happen in Bahrain. This is something greater than a miracle. This temple was the dream and prediction of Pramukh Swami Maharaj. BAPS temples are being built across the world, including in Paris, South Africa, Thailand and elsewhere.
"My first experience of BAPS was witnessing the construction of Swaminarayan Akshardham in New Delhi. All of Delhi's residents were surprised to see such a beautiful mandir – so immense, so clean, and running so smoothly. When I became the ambassador of India to America, I visited the BAPS Swaminarayan mandir in Los Angeles. The atmosphere and people were such that while I had planned to spend 30 minutes, I spent three hours."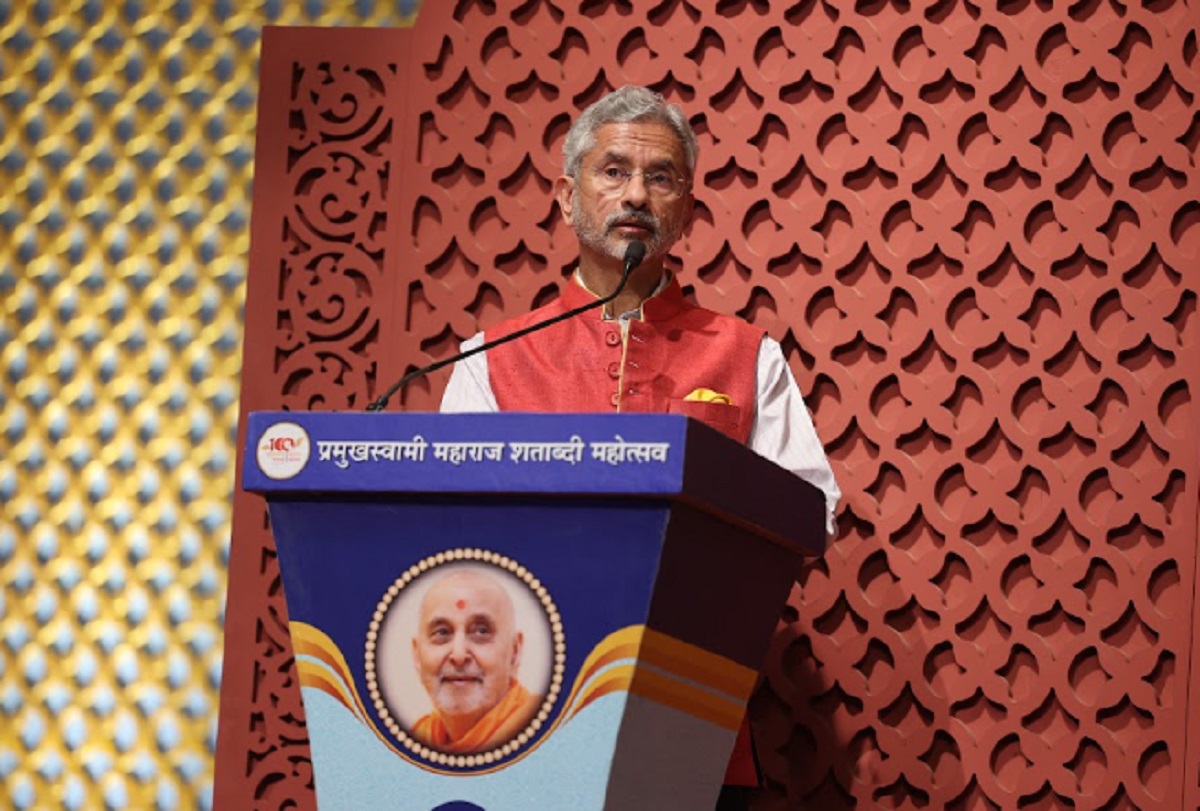 "Last year, when the war erupted in Ukraine, around 20,000 Indian students were stranded. They needed to be brought home in the cold. When the Indian government was trying to decide what to do, BAPS brought volunteers from 11 countries to the Polish border and would serve hot meals every day. I was meeting other ministers of bordering countries who still remember the selfless spirit of BAPS volunteers who helped not only other Indians but people of other countries and races.
"When I think of the BAPS Swaminarayan Sanstha (BAPS) and Pramukh Swami Maharaj, I see four big concepts: 1) Compassion, 2) Service, 3) Community and 4) Humanity. Firstly, BAPS is both local and global because it is connected to the land wherever it serves the people. They create their own identity without discriminating against anyone. Secondly, BAPS also employs technology and modern methods while remaining faithful to its traditions, culture, heritage and values. The balance and symbiosis of technology with tradition can be seen in the temples BAPS builds around the world. Thirdly, BAPS also acts and leads by example. And fourthly, BAPS operates on a grand scale but at the end of the day, every aspect of the community and guru is personal. The personal touch is everywhere. One needs a different mindset to never forget each individual. This is what is unique about BAPS."
Mr. Jaishankar also highlighted the three main challenges of the world today – conflict, covid and climate – and elaborated upon their solutions through peace, progress and prosperity.
After speaking about India's role in leading the next G20 through the motto of 'Vasudhaiva Katumbakam' – the world is one family – and India's role in demonstrating 'vaccine amity' with the world by sharing millions of doses to those in need, Mr. Jaishankar added, "People say that India has became 'the pharmacy of the world', but we are also 'the pharmacy for the world'. We should do things for ourselves, but we should also think of other countries. This is what we learn from Pramukh Swami Maharaj and this Nagar."
Dr. D. Veerendra Heggade, Dharmadhikari of Shree Kshetra Dharmsthala, Karnataka, said, "Pramukh Swami Maharaj brought society and religion together. I have never seen such a simple swami anywhere. Pramukh Swami Maharaj's message was to be humble, friendly, courteous and helpful to others, and his devotees follow this very well. If this spirit can be spread to others and other religions, then great work can be done."
Thomas Perez, Former US Secretary of Labour, Former Chair of the Democratic National Committee, and Former Assistant Attorney General for Civil Rights (USA), said, "Pramukh Swami Maharaj was one of the world's greatest spiritual leaders, global citizens, interfaith leaders, and far-reaching humanitarians. His life was his message – a message of peace, hope, tolerance, and most importantly, selfless service – service to others, service to all, and service to the most vulnerable among us regardless of colour, creed, and caste, no matter who they are. That was his life. It was a powerful reminder of how a single person born in the humblest circumstances imaginable can truly transform the world through an unwavering commitment to the values of social justice, human rights, and interfaith harmony.
"From his engagement in mandirs, churches, mosques, synagogues, cathedrals, and gurudwaras, Pramukh Swami Maharaj transcended any single religion. Rather, he was always that divine spark that resides within each one of us and binds us together. Presidents, Prime Ministers and Popes sought him out, seeking his profound witness and steady guidance in a world that is oftentimes utterly bereft of guidance.
"He ran the BAPS global organisation for decades with his reflexive humility and vision, growing it into a global force for good in dozens of countries globally. BAPS has become an indispensable pillar in those communities where you operate. Whether it is answering the common cause of humanity in Ukraine or elsewhere, your service recognizes no boundaries or borders.
"Pramukh Swami Maharaj will forever live on not just through BAPS but through the millions he inspired through his example of fierce dedication to the uplift of others. His legacy is in every hospital that he built, in every village he served, in every heart he touched, and in every life he transformed. It is difficult to encapsulate all that he was and all that he meant to the millions who loved him and learned from him from across the world.
"Let us live all our lives the way Pramukh Swami Maharaj lived every single day—that 'In the joy of others lies our own' and 'unity exists in diversity.' Deceptively simple though these messages may be, they are potent in their impact. Diversity is something to embrace, not fear. Diversity is what has made our global community so strong.
"I offer my congratulations for the grand success of this festival. I am in awe of your volunteerism. You are the future of not only India but of the world."
In his blessings to the assembly, His Holiness Mahant Swami Maharaj firstly appreciated the BAPS devotees from the Gulf Countries who presented the inspiring programme today. He said, "I have been a first-hand witness of Pramukh Swami Maharaj's selfless and harmonising travels to the Gulf Countries, which has resulted in the BAPS temple in Abu Dhabi. The mandir will be unique contribution to the local community and the home of peace. A BAPS temple will also be built in Bahrain, thanks to the gracious support of local leaders, organisations and the community.
"Pramukh Swami Maharaj would say that all religions are good and all countries are good. If we are good, then everything will be good.
"When I was in the UAE [in 2019], the Sheikh lovingly welcomed us. I remember that he was overcome with emotion at our meeting. I, too, did not think that he was different from us. We are all one family.
"We are grateful to have Jaishankarji in our assembly here today. He has spread the goodwill of India across the world. I pray that all the dignitaries gathered here can serve their communities and countries further. May God bless everyone."