Delhi Kanjhawala Incident: People protest outside Sultanpuri Police station after 20-yr-old hit and dragged for 4 km by car
Harendra K Singh, DCP Outer District informed that post-mortem is yet to be conducted and it will be done through a board of doctors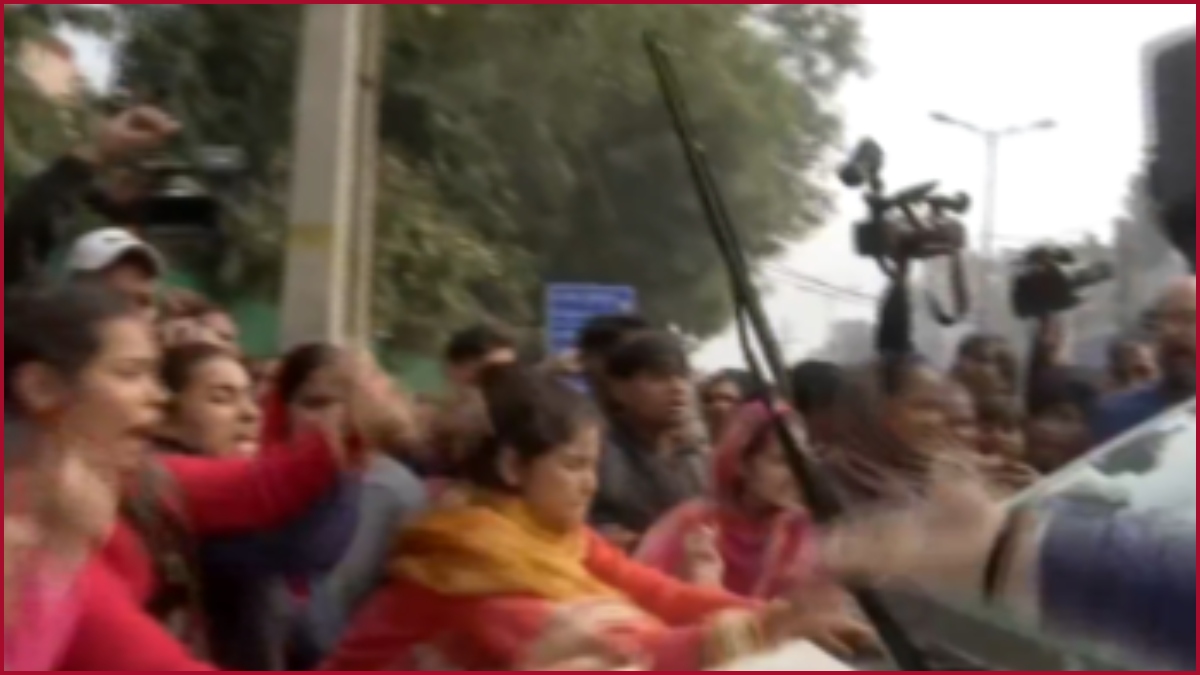 New Delhi: Following the horrific incident in Delhi's Kanjhawala people are protesting outside Sultanpuri Police station after the death of a 20-year-old woman who was dragged for a few kms after being hit by the car in the Sultanpuri area on Sunday (January 1).
According to Police, the woman's condition was so bad after the incident, that after being dragged for some kilometres, her clothes and even the back side of her body got ripped off.
Her body was found on Sunday morning.
#WATCH | Delhi: People gather to protest outside Sultanpuri Police station regarding the death of a woman who died after she was dragged for a few kms by a car that hit her in Sultanpuri area on January 1. pic.twitter.com/bsCwONThsF

— ANI (@ANI) January 2, 2023
Meanwhile, Delhi Chief Minister said he had talked to the LG on Kanjhawala incident and requested him to take exemplary action against the culprits and he also demanded strictest section of IPC should be slapped against them.
He also said no leniency should be shown on them even if they have high political connections.
CM also assured that he will take strong action.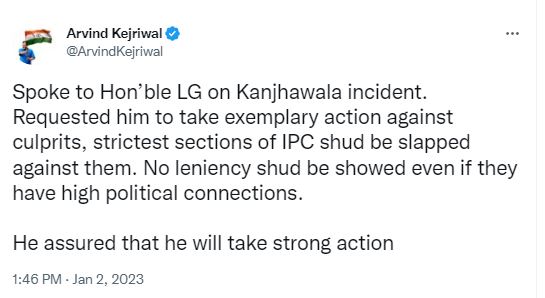 Meanwhile, Saurabh Bharadwaj said that Delhi Police comes directly under BJP's LG. He said Jungle Raj has come in Delhi under him.
नए LG साब को सात महीने हो गए यानी 210 दिन हो गये । दिल्ली में 209 थाने हैं ।
LG साहब कितने थानों में गये हैं अभी तक ? https://t.co/eKr4k7uKOA

— Saurabh Bharadwaj (@Saurabh_MLAgk) January 1, 2023
CCTV footage of the incident where the woman's body can be seen dragged by the car has gone viral on social media.
Clear CCTV of Delhi Kanjhawala Accident where girl dragged for few KM #Kanjhawala #delhi @SwatiJaiHind @RahulGandhi pic.twitter.com/Di1T2B7o4h

— Sachin Tiwari (@SachinReport) January 1, 2023
However, the mother of the deceased alleged that all five accused had sexually assaulted her daughter. The victim's body was found naked. But Police have denied the claims.
Delhi | I had a conversation with her at around 9pm, she said she'll return by 3-4am. She used to work as event planner for weddings. In morning,I got a call from police & was informed about the accident. I was taken to police station & was made to wait: Deceased's mother https://t.co/yGrjnk3sKO pic.twitter.com/8KPld7ERjC

— ANI (@ANI) January 2, 2023
Harendra K Singh, DCP Outer District informed that post-mortem is yet to be conducted and it will be done through a board of doctors
Delhi | As per our investigation, it was a fatal accident. All 5 persons who were present in the car were arrested. They will be produced before the court today. The postmortem of the deceased girl will be conducted through a board of doctors: Harendra K Singh, DCP Outer District https://t.co/yGrjnk3sKO pic.twitter.com/P5BjWVo5AG

— ANI (@ANI) January 2, 2023