Gujarat Polls Phase 2 HIGHLIGHTS: Approx 58.68 per cent polling recorded till 5pm in the second phase
The first phase of voting for 89 seats in Kutch, Saurashtra and South Gujarat ended on December 1, with an overall turnout of 63.31 per cent.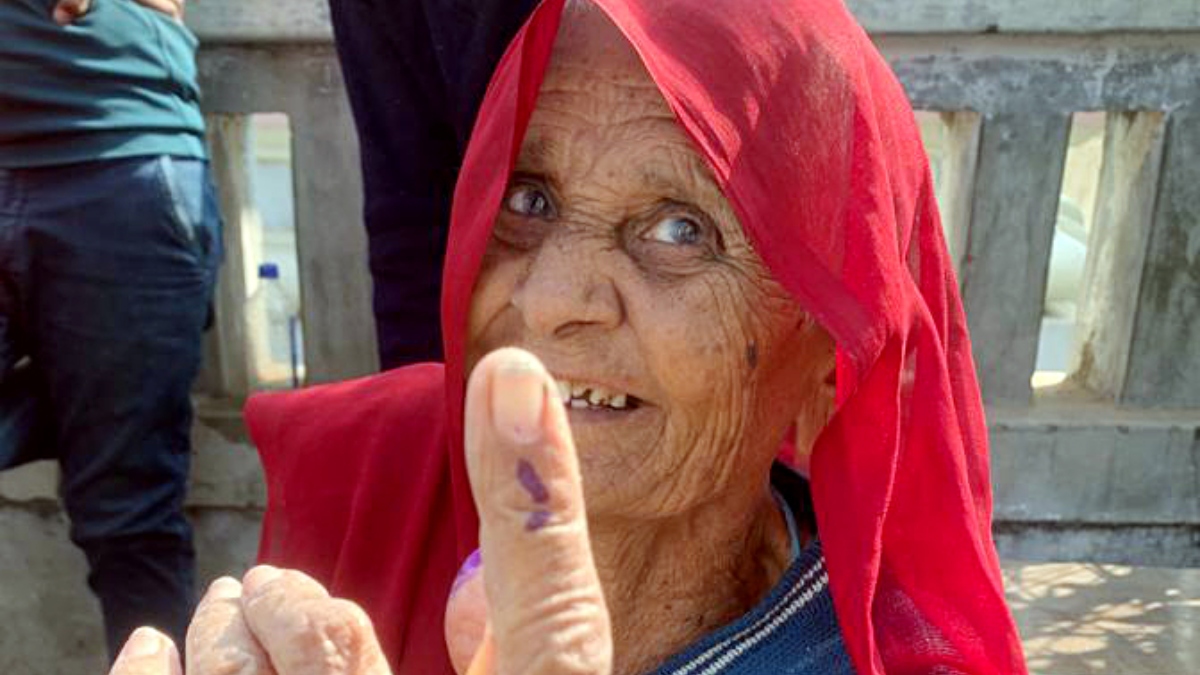 Ahmedabad (Gujarat): The voter turnout in the second phase of the Gujarat Assembly polls was recorded at 58.68 per cent till 5 pm on Monday.
The voting started at 8 am today. The state recorded a voter turnout of 19.17 per cent till 11 am. According to the latest data by the Election Commission, Sabarkantha recorded the highest turnout with 39.73 per cent polling.
Gujarat Polls Phase 2 Highlights:
Gujarat Exit Polls Live Streaming, Live Updates: Exit poll results to be announced shortly 
Himachal Pradesh Exit Polls Live Streaming, Live Updates: Exit poll prediction at 6:30 pm
50.51% voter turnout recorded till 3pm in the second and the last phase of the Gujarat Assembly elections: Election Commission of India pic.twitter.com/Q0qjoNQael

— ANI (@ANI) December 5, 2022
#GujaratAssemblyPolls | Police bring the situation under control at Keshavpura polling station under Anklav assembly constituency in Anand where a scuffle between BJP and Congress workers reportedly took place during polling. pic.twitter.com/xLAOU3XZVP

— ANI (@ANI) December 5, 2022
#GujaratAssemblyPolls: दूसरे चरण के मतदान में प्रधानमंत्री नरेंद्र मोदी @narendramodi की 100 वर्षीय मां हीराबेन ने मतदान किया pic.twitter.com/eWxXtWXqdp

— Newsroom Post (@NewsroomPostCom) December 5, 2022
Prime Minister Narendra Modi's mother Heeraben Modi casts her vote for the second phase of #GujaratAssemblyPolls in Raysan Primary School, Gandhinagar pic.twitter.com/ZfWcBXWCfI

— ANI (@ANI) December 5, 2022
Gujarat | Erstwhile royal Rajmata Shubhanginiraje Gaekwad, cast her vote at a polling booth in Vadodara.

She says, "Voting is our right. I appeal to everyone to exercise their franchise. There is no right without responsibility."#GujaratAssemblyPolls pic.twitter.com/AYz4TuJ4Nz

— ANI (@ANI) December 5, 2022
Ahmedabad | Prime Minister Narendra Modi's brother Somabhai Modi casts his vote for the second phase of Gujarat Assembly elections at Nishan Public school, Ranip pic.twitter.com/Efe4aMUtWY

— ANI (@ANI) December 5, 2022
19.17% voter turnout recorded till 11 am, in the second phase of #GujaratElections2022 pic.twitter.com/WeADnGgvGK

— ANI (@ANI) December 5, 2022
Ahmedabad | Gujarat CM Bhupendra Patel casts his vote for the second phase of Gujarat Assembly elections at Booth 95, Shilaj Anupam School#GujaratAssemblyPolls pic.twitter.com/hCE4zgC8XH

— ANI (@ANI) December 5, 2022
Ahmedabad, Gujarat | Prime Minister Narendra Modi casts his vote for the second phase of Gujarat Assembly elections at Nishan Public school, Ranip#GujaratElections pic.twitter.com/snnbWEjQ8N

— ANI (@ANI) December 5, 2022
Ahmedabad, Gujarat | Prime Minister Narendra Modi greets people on his way to Nishan Public school, Ranip to cast his vote for Gujarat Assembly elections.#GujaratElections pic.twitter.com/vndeh2DWAX

— ANI (@ANI) December 5, 2022
Ahmedabad, Gujarat | Prime Minister Narendra Modi leaves from Gandhinagar Raj Bhawan to cast his vote for the Gujarat Assembly elections at Nishan Public School, Ranip.#GujaratElections2022 pic.twitter.com/gt9Rmg2tes

— ANI (@ANI) December 5, 2022
#GujaratElections | Congress leader Bharat Solanki votes in Botad

He says, "Congress received massive support in Saurashtra & south Guj in phase 1. Today, north Guj & central Gujarat are going to polls & you can see long queues. Come Dec 8, Cong will come to power with majority" pic.twitter.com/H3nvQMDn22

— ANI (@ANI) December 5, 2022
Voting underway for #GujaratElections2022; visuals from polling booth 95, Shilaj Anupam School in Ahemdabad

Gujarat CM Bhupendra Patel will cast his vote here. pic.twitter.com/mYxi3OwKX2

— ANI (@ANI) December 5, 2022
Voting for the second phase of #GujaratElections2022 begins.

Fate of the political parties will be decided by over 2.5 crore voters today, with 93 constituencies spread across 14 districts of central and north Gujarat going up for polling. pic.twitter.com/7HpyAqdPWo

— ANI (@ANI) December 5, 2022