Hema Malini trolled for calling Bihu as festival of Bihar, Tweets "I am sorry"
Rongali Bihu is being celebrated today in Assam.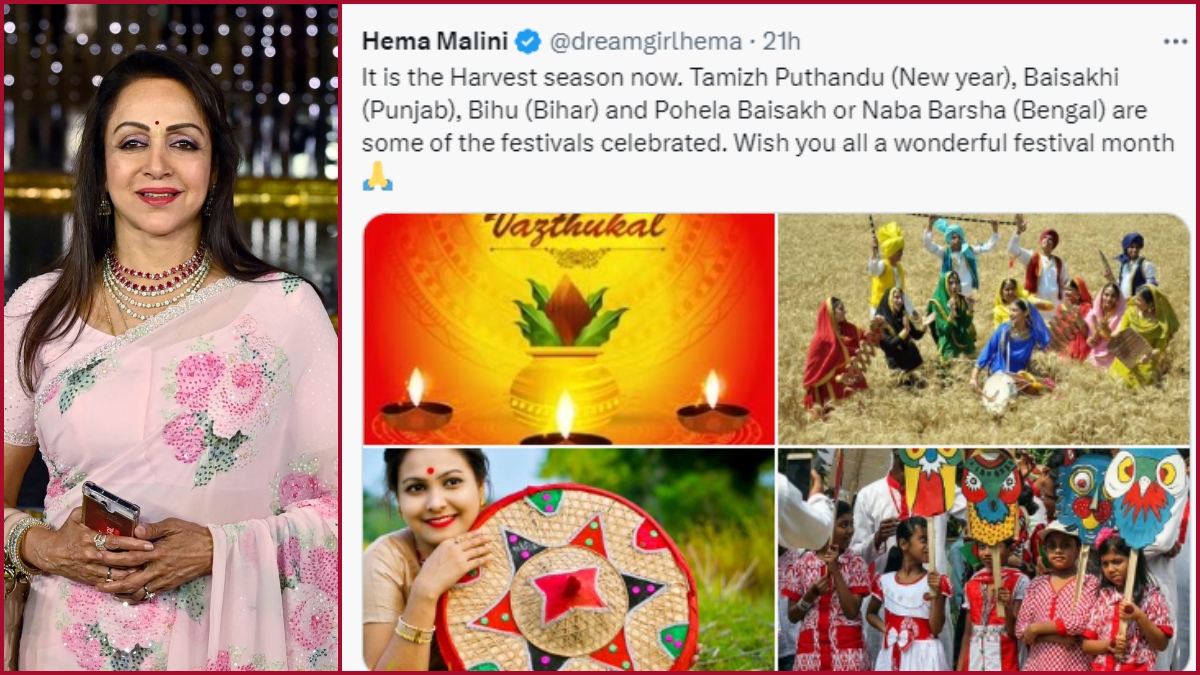 New Delhi: Actor-politician Hema Malini was trolled on social media for calling Bihu as the festival of Bihar. On Thursday (April 13), Hema Malini took to her social media accounts to wish the people of different states a happy new year.
But, what went wrong is that BJP leader made a mistake and called Bihu as a festival of Bihar following which social media users started to question her eduction.
After she was trolled and faced criticism on social media, the actor  apologised for her mistake.
It is the Harvest season now. Tamizh Puthandu (New year), Baisakhi (Punjab), Bihu (Bihar) and Pohela Baisakh or Naba Barsha (Bengal) are some of the festivals celebrated. Wish you all a wonderful festival month? pic.twitter.com/dSabiw5ZjF

— Hema Malini (@dreamgirlhema) April 13, 2023
Here is what she said: 
By mistake?I have put Bihu is a festival celebrated in Bihar. I am sorry! That should read Bihu, festival of Assam? pic.twitter.com/WTjxEwkmPe

— Hema Malini (@dreamgirlhema) April 14, 2023
Here is how social media users reacted to her status:
Right! Bihu is from Bihar! pic.twitter.com/1GCSEIHmD6

— Abhishek Chakraborty (@deshbhaktbong) April 13, 2023
Bihu (Bihar) ????? pic.twitter.com/MasB5zE6n2

— Abhishek (@AbhishekSay) April 13, 2023
That's why education is an integral part of life! Bihu is for Assam! It's our pride ❤️

— Mo Afridi (@Mo_Afridi_) April 13, 2023
बिहू असम का त्योहार है बिहार का नहीं#Assam #BohagBihu pic.twitter.com/1wX5Fo98Nq

— Dilip Kumar Das (@DilipDa60259821) April 13, 2023
Oh my God! Mrs MP have some general knowledge.#bihu is of #Assam

— শান্তনু কোৱঁৰ (@ImSantanuKonwar) April 13, 2023
Earlier, photos and videos of Hema Malini enjoying her Metro rides in Mumbai had gone viral on social media.
She said that other actors should also take the public transport service to avoid 'traffic congestion'.
This comes at a time when  Assam will be witnessing a historic moment today (April 14). Over 11,000 folk dancers and drummers will be performing Bihu dance together at Sarusajai Stadium in Guwahati in the presence of Prime Minister Narendra Modi.
#WATCH | 11304 folk dancers presented Bihu Dance in the presence of Assam CM Himanta Biswa Sarma at Sarusajai Stadium in Guwahati in the State Govt's bid of setting a Guinness World Record for largest Bihu dance in a single venue.

2548 drummers also performed here with them. pic.twitter.com/n9EYimF6Bt

— ANI (@ANI) April 13, 2023