General Elections 2023: EC announces election schedule for Nagaland, Tripura and Meghalaya
Election schedule for Nagaland, Tripura and Meghalaya announced-Check full schedule here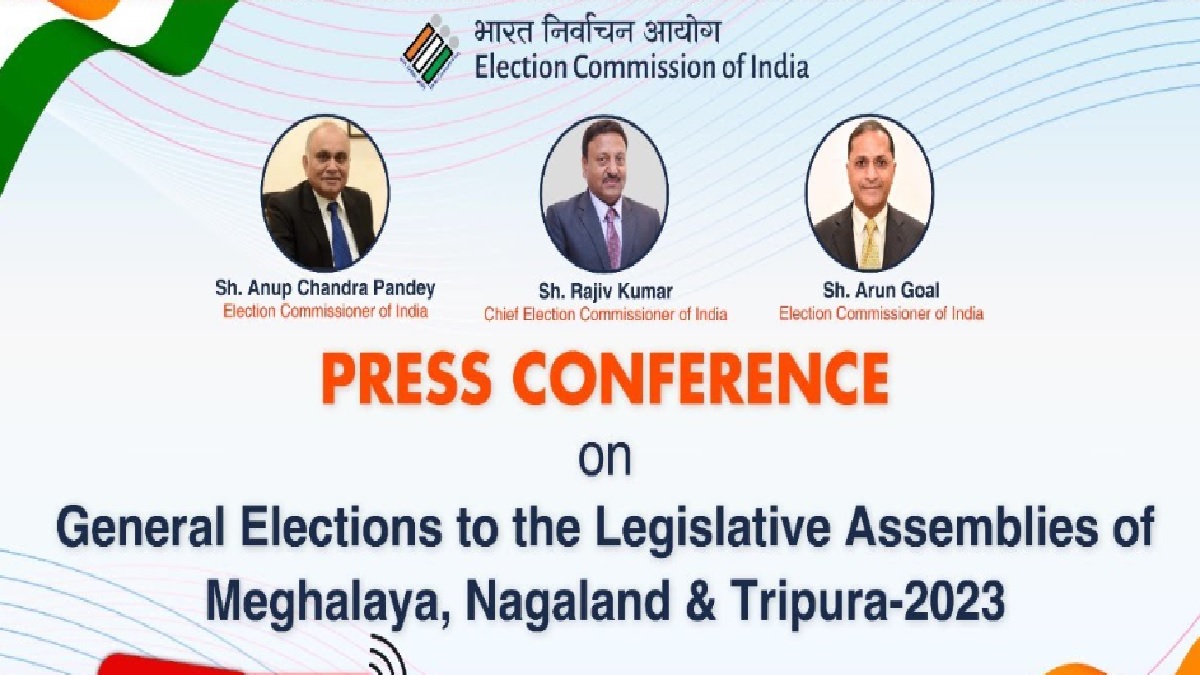 New Delhi: The Election Commission of India (ECI) announced the election schedule for Nagaland, Tripura, and Meghalaya today (Wednesday, January 18).
The five-year term of three assemblies in these states is ending on different dates on March 12, 15 and on 22nd.
Tripura will vote on February 16, Meghalaya, and Nagaland on the 27th and the results will be announced on March 2.
HIGHLIGHTS
This was the first press conference of the year by the Election Commission of India.
Women's participation in all these states is higher than male.
Their electoral role is also higher in these states.
Our teams would be ready to serve more than 62.8 lakh electors combined in the 3 states including ~ 31.47 lakh female electors, ~97,000 80+ voters, and 31,700 PwD voters.
Over 1.76 lakh first-time voters to participate in the elections in 3 states: CEC Rajiv Kumar pic.twitter.com/oBTgdoNbe1

— Election Commission of India #SVEEP (@ECISVEEP) January 18, 2023
The Elector gender ratio in Nagaland & Meghalaya is > 1000 & in Tripura, it is 989 which is more than the national average of 969. States have also witnessed higher women voter turnout % than males in the 2018 Assembly Elections. #AssemblyElections2023 #ECI pic.twitter.com/gEj8IVoZ5y

— Election Commission of India #SVEEP (@ECISVEEP) January 18, 2023
The CEC said the Election Commission had visited Nagaland, Meghalaya, and Nagaland from January 11-15, 2023 and they held detailed review meetings.
The CEC also said that they met Political Parties and responded to state-specific issues raised by them.

2018 Meghalaya Elections
Conrad Sangma's National People's Party (NPP) has 20 seats, the United Democratic Party (UDP) 8, the People's Democratic Front (PDF) 2, BJP 2 and 2 are with Independents. The Opposition TMC has 9 seats, as Mukul Sangma came with them. Fourteen seats are vacant.
2018 Tripura Elections
In 2018, the Bhartiya Janata Party (BJP) won 33 seats,  the Indigenous People's Front of Tripura (IPFT) won 4, the Communist Party of India (M)  won 15, and Congress won one seat. While six seats were vacant.
2018 Nagaland Elections 
The tenure of the Nagaland Legislative Assembly is scheduled to end on March 12. In 2018, the Nationalist Democratic Progressive Party and had formed the government after NDPP won 18 seats in the 60-member Assembly, and the saffron party got 12.
This is a developing story.