LSD Virus and Gujarat Model
Lumpy skin disease (LSD) is a viral disease that affects mostly cows of both indigenous as well as exotic breeds. The exotic breeds of cattle like Jersey and HF are more susceptible due to their low immunity levels. Gujarat govt's prompt action in tackling the menace is is winning praise from all quarters.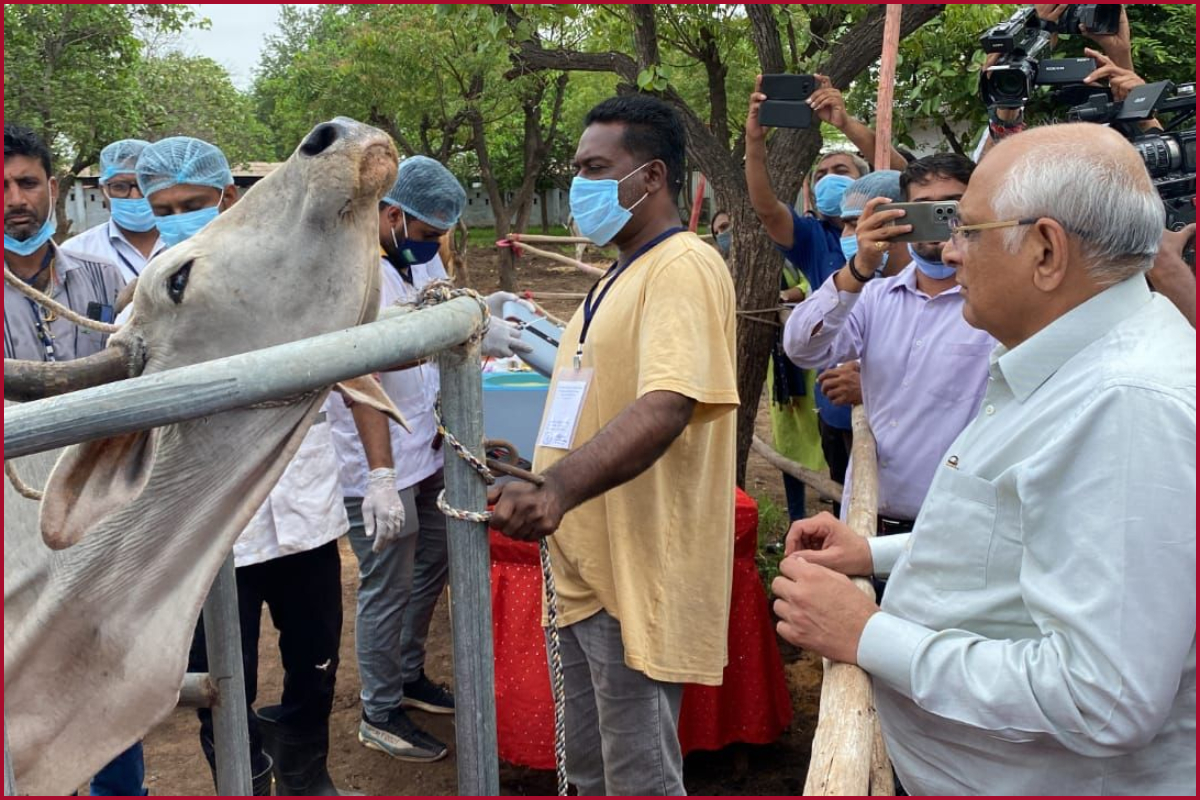 New Delhi: This is second biggest disaster to have struck Gujarat in last few months. Opposition that was crying hoarse about broken roads during torrential and unprecedented spell of rains in Gujarat is silent today as #GujaratModel is taking firm shape & getting stronger with each day. In latest face-off, the Opposition has now trained guns on CM Bhupendra Bhai Patel government over the outbreak of Lumpy Skin Disease Virus LSD but kudos to the Gujarat Government which always remained prepared & geared up for any eventuality.
And, the result of govt's prompt action is visible on the ground and also reflects in people's opinion. That's why Gujarat has voted back the same BJP government again and again, over the years. In neighbouring Rajasthan, the situation is grim and worrisome as Jodhpur has been badly affected but the state government remains laidback and callous in countering the virus menace.
Current Situation :
Gujarat Agriculture and Animal Husbandry Minister Raghavji Patel said that 15 districts remain affected, resulting in death of over 1,200 cattle due to the viral disease till Saturday.
As many as 50,328 affected cattle have been treated across 1,746 villages in the affected districts, the minister said.
He said that Kutch and Jamnagar are the worst-affected districts, while in rest 13 districts, the impact is limited.
Animal husbandry department officials said that the infection has spread at an unrelenting pace in past 3 months.
What is Lumpy Skin Disease and how it can be defeated:
Lumpy skin disease is a contagious viral disease that affects cattle. Neethling virus from the Poxviridae family of viruses is said to be carrier of disease. The virus is transmitted by insects that feed on blood, including mosquitoes, flies, and ticks.
Once infected, cows display enlarged lymph nodes and nodules on &under their skin. Infected cattles also display runny noses, fever, swelling of the legs, and can suffer permanent damage to their skin.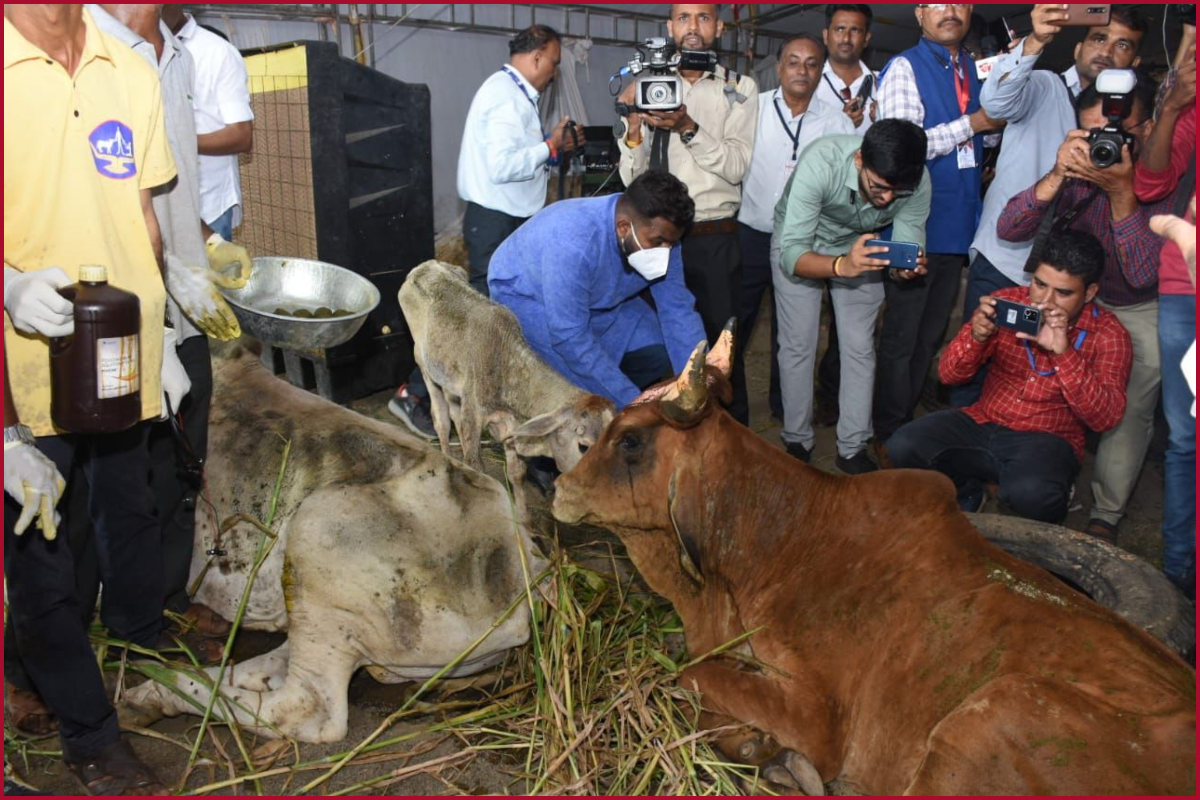 Lumpy skin disease is spread by insects that feed on blood. This includes mosquitoes, ticks, and several types of fly including the tse-tse fly, the horsefly and other flies that transmit blood-feeding parasites.
Lumpy skin disease (LSD) is a viral disease that affects mostly cows of both indigenous as well as exotic breeds. The exotic breeds of cattle like Jersey and HF are more susceptible due to their low immunity levels as compared to indigenous breeds. The LSD also affects buffaloes but not on the scale it does to cattle as buffalos have higher immunity levels as compared to cattle. However, younger animals may be more susceptible to the severe form of the disease.
Lumpy skin disease spreads faster and more efficiently in high heat and humidity. Animal Husbandry department officials have said that the present outbreak of lumpy skin disease originated in Africa and came to India via Pakistan. Its spread in Saurashtra coincides with the persistent rainfall. During such weather, animals remain susceptible to viral diseases.
Pakistan's Karachi reported an outbreak of lumpy skin disease in February 2022.
The virus attacks the circulatory system of the animal and thus affects all vital organs of the animal. But it attacks the skin of the animal the most and as a reaction, lumps emerge on the skin of the infected animals. The lumps or nodules cause irritation to animals, consuming a lot of energy of the infected bovine. Sometimes animals go down with fever. All these things put an animal under stress and the animal reduces its food intact. Consequently, milk production reduces by average 20 per cent.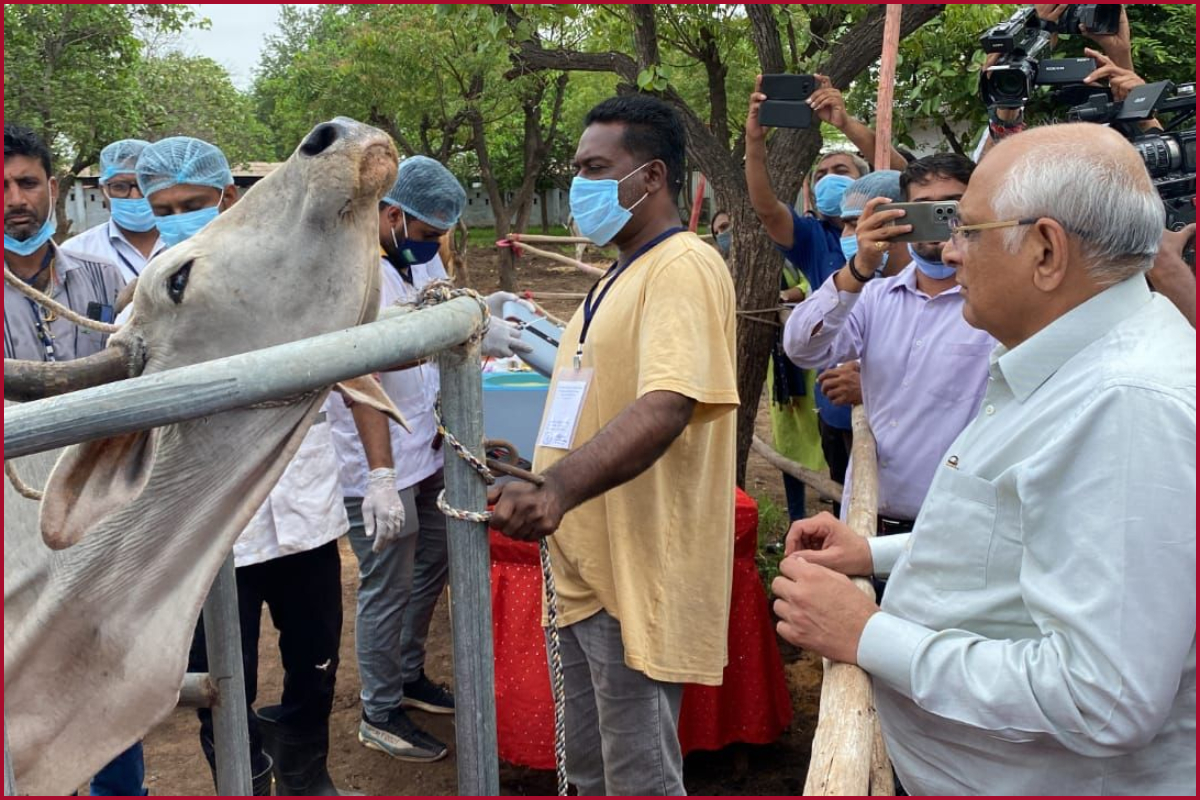 LSD is curable and recovery will be fast if treatment is given at early stages of the infection. Cattle start developing symptoms from the second or third day after contracting LSDV and if treatment is given immediately, the animal can recover within a week. 10 per cent mortality has been observed in LSD.
The first thing is, dairy farmers/cattle-herders should sanitise cattle-sheds by eliminating vectors through application of insecticides and spraying disinfectant chemicals. They should isolate the infected cattle immediately from the healthy stock and contact the nearest veterinarian for treatment of the infected animal. This is necessary as otherwise the virus may prove fatal.
Secondly, they should report the outbreak to the state government so that the rest of the healthy herd can be vaccinated by goat pox vaccine. The vaccine available in India has around 70 per cent efficacy. Antibodies develop in an animal three weeks after the animal is given a dose of vaccine and they generally last for six months.
The government protocol says that the ring-vaccination of cattle be done in a radius of 5 kilometres from the epicentre of an outbreak. Chief Minister Bhupendra BhaiPatel emphasises to take immediate action for free vaccination of cattle in the villages within a radius of 5 kilometres of the affected villages.
Experts say universal vaccination of cattle is not needed as, while LSD is a new disease, it is not endemic as of now.
LSD Virus is a very fragile virus and without their host, it dies at around 37 degrees
Latest Vaccination Figures Source: Information Department, Gujarat
10 lakh healthy animals of 1126 villages of the affected 15 districts have been vaccinated
152 Veterinary Officers and 438 Live Stock Inspectors have been deputed in the affected areas for disease survey, vaccination and treatment operations
24×7 service on toll free number 1962 provides necessary information to cattle breeders on Lumpy Skin Disease
The Lumpy Skin Disease or LSD Virus is spreading in Gujarat and in last 3 months the spread is very fast. This is where the tested Gujarat Model of Governance becomes visible and its benefits can be seen.
Results of quick and fast action with monitoring from all levels can be felt on ground where cattle breeders find support and required help.
Meetings Chaired by Chief Minister ,Ministers , Chief Secretary , Secretaries  , District Magistrates are continuously held monitor situation and quick decisions are taken after continuous review , each level is well informed with proper data andadequate Vaccines , Ambulance , Cattle quarantine centres , Help Lines are all provided.
The Double Engine of Narendra Modi at centre and Bhupendra BhaiPatel at state level has helped in countering the menace. The Central teams get activated and Union Fisheries, Animal Husbandry and Dairying Minister ParshottamRupalaalso arrives on time and reviews the ground situation.
In a high-level meeting held under the chairmanship of the Chief Minister, Minister of Agriculture and Animal Husbandry Raghavji Patel, Minister of State Devabhai Malam, Chief Secretary Pankaj Kumar, Additional Chief Secretary Mukesh Puri, Additional Chief Secretary to the Chief Minister  Pankaj Joshi and senior secretaries also attended.
Lumpy disease cases have been recorded in 15 districts of the state. Lumpy skin disease is a viral disease of cattle and buffaloes. The epidemic has been observed in 1126 villages of Jamnagar, Kutch, Rajkot, Surendranagar, Morbi, Devbhumi Dwarka, Porbandar, Bhavnagar, Amreli, Junagadh, Botad, Gir Somnath, Banaskantha, Surat and Patan districts.
Action and Response at all levels :
CHIEF MINISTER :
Actions and Guidelines issued by Chief Minister based on current guidelines and central government directives :
The Chief Minister gave instructions for free comprehensive vaccination of cattle in the villages within five kilometres radius of the affected village in the districts where livestock cases of this disease have been reported.He advised to take immediate action in this regard in campaign mode.
He further directed the Department of Animal Husbandry to carry out emergency treatment and advisory vaccination operations on a war footing especially in the affected districts and to ensure that all necessary resources are available for this. To ensure that this disease doesn't spread further he has directed to take all necessary control measures in the affected area.
The information that 152 veterinary officers and 438 livestock inspectors have been assigned to the affected villages for the purpose of Lumpy Skin Disease survey, vaccination and treatment operations, was shared in the meet.
The services of 269 additional mobile veterinary clinics and Karuna Ambulance are being taken in the affected areas.
Apart from this, the manpower of local administrative system and co-operative dairy will also be used as per requirement.
It was also informed in this meeting that the services of animal husbandry department officials have been made available 24×7 on the toll free number 1962 of the control room of GVK-EMRI for the queries arising regarding this lumpy skin disease and the necessary information about the disease.
In the districts where this epidemic has been seen widely, instructions have also been given to control disease vectors like ticks, flies, fleas, mosquitoes.
It has also been urged to clean and disinfect the places that come in contact with animals, manger and vehicles.
On the rise of Lumpy Skin Diseases in Gujarat, the Chief Minister visited the Isolation Centre for Sick Cows located at Kokdi Road in Kutch, the most infected district in Gujarat, and reviewed the improvement of facilities for cows.
The Chief Minister then visited the Vaccine Centre Madhapar, reviewed the quality of vaccines and other medicines administered to the cows at the Vaccine Centre and took care of the recovered cows and assured full assistance from the State Government.
After that, the Chief Minister met the office bearers and leaders of the district at the Collector's office and discussed about the work being done in the entire district and held a meeting. It should be noted here that Kutch district has started recovering from Lumpy Skin Disease in a very short time.
CHIEF SECRETARY :
Under the chairmanship of the Chief Secretary and in the presence of ACS Shri (Revenue), Health Commissioner, Secretary (Animal Husbandry), Regional Commissioner Municipal Rajkot and other officials, do a review meeting regarding the transmission of lumpy skin disease virus in the district.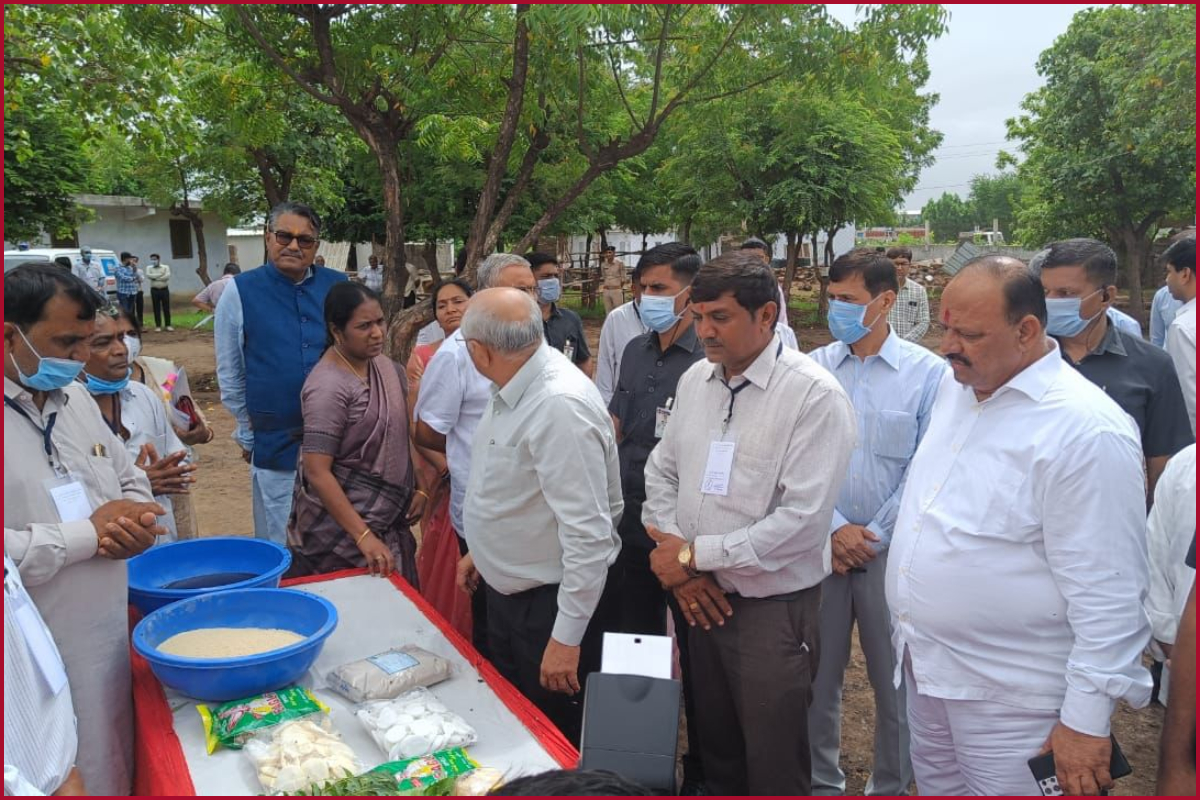 UNION GOVERNMENT (DOUBLE ENGINE ) :
The Central government will study the model for fighting Lumpy Skin Disease (LSD) — the viral disease affecting cattle and buffaloes, said Union Fisheries, Animal Husbandry and Dairying Minister ParshottamRupala on Sunday, after visiting an isolation centre that was opened at Porbandar GIDC.
The minister praised the concept and facilities at the centre set up on public private partnership (PPP) basis, jointly by Uday Karavadra Charitable Trust (UKCT), Animal Welfare Trust, Porbandar-Chhaya municipality and Vijay Vadukar, a BJP worker. The centre is set up at a coal processing factory belonging to Vadukar, while UKCT is an NGO run by Manisha Karavadra working for animal welfare.
"Reviewed the situation arising out of Lumpy Skin Disease spreading among livestock and visited an isolation centre set up by Uday Karavadra Charitable Trust and Animal Welfare Trust in Porbandar… Felicitated veterinarians and volunteers of the trust for showing high level of human sensitivity," Rupala posted on Twitter after the visit in the morning.
The Union Minister was accompanied by Porbandar District Collector Ashok Sharma, IVF scientist ShyamZawar, former minister and sitting BJP MLA Babu Bokhiria and Porbandar district development officer VK Advani among others.
As per the animal husbandry department of Porbandar district panchayat, an outbreak of LSD has been reported in Porbandar city. The city has reported 596 confirmed cases and 41 deaths due to the viral disease. The district has cattle population of 64,000, officers said, adding 14,673 of them have been given goat pox vaccine.
The isolation centre, modelled on the Covid-19 isolation ward, has seen 372 cattle heads. Of them, 144 are being treated, 80 are under observation and 107 have recovered, officials said.
"The isolation ward opened by local NGOs for providing medical treatment, vaccination, etc., to animals and which takes care of such animals for eight to 10 days even after they recover is a positive news," Rupala said after visiting the centre.
1. State Information Department :
 Using social media at the district and state level and all other media to spread awareness, Send out advisories, Inform Public at large and Fight Fake news and rumours.
Meanwhile, the Opposition Congress has accused the government of not revealing exact toll due to disease and demanded compensation to farmers, who lost their cattle.
In the meantime, some fake videos of dead Cow carcass and dead animal dumping grounds have also been found circulating on the social media. They are being immediately fact-checked by the DDO level officers.
The Opposition, in spite of contributing to the fight against virus is trying to corner the government and spread panic among citizens but the Gujarat govt is unmoved and unflinching in its commitment to save cows &cattle. Cow is the symbol of development of Gujarat. It is needless to say that Opposition will continuously try to paint the BJP government in bad light.