"No setback for BJP, Congress will soon show Laxman Savadi his place": BJP Karnataka Chief
Arun Singh's remarks came hours after the senior BJP leader and Minister joined the Congress party.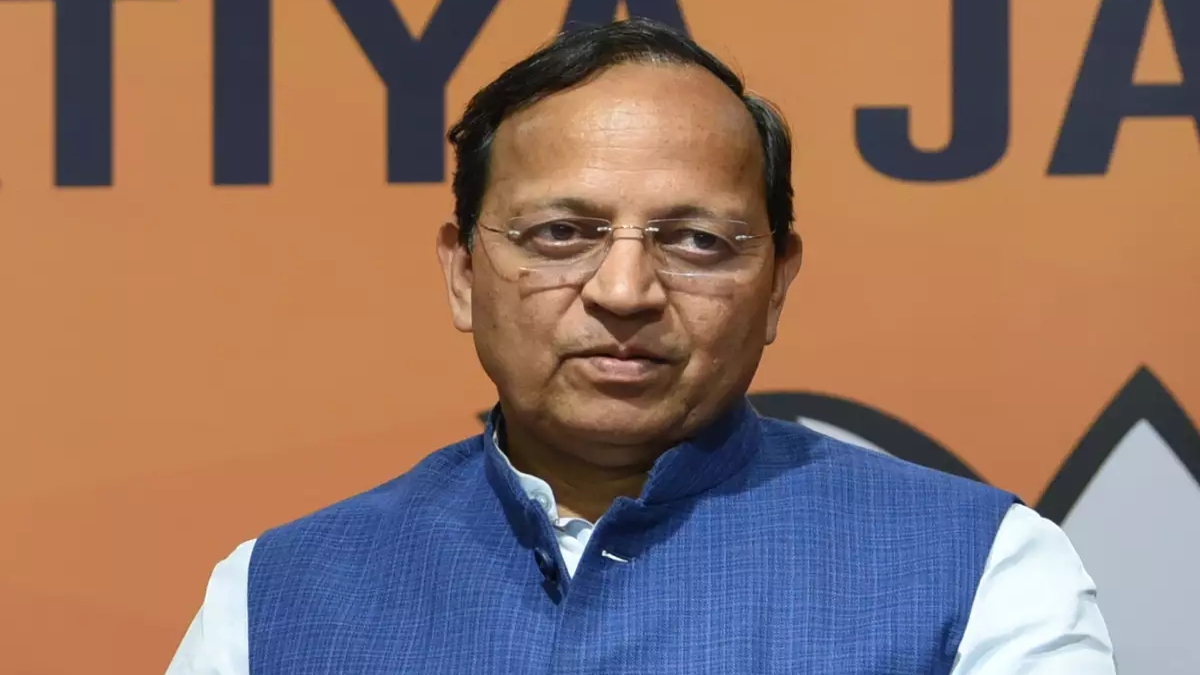 Bengaluru: Hours after Laxman Savadi joined the Congress party, Bharatiya Janata Party national general secretary and Karnataka in-charge Arun Singh hit out at the former Deputy Chief Minister and said that soon he will be shown his place by Congress.
Arun Singh's remarks came hours after the senior BJP leader and Minister joined the Congress party. Speaking to ANI, Arun Singh said, "There is no setback for BJP. Laxman Savadi lost the MLA election, if he was such a big leader, why was he defeated? The fact that he has left the party is a concern for him, not for us (BJP). Congress will soon show him his place".
"Everyone should listen to one thing carefully, whoever leaves the party, will not be able to return to the party for the next 10 to 20 years," he added.
#WATCH | Even after losing the election, BJP made him deputy CM and then MLC, even after that, he is going to a party (Congress) with such quarrels where the leaders are divided into two groups. He has made a big mistake & will regret it later: Arun Singh, BJP Karnataka in-charge… pic.twitter.com/BIz8S4pghy

— ANI (@ANI) April 14, 2023
The BJP general secretary further said that Laxman Savadi will not be made the Deputy Chief Minister by the Congress party.
"There are already three candidates who are aspiring for the chief ministerial position in the Congress party. Laxman Savadi is thinking that he will become Deputy CM there also just like he was in BJP. But this is not going to happen. Even Rahul Gandhi will not be meeting him for at least 10 years," he said.
He further attacked Laxman Savadi, alleging that he left BJP, despite all that the party did for him.
"BJP gave many opportunities to Laxman. He was made MLA, MLC, and Deputy CM, and after that he was given a place in the core committee as well as in the election committee. Even after that, he left the party and went to Congress for his personal interest. It is a wrong decision," he said.
Talking about the Congress party, the BJP Karnataka in-charge said, "Congress party is divided among itself. The party is running only on quarrels, there are quarrels in every state. So, it is a matter of concern for them (Laxman Savadi) to go to such a party, there is no worry for us, we have a huge strength of workers".
Attacking the Congress further, he said that it is a party which has several factions and is fighting among themselves with no leader or future.
"In Karnataka, there is a battle between Siddaramaiah and DK Shivakumar, as both think they will become the Chief Minister. In Rajasthan, there is infighting between Sachin Pilot and Ashok Gehlot. In Chhattisgarh also, there is battle between Bhupesh Baghel and TS Singh Dev. So, it is a party with infighting. It is a leaderless party that has no future for anyone," Arun Singh said.
The demand for tickets in the ruling party is high. Some people have gone to other parties to become MLAs. But real BJP workers do not leave the party. BJP will release the third list as soon as possible. I will file the nomination tomorrow: Karnataka CM Basavaraj Bommai pic.twitter.com/f3xnRd4rAA

— ANI (@ANI) April 14, 2023
Earlier in the day, in a major blow to the ruling BJP ahead of the Karnataka polls, former deputy CM Laxman Savadi joined the Congress party, after being denied a ticket by BJP.
Savadi met the Congress's state president Shivakumar and the Leader of Opposition in the Assembly Siddaramaiah at the latter's residence in Bengaluru on Friday. Savadi, on April 12, had resigned as a Legislative Council member and from the primary membership of the BJP after missing out on a ticket to seek a fresh mandate from his Assembly constituency, Athani.
#KarnatakaElections2023 | "Party (BJP) isn't following its principles, there's only power politics. The older BJP is nowhere to be seen, they want to be in power at any cost. We have to strengthen the Congress party": Former BJP leader & former Karnataka Deputy CM Laxman Savadi pic.twitter.com/I4VILsnYqx

— ANI (@ANI) April 14, 2023
In the 2018 polls, the BJP emerged as the largest single party, winning 104 seats, with the Congress and then ally JD(S) bagging 80 and 37 seats respectively. The term of the current Karnataka Legislative Assembly will end on May 24. The 224-seat Assembly will go to polls on May 10, and the counting of the votes will be held on May 13.