In 1st Lok Sabha sitting, PM Modi calls for support on Women's Reservation Bill (VIDEO)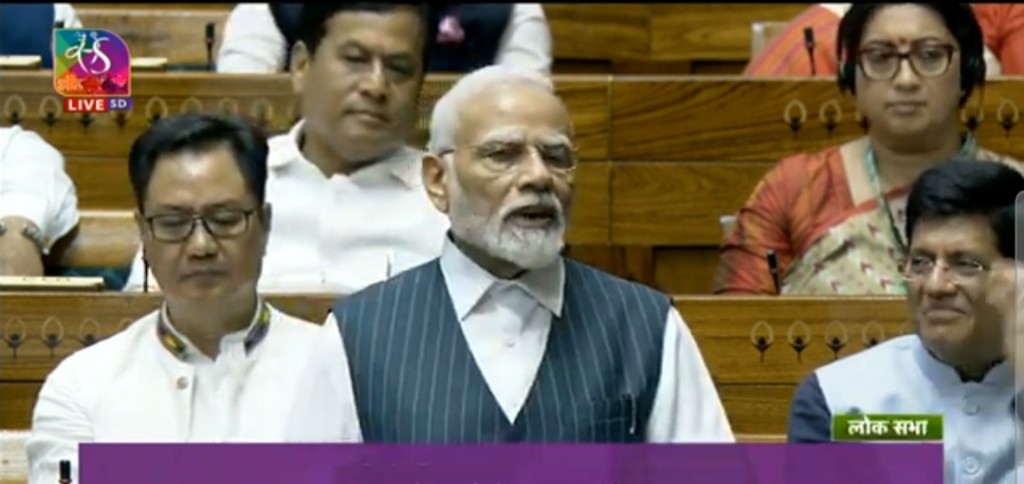 New Delhi: On the auspiciuos occasion of Ganesh Chaturthi, the proceedings of Lok Sabha began on Tuesday in the newly constructed Parliament complex. The proceedings started with the address of Lok Sabha Speaker Om Birla who called for exemplary & impeccable conduct by all the lawmakers, cutting across party lines.
Earlier, the lawmakers paid an emotional & heartfelt tribute to the old Parliament and then walked to the adjoining new Parliament complex.
#WATCH | In the Lok Sabha of the new Parliament building, PM Narendra Modi says, "…I extend my heartiest welcome to all of you in this new Parliament building. This occasion is unprecedented in several ways. This is the dawn of Azadi ka Amrit Kaal…" pic.twitter.com/JbVM43eXLv

— ANI (@ANI) September 19, 2023
#WATCH | Proceedings of the Lok Sabha begin in the New Parliament building. pic.twitter.com/LafXM9xUD9

— ANI (@ANI) September 19, 2023
#WATCH | Prime Minister Narendra Modi enters the New Parliament building. pic.twitter.com/ypAAxM0BBX

— ANI (@ANI) September 19, 2023
#WATCH | TMC MPs including Derek O'Brien, Abhishek Banerjee and others enter the new building of the Parliament. pic.twitter.com/7FG9RT3M6W

— ANI (@ANI) September 19, 2023
#WATCH | Delhi | Women invitees arrive at the new Parliament building. pic.twitter.com/IqM9164kGR

— ANI (@ANI) September 19, 2023
#WATCH | Leader of Congress in Lok Sabha Adhir Ranjan Chowdhury, MPs Rahul Gandhi, Gaurav Gogoi and others enter the new building of the Parliament. pic.twitter.com/nFhM8BT3Eg

— ANI (@ANI) September 19, 2023
#WATCH | Prime Minister Narendra Modi, Union Home Minister Amit Shah, Defence Minister Rajnath Singh, Union Ministers Piyush Goyal, Nitin Gadkari and other parliamentarians enter the New Parliament building. pic.twitter.com/kis6atj56K

— ANI (@ANI) September 19, 2023