RIP Raju Srivastav: PM Modi, Yogi Adityanath, Rajnath Singh, Amit Shah and others condole the death of Comedian
RIP Raju Srivastav: Comedian Raju Srivastav died today at the age of 58.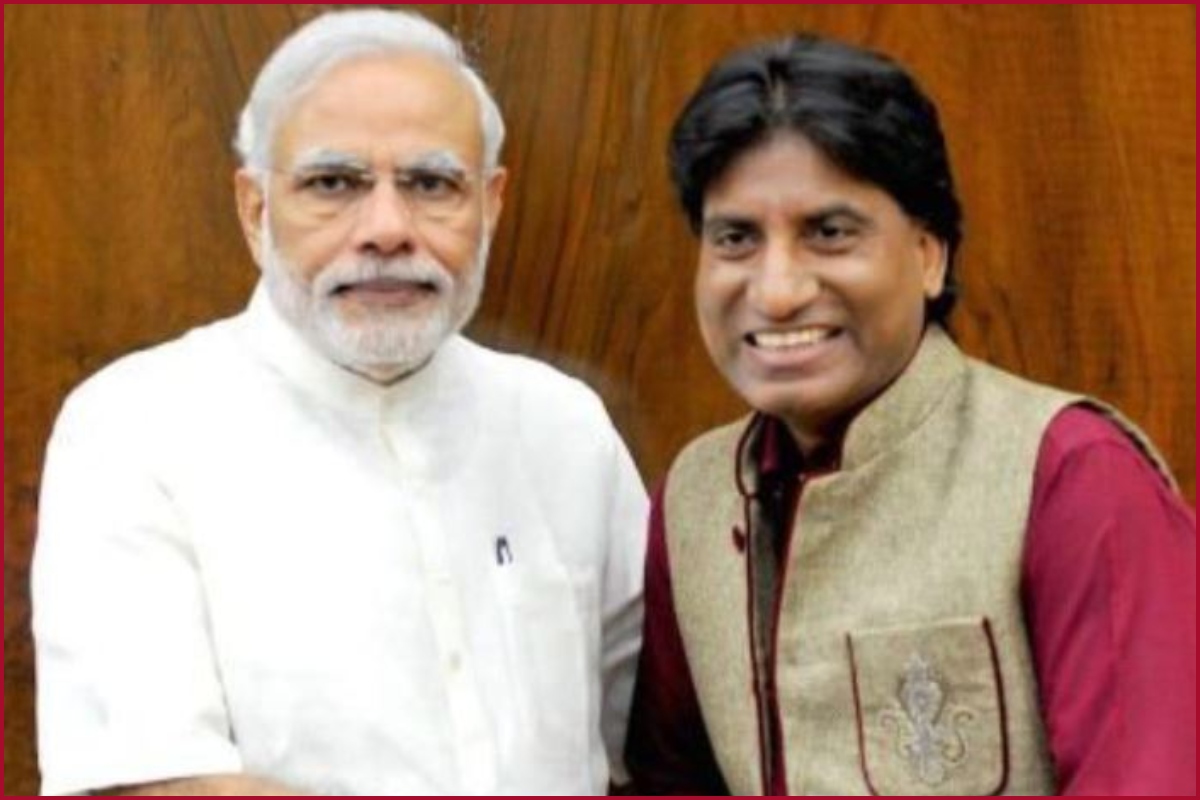 New Delhi: Comedian Raju Srivastava passed away today in Delhi at the age of 58. The news was confirmed by his family.
Raju Srivastav was admitted to AIIMS Delhi on August 10 after experiencing chest pain & collapsing while working out at the gym.
Soon after the news of his passing away was confirmed, nation remembered the man who made millions laugh.
Prime Minister Narendra Modi condoled the passing away of the comedian.
Raju Srivastava brightened our lives with laughter, humour and positivity. He leaves us too soon but he will continue to live in the hearts of countless people thanks to his rich work over the years. His demise is saddening. Condolences to his family and admirers. Om Shanti. pic.twitter.com/U9UjGcfeBK

— Narendra Modi (@narendramodi) September 21, 2022
Uttar Pradesh Chief Minister Yogi Adityanath also condoled the death of Raju Srivastav.
श्री राजू श्रीवास्तव जी ने हास्य कला की विधा को अपनी प्रतिभा एवं मेहनत से नई ऊंचाइयों पर पहुंचाया। उत्तर प्रदेश फिल्म विकास परिषद के माध्यम से प्रदेश की परंपरागत कला की विधाओं के उत्थान में उनका सराहनीय योगदान रहा।

ॐ शांति!

— Yogi Adityanath (@myogiadityanath) September 21, 2022
Union Minister Rajnath Singh also condoled his death.
सुप्रसिद्ध हास्य कलाकार, राजू श्रीवास्तव जी के निधन से मुझे गहरा दुःख हुआ है। वे एक मंझे हुए कलाकार होने के साथ-साथ एक बेहद ज़िंदादिल इंसान भी थे। सामाजिक क्षेत्र में भी वे काफ़ी सक्रिय रहते थे। उनके शोकाकुल परिवार एवं प्रशंसकों के प्रति मैं अपनी संवेदना व्यक्त करता हूँ।ॐ शान्ति!

— Rajnath Singh (@rajnathsingh) September 21, 2022
Union Home and Cooperation Minister Amit Shah on Wednesday extended condolence over the demise of renowned comedian Raju Srivastav and called it a "great loss to the art world".
सुप्रसिद्ध हास्य कलाकार राजू श्रीवास्तव जी का एक विशिष्ट अंदाज था, उन्होंने अपनी अद्भुत प्रतिभा से सभी को प्रभावित किया। उनका निधन कला जगत के लिए एक बड़ी क्षति है। मैं उनके परिजनों व प्रशंसकों के प्रति संवेदना व्यक्त करता हूँ। ईश्वर उन्हें यह दुःख सहने की शक्ति दें। ॐ शांति शांति

— Amit Shah (@AmitShah) September 21, 2022
Thank you for the laughs #RajuSrivastava

Om Shanti 🙏 pic.twitter.com/ee37C5BVx0

— Piyush Goyal (@PiyushGoyal) September 21, 2022
मशहूर अभिनेता और कॉमेडियन श्री राजू श्रीवास्तव जी के असामयिक निधन से भारतीय कला जगत को अपूरणीय क्षति हुई है। ईश्वर से उनकी आत्मा को शांति एवं शुभचिंतकों व परिजनों को दुःख की इस घड़ी में शक्ति प्रदान करने की प्रार्थना करता हूँ।
ॐ शांति!

— Tejashwi Yadav (@yadavtejashwi) September 21, 2022
Condolences pour in for the comedian:
RIP Raju Bhai 💔 pic.twitter.com/RfnAMh1hFN

— sonu sood (@SonuSood) September 21, 2022
Spoke to #RajuSrivastava's family. He is no more. Passed away half an hour ago.

A great loss to the industry. Our heartfelt condolences to the family & near ones. Will never forget you.

ॐ शान्ति !
🙏🙏🙏

— Ashoke Pandit (@ashokepandit) September 21, 2022
Gone too soon, too far🙏

RIP #RajuSrivastava. pic.twitter.com/vwtGS0Qfwg

— Harsh Sanghavi (@sanghaviharsh) September 21, 2022
RIP #RajuSrivastava .. Legend in the field of Stand Up comedy.. My favorite of all time.. Om Shanti Gajodhar Bhaiya 😔 pic.twitter.com/N5B9Lyqoc1

— Sumit Kadel (@SumitkadeI) September 21, 2022
End of an Era! #RajuSrivastava has passed away. He was earlier declared brain dead.

Nobody can match the humor level of Raju Shrivastava. No double meaning jokes, no abusive words. He was the best stand up comedian in Indian history.

May the departed soul Rest in Peace.

— Akshat Saraf (@AkshatSaraf) September 21, 2022
This is why we need more of people like #RajuSrivastava rather than #AamirKhan or other biggies spreading hate.Wake up #राजू_श्रीवास्तव ji India needs you. Get well soon 🌈 #RajuSrivastavaHealth pic.twitter.com/0t8f6monn0

— Sona Uniyal (@UniyalSona) August 19, 2022
RIP LEGEND #rajusrivastava. Will always cherish this evening. Thanks for the entertainment and inspiring a generation of comedians.🙏 pic.twitter.com/DNxckkCIQn

— Vipul Goyal (@HumorouslyVipul) September 21, 2022
Heartbreaking… Friend, well-wisher, neighbour #RajuSrivastava ji, you will be missed… Om Shanti 🙏🙏🙏 pic.twitter.com/DYoIZM1F88

— taran adarsh (@taran_adarsh) September 21, 2022
WATCH