Young man found dead at farmers' protest site at Singhu border with his left wrist chopped off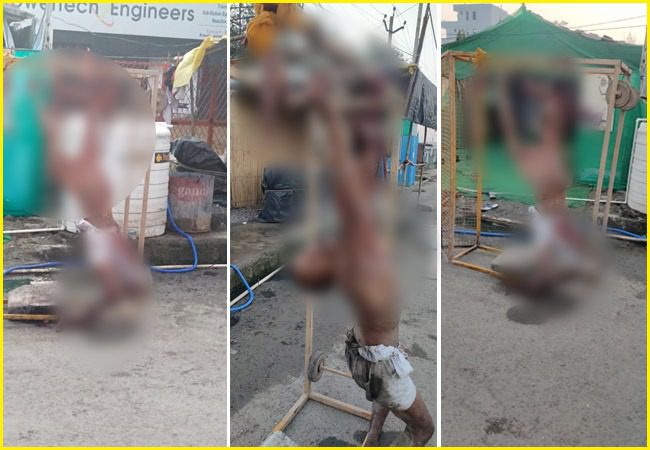 New Delhi: In heart wrenching incident, a young man's body was found with his left wrist severed and a pool of blood on the ground. The body was found tied to an overturned police barricade at the farmers' protest site on the Singhu border this morning.
According to reports, the body is yet to be identified.
It is said that he was hacked to death for allegedly desecrating the Guru Granth Sahib, the Sikhs' holy book.
However, the body has been taken by Sonipat police to the Civil Hospital.
At about 5 am today, a body was found hanging with hands, legs chopped at the spot where farmers' protest is underway (Kundli, Sonipat). No info on who's responsible, FIR lodged against an unknown person. Viral video is a matter of probe, rumours will linger: DSP Hansraj pic.twitter.com/IfWhC2wW4l

— ANI (@ANI) October 15, 2021
DSP Hansraj said that FIR has been  lodged against an unknown person.
#WATCH थाना कुंडली में सूचना मिली कि जो किसान आंदोलन चल रहा है उसकी स्टेज के पास एक व्यक्ति के हाथ पैर काटकर लटकाया हुआ है। पुलिस ने मौके पर पहुंचकर लोगों से पूछताछ की परन्तु अभी कुछ खुलासा नहीं हो पाया है। अज्ञात के खिलाफ FIR दर्ज़ की गई। जांच जारी है: DSP हंसराज सोनीपत pic.twitter.com/c57Lwehfct

— ANI_HindiNews (@AHindinews) October 15, 2021
After this incident, BJP's Amit Malviya blamed Rakesh Tikat for the brutal murder.
Had Rakesh Tikait not justified mob lynching in Lakhimpur, with Yogendra Yadav, sitting next to him, maintaining sanctimonious silence, the gory murder of a youth at Kundali border would not have happened. Anarchists behind these protests in the name of famers need to be exposed. https://t.co/YkchLIQxgY

— Amit Malviya (@amitmalviya) October 15, 2021
More details awaited.