Asian Games 2023: India's medal tally by end of Day 9….. check Full list of winners
India is now stands only 10 medals short of their all time Asian Games medals record of 70.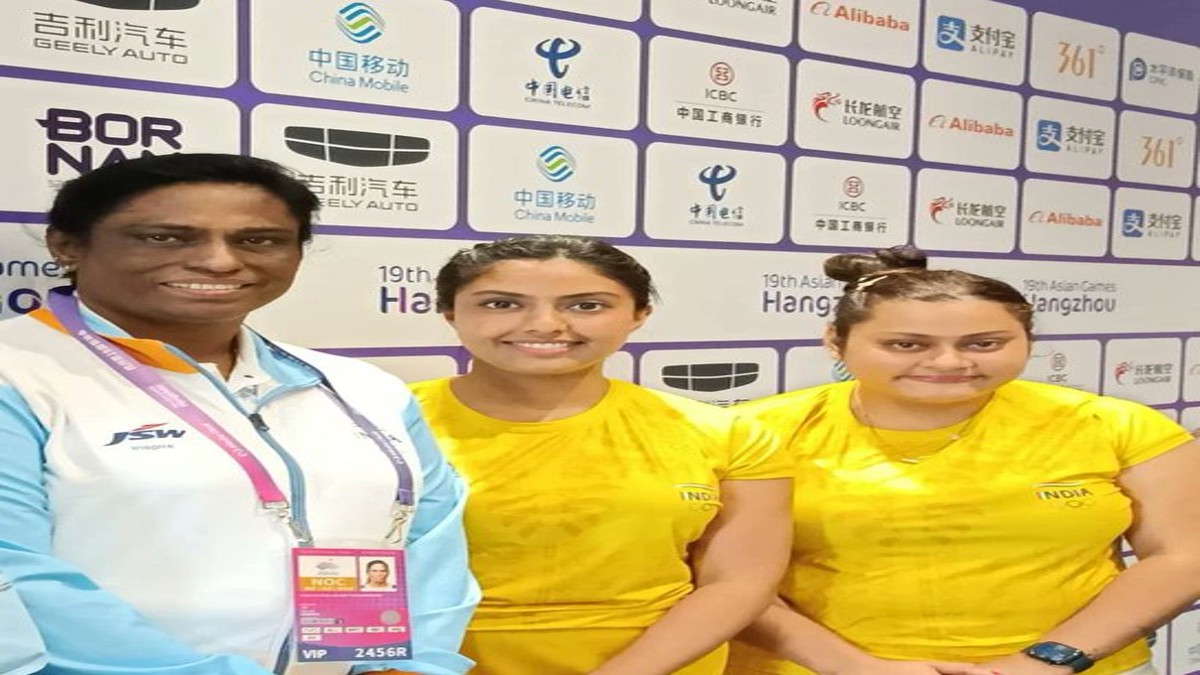 New Delhi: India enjoyed yet another monstrous day at the Asian Games 2023 on Monday, winning a total of 7 medals and taking their total medal tally to 60.
India started their day with the Indian men's roller skating team of  Aryanpal Singh Ghuman, Anandkumar Velkumar, Siddhant Rahul Kamble and Vikram Rajendra Ingale, and the women's roller skating team of Sanjana Bathula, Karthika Jagadeeswaran, Heeral Sadhu and Aarathy Kasturi Raj clinched bronze medals in their respective speed skating 3000m relay team event, giving India a perfect start on day 9.
The next in line was the Indian women's table tennis duo of childhood friends turned table tennis partners, Sutirtha Mukherjee and Ayhika Mukherjee, adding another bronze medal to the Indian medal tally.
In the evening session, Indian athletes were once again at the centre stage. Sprinters Parul Chaudhry and Priti opened India's evening session account by winning silver and bronze in the women's 3000m steeplechase run.
India added two more medals to end the day courtesy of silver medals from Ancy Sojan in the women's long jump and the Indian team of Ajmal, Vithya, Rajesh & Subha in the 4X100 relay mixed team event.
Check out India's full medal tally, by the end of day 9:
| | | | | |
| --- | --- | --- | --- | --- |
| No | Name | Sport | Event | Medal |
| 1 | Team India | Shooting | Women's 10m air rifle team | Silver |
| 2 | Team India | Rowing | Men's lightweight double sculls | Silver |
| 3 | Team India | Rowing | Men's pair | Bronze |
| 4 | Team India | Rowing | Men's eight | Silver |
| 5 | Ramita Jindal | Shooting | Women's 10m air rifle | Bronze |
| 6 | Team India | Shooting | Men's 10m air rifle team | Gold |
| 7 | Team India | Rowing | Men's four | Bronze |
| 8 | Team India | Rowing | Men's quadruple | Bronze |
| 9 | Aishwary Pratap Singh Tomar | Shooting | Men's 10m air rifle | Bronze |
| 10 | Team India | Shooting | Men's 25m rapid file pistol team | Bronze |
| 11 | Team India | Cricket | Women's T20 cricket | Gold |
| 12 | Neha Thakur | Sailing | Girl's Dinghy – ILCA4 | Silver |
| 13 | Eabad Ali | Sailing | Men's Windsurfer – RS:X | Bronze |
| 14 | Team India | Equestrian | Dressage Team | Gold |
| 15 | Team India | Shooting | Women's 50m rifle 3 positions team | Silver |
| 16 | Team India | Shooting | Women's 25m pistol team | Gold |
| 17 | Sift Kaur Samra | Shooting | Women's 50m rifle 3 positions | Gold |
| 18 | Ashi Chouksey | Shooting | Women's 50m rifle 3 positions | Bronze |
| 19 | Team India | Shooting | Men's skeet team | Bronze |
| 20 | Vishnu Saravanan | Sailing | Men's dinghy ICLA7 | Bronze |
| 21 | Esha Singh | Shooting | Women's 25m pistol | Silver |
| 22 | Anantjeet Singh Naruka | Shooting | Men's skeet individual | Silver |
| 23 | Roshibina Devi | Wushu | Women's 60 Kg | Silver |
| 24 | Team India | Shooting | Men's 10m air pistol team | Gold |
| 25 | Anush Agarwalla | Equestrian | Dressage individual | Bronze |
| 26 | Team India | Shooting | Men's 50m rifle 3 positions team | Gold |
| 27 | Team India | Shooting | Women's 10m air pistol team | Silver |
| 28 | Team India | Tennis | Men's doubles | Silver |
| 29 | Palak | Shooting | Women's 10m air pistol individual | Gold |
| 30 | Esha Singh | Shooting | Women's 10m air pistol individual | Silver |
| 31 | Team India | Squash | Women's team | Bronze |
| 32 | Aishwary Pratap Singh Tomar | Shooting | Men's 50m rifle 3 positions individual | Silver |
| 33 | Kiran Baliyan | Athletics | Women's shot put | Bronze |
| 34 | Team India | Shooting | 10m air pistol mixed team event | Silver |
| 35 | Team India | Tennis | Mixed doubles | Gold |
| 36 | Team India | Squash | Men's team | Gold |
| 37 | Karthik Kumar | Athletics | Men's 10000m | Silver |
| 38 | Gulveer Singh | Athletics | Men's 10000m | Bronze |
| 39 | Aditi Ashok | Golf | Women's individual | Silver |
| 40 | Team India | Shooting | Women's trap team | Silver |
| 41` | Team India | Shooting | Men's trap team | Gold |
| 42 | Kynan Darius Chenai | Shooting | Men's trap individual | Bronze |
| 43 | Nikhat Zareen | Boxing | Women's 50 Kg | Bronze |
| 44 | Avinash sable | Athletics | Men's 3000m steeplechase | Gold |
| 45 | Tajinderpal Singh Toor | Athletics | Men's shot put | Gold |
| 46 | Harmilan Bains | Athletics | Women's 1500m | Silver |
| 47 | Ajay Kumar Saroj | Athletics | Men's 1500m | Silver |
| 48 | Jinsen Jhonson | Athletics | Men's 1500m | Bronze |
| 49 | Nandani  Agasara | Athletics | Women's 800m heptathlon | Bronze |
| 50 | Murali Shreeshanker | Athletics | Men's long jump | Silver |
| 51 | Seema Punia | Athletics | Women's discus throw | Bronze |
| 52 | Team India | Badminton | Men's team | Silver |
| 53 | Jyothi Yarraji | Athletics | Women's 100m hurdle race | Silver |
| 54 | Team India | Roller skating | Women's speed skating 3000m relay team | Bronze |
| 55 | Team India | Roller skating | Men's speed skating 3000m relay team | Bronze |
| 56 | Team India | Table tennis | Women's doubles | Bronze |
| 57 | Parul Chaudhry | Athletics | Women's 3000m steeplechase | Silver |
| 58 | Priti | Athletics | Women's 3000m steeplechase | Bronze |
| 59 | Ancy Sojan | Athletics | Women's long jump | Silver |
| 60 | Team India | Athletics | 100X4 mixed team relay | Silver |