Asian Games 2023: Medal tally of India by end of Day 5….. check Full list of winners
Shooting events are turning out to be India's biggest asset by providing 4 out of their 6 gold medals.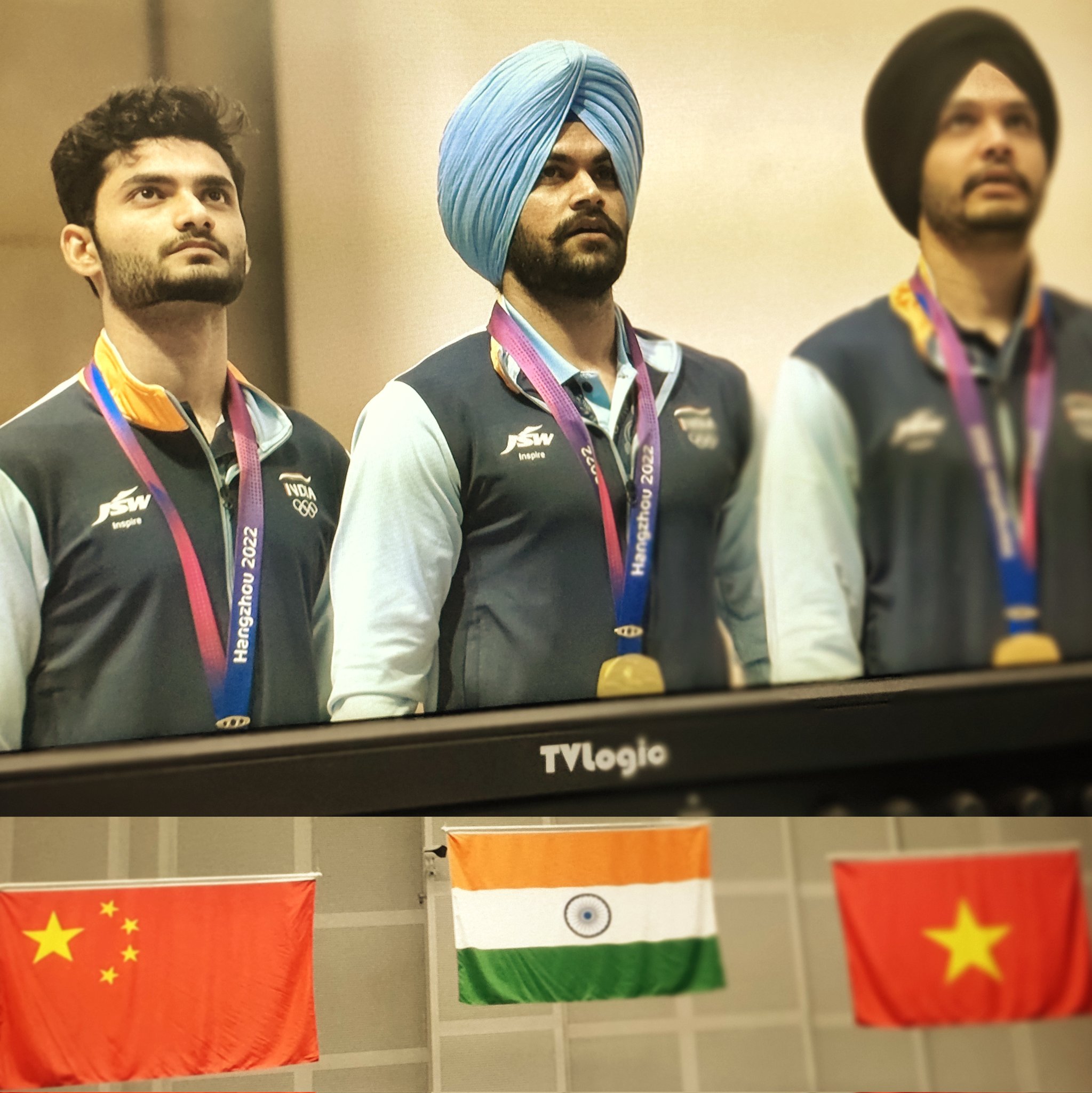 New Delhi: The 19th edition of the Asian Games, in Hangzhou, China, is moving towards its exciting phase as one-third of the tournament is already over, with 5 out of 15 days already concluded.
India is showing their dominance in the tournament by already winning 25 medals, including 6 gold medals across different events, by the end of play on Thursday, September 28, 2023.
India's first gold medal came from shooting when the team of Rudrankksh Patil, Aishwary Pratap Singh Tomar, and Divyansh Singh Panwar won the men's 10m air rifle team competition.
The next in line was the Indian women's cricket team, who won their first-ever gold medal in women's cricket at the Asian Games when they defeated the Sri Lanka women's cricket team in the gold medal match.
Indian mixed equestrian dressage team earned a medal for India in equestrian after 41 years in the Asian Games, earning India its third gold medal and making history.
The Indian shooting trio of Manu Bhaker, Rhythm Sangwan, and Esha Singh won the gold medal in the women's 25-meter pistol team competition, giving India its fourth gold medal.
India earned its fifth medal in a significant way as their star shooter, Sift Kaur Samar, took home the gold in the women's 50m rifle 3 position competition, while Ashi Chouksey of India also took home the bronze in the same event.
India added one more gold on day five when the Indian team of Sarabjot Singh, Shiva Narwal and Arjun Singh Cheema secured the top spot in the men's 10m air pistol team event.
Check out India's full medal tally, by the end of day 5:
| | | | | |
| --- | --- | --- | --- | --- |
| No | Name | Sport | Event | Medal |
| 1 | Team India | Shooting | Women's 10m air rifle team | Silver |
| 2 | Team India | Rowing | Men's lightweight double sculls | Silver |
| 3 | Team India | Rowing | Men's pair | Bronze |
| 4 | Team India | Rowing | Men's eight | Silver |
| 5 | Ramita Jindal | Shooting | Women's 10m air rifle | Bronze |
| 6 | Team India | Shooting | Men's 10m air rifle team | Gold |
| 7 | Team India | Rowing | Men's four | Bronze |
| 8 | Team India | Rowing | Men's quadruple | Bronze |
| 9 | Aishwary Pratap Singh Tomar | Shooting | Men's 10m air rifle | Bronze |
| 10 | Team India | Shooting | Men's 25m rapid file pistol team | Bronze |
| 11 | Team India | Cricket | Women's T20 cricket | Gold |
| 12 | Neha Thakur | Sailing | Girl's Dinghy – ILCA4 | Silver |
| 13 | Eabad Ali | Sailing | Men's Windsurfer – RS:X | Bronze |
| 14 | Team India | Equestrian | Dressage Team | Gold |
| 15 | Team India | Shooting | Women's 50m rifle 3 positions team | Silver |
| 16 | Team India | Shooting | Women's 25m pistol team | Gold |
| 17 | Sift Kaur Samra | Shooting | Women's 50m rifle 3 positions | Gold |
| 18 | Ashi Chouksey | Shooting | Women's 50m rifle 3 positions | Bronze |
| 19 | Team India | Shooting | Men's skeet team | Bronze |
| 20 | Vishnu Saravanan | Sailing | Men's dinghy ICLA7 | Bronze |
| 21 | Esha Singh | Shooting | Women's 25m pistol | Silver |
| 22 | Anantjeet Singh Naruka | Shooting | Men's skeet individual | Silver |
| 23 | Roshibina Devi | Wushu | Women's 60 Kg | Silver |
| 24 | Team India | Shooting | Men's 10m air pistol team | Gold |
| 25 | Anush Agarwalla | Equestrian | Dressage individual | Bronze |