Chess Olympiad 2022 Day 1: Indian players win on all 24 boards on day of zugzwangs
Most of the victories were easy and emphatic but Vidit Gujrathi and Tania Sachdev had to grind in longer games.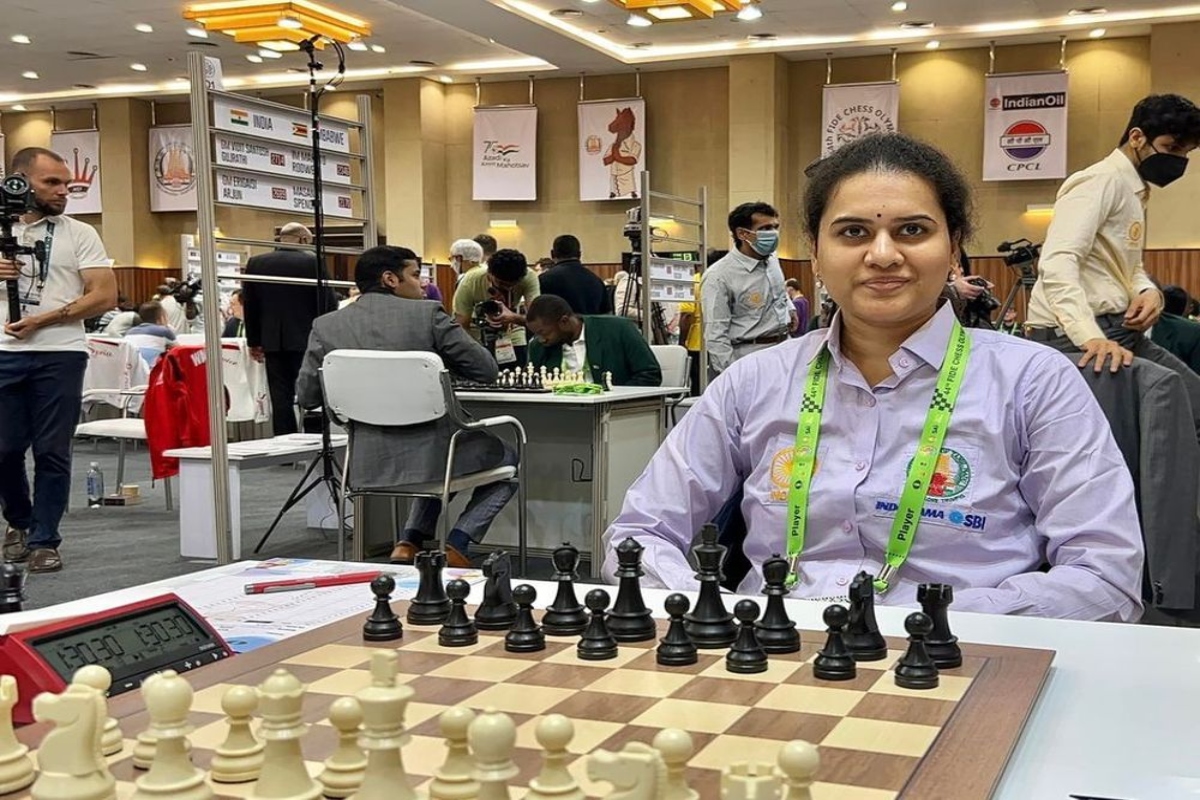 New Delhi: India started their campaign with victories on all 24 boards. The Indian teams were expected to win their matches, but winning all 24 games just added a feather to the hat. Most of the victories were easy and emphatic but Vidit Gujrathi and Tania Sachdev had to grind in longer games. 16-year-old GM Raunak Sadhwani, playing in India B, scored the quickest victory among the Indian players.
India A was facing Zimbabwe in the open section when Arjun Erigaisi, Narayanan S L and K Sasikiran scored victories as expected, but Vidit played a fine but long game at the top board. For India B, Raunak, Adhiban and D Gukesh won easily while Nihal Sarin's opponent IM Ibrahim Sultan made a positional blunder on move 33 to throw off the game. India C team also shined as it was easy victories on all four boards.
In the women's section, Koneru Humpy showed a masterclass against Tajikistan's Antonova Nadezhda. Tania Sachdev played a worse position but managed to win in the end, while there were regular victories for R Vaishali and Bhakti Kulkarni. For India B Vantika Agrawal played a tough position while IM Soumya Swaminathan, WGM Mary Ann Gomes and WGM Divya Deshmukh won comfortably. India C dominated Hong Kong to score victories on all 4 boards.
GM Vidit Gujrathi vs IM Makoto Rodwell
Vidit chose the Reti opening which transposed to the English on move 2. The Indian grandmaster had a comfortable position out of the opening but was facing little difficulty converting it. Playing with more than +1 advantage throughout, Vidit took the game into a rook ending where he was a pawn up.
On move 43, he played Ra6, which was like a silent killer as it put his opponent into a near zugzwang. After that, it was just a matter of technique when he forced Rodwell to resign on move 49.
WFM Antonova Nadezhda vs GM Koneru Humpy
Humpy did not have a good start, she was in a worse position before her opponent decided to exchange the knights on move 22. Antonova also made a mistake by pushing the pawn to c4 and blundering a piece, as she missed the moves that could make the game go wrong for her. Humpy from here on showed a masterclass.
As white captured the pan on f3 and offered a trade of queens, Humpy went 25…Bd5. Shocked by the move, Peter Svidler, who was commentating, said, "Oh! This is good—this is incredibly good!" It was a Humpy show from there on as she won the game in 41 moves.
Rukhsona Saidova vs IM Tania Sachdev
They played Ruy Lopez, Morphy's defence and Tania was not in the best of a position. It was Saidova who was pressing throughout. Tania got her chances to equalize but looked a bit shaky. It was on move 43 when they exchanged their queens that Tania got some play. She came in with her king and showed how two bishops can dominate a knight and a bishop in the endgame.
It was a long-long game, with 103 moves being played. The Indian international master could have easily gone for a draw as her teammates won all the other three games, but she decided to go for the win instead. In the end, she managed to put white into zugzwang and win the game.
Special moments
Apart from the chess, some special moments were captured on day 1. Indian legend GM Viswanathan Anand made the first move of the tournament in the women's section on GM Anna Muzychuk's board. Also, American GM Wesley So got clicked with the chess players from the Philippines, his country of birth.