Chess Olympiad 2022 Round 10: India-A eyes gold in women's section while Gukesh loses his first game
On the other hand, Gukesh suffered his first defeat of the tournament as he blundered a knight in time pressure in a complex endgame against Nodirbek Abdusattorov.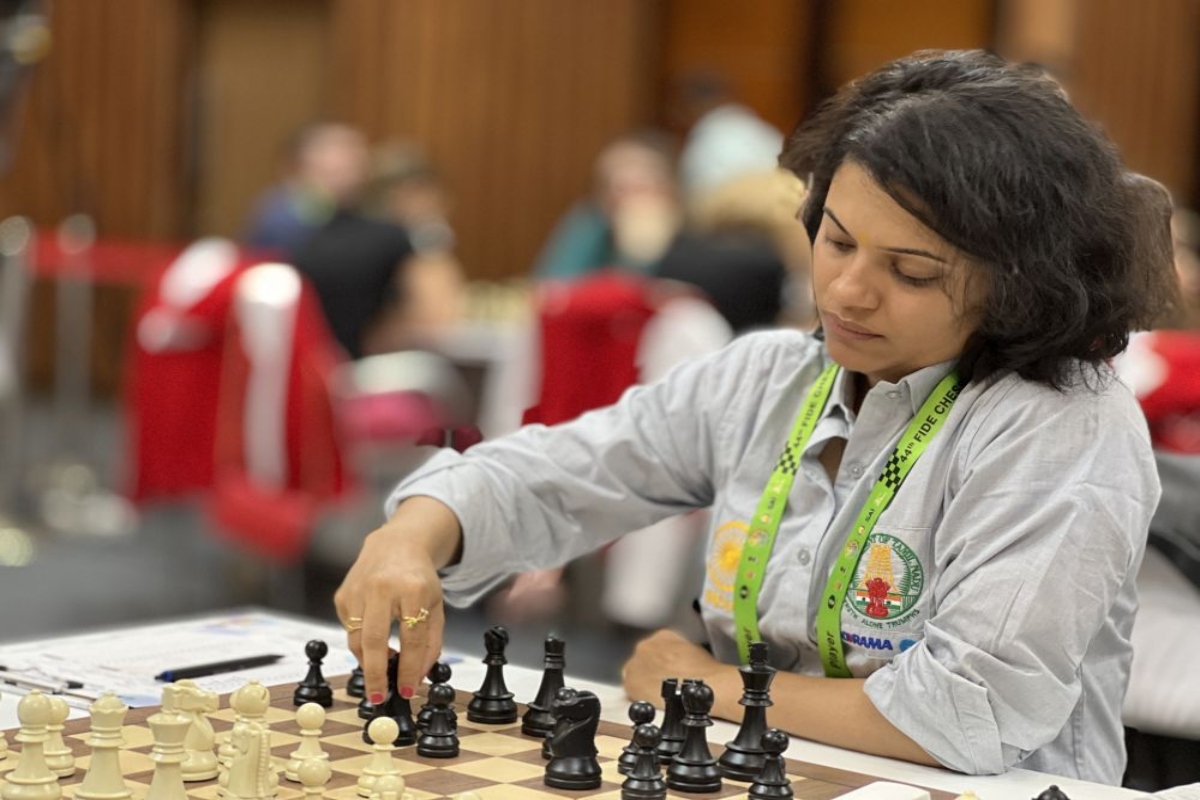 New Delhi: India A won against Kazakhstan in the women's section to stay at the top of the table with just one more round to go. On the other hand, Gukesh suffered his first defeat of the tournament as he blundered a knight in time pressure in a complex endgame against Nodirbek Abdusattorov. India A and B have chances to lay hands on medals in the open section, while the A team will go for the gold in the women's section.
In the open section, India A won against Iran as Vidit Gujrathi won against Amin Tabatabaei and SL Narayanan won a long game where he gave a hard time to Bardiya Daneshvar. Although Harikrishna lost against Parham Maghsoodlo0, India A managed to win by 2.5-1.5. For India B, Praggnanandhaa stood up to score a victory as Gukesh lost his game. Eventually, they manage to hold Uzbekistan to a score of 2-2. India C tied the match against Slovakia as Abhimanyu Puranik scored a much-needed victory.
In the women's section, India A dominated against Kazakhstan after Koneru Humpy, Tania Sachdev and Bhakti Kulkarni, who was returning after a break of six games, dominated the match to score crushing victories. India B won against the Netherlands conformably as after Vantika's loss, Divya Deshmukh, Padmini Rout and Marry Ann Gomes won their games. PV Nandhidhaa and Pratyusha Bodda won their games to keep alive some outside chance for India C to win a medal.
GM SL Narayanan (2659) vs IM Bardiya Daneshvar (2490)
Narayanan played a dominating game against Daneshvar and helped India A to go closer to a medal. Narayanan started well and got a slight edge with his pawn placed on h6. Danshvar went for 35…Ne6 which proved to be a mistake as a better option would have been to check the white king and go for a queen exchange. The Indian grandmaster did not miss the opportunity and went for an attack by placing another pawn in the mating attack.
With pawns on f6 and h6, the black king looked in trouble and Daneshvar's repetitive moves with the queen showed that black is almost out of moves. However, it took 90 moves for Narayanan to win the game as he started a king and pawn march on move 46.
IM Guliskhan Nakhbayeva (2329) vs IM Bhakti Kulkarni (2373)
In a completely equal position, Nakhbayeva went 20. Nc3, which proved to be a blunder as it gave Bhakti a chance to exchange her bishop for a knight and coordinate the queen and the rook to launch an attack on the white king. Her attack led to Nakhbeya going a piece down to protect the king.
Even after the queens were exchanged, it was an easy play for black as Bhakti managed to win two pawns (now both sides had five pawns each) and have an open g-file for her rook. Playing the end game with a piece down and unguarded king, it was obvious where would the game go. Bhakti won the game comfortably even after returning on the board after six rounds.
WIM Rosa Satsma (2226) vs WGM Marry Ann Gomes (2324)
White seemed to have a good time with pawn extensions on f, g and h-files and having won an exchange on move 30. However, it was just a matter of time when Gomes came in for an attack with all her pieces coordinated well. Not only did she make life difficult for the white king, but also she went on to be a piece up. Satsma had to resign when Gomes played 43…Nh2+.
Rankings
Open Section:-
| | | |
| --- | --- | --- |
| Rank | Team | Match Points |
| 3 | India B | 16 |
| 4 | India A | 16 |
| 28 | India C | 13 |
Women's Section:-
| | | |
| --- | --- | --- |
| Rank | Team | Match Points |
| 1 | India A | 17 |
| 6 | India B | 15 |
| 9 | India C | 15 |