Chess Olympiad 2022 Round 4: Indian youngsters continue to dominate, India C suffers loss in both sections
In the women's section, for India A, Tania Sachdev stood up and scored a win after the other three games ended in a draw.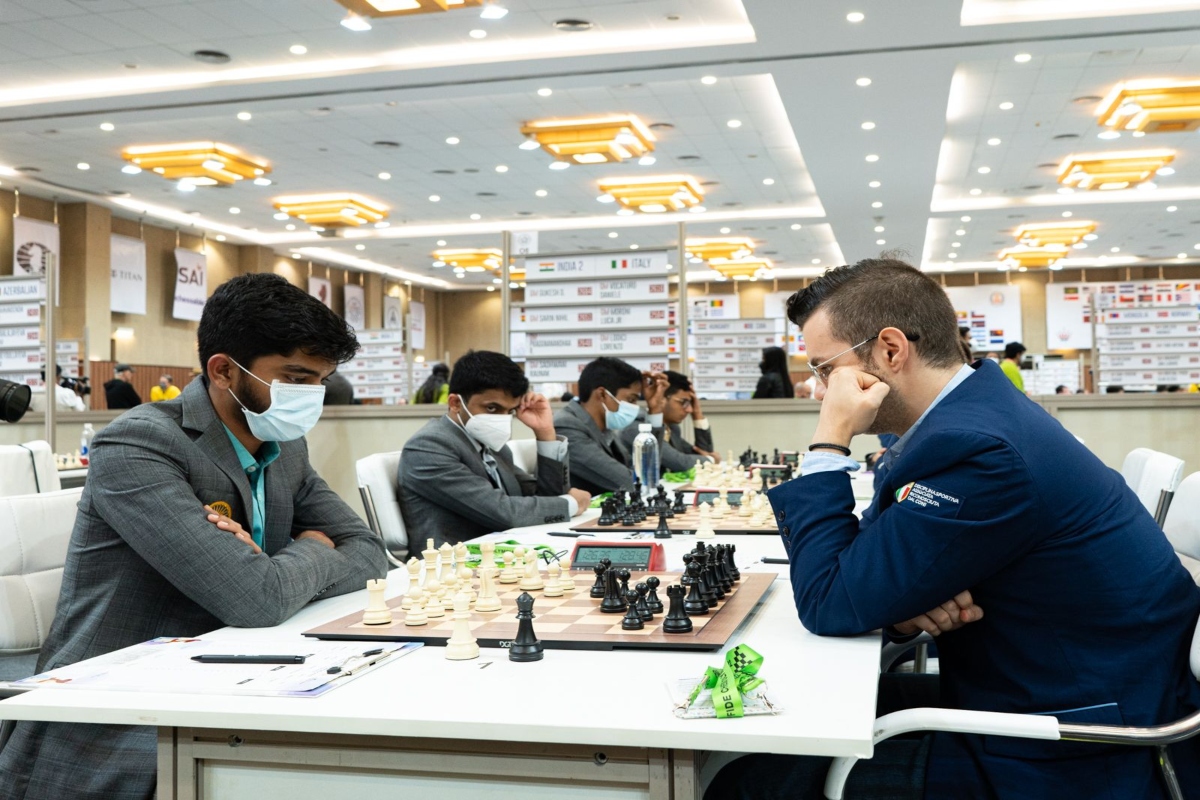 New Delhi: India's young stars shine again as India B continues their dominating performance in both open and women's sections. After the youngsters defeat Italy, fans are rooting for them to finish on the podium. On the other hand, India C faced higher-rated teams in both sections and suffered a loss. This also marks the first loss for an Indian team in the 44th Chess Olympiad.
In the open section, India A drew all four games against Greece while for Indian B, Gukesh and Nihal Sarin scored brilliant victories against Italy. However, India C lost 1.5-2.5 to Spain after GM David Anton Gujjaro won the deciding game against GM Abhijeet Gupta.
In the women's section, for India A, Tania Sachdev stood up and scored a win after the other three games ended in a draw. Similarly, for India B, playing the top board, Vantika Agrawal scored the only win to seal the match. However, India C suffered a loss to a strong Gorgean team as GM Lela Javakhishvilli won a miniature game against Sahithi Varshini. Although, for India C, Nandidhaa P.V. scored a victory over experienced GM Nino Batsiashvilli.
Moroni Luca Jr (2584) vs Nihal Sarin (2651)
People were thinking that Nihal has slowed down after reaching 2650, while Arjun Erigaisi, Gukesh and Praggnanandhaa are marching ahead of him. In round 4, Nihal showed why he is one of the best junior players in the world. Facing Italy's Moroni Luca Jr, Nihal had a better position just after the opening. He went on to attack white's king and win an exchange with his tactical brilliance. He made his opponent resign on move 52 as his rook was ready to take up the pawns and win the game.
Gaal Zsoka (2313) vs Tania Sachdev (2399)
Tania continued the brilliant performance for India A and scored a victory in the deciding game against Hungary's WIM Gaal Zsoka. Playing with the black pieces, Tania had a better position out of the opening as her bishops were played on attacking squares, while Gaal's rook looked visually misplaced. It is said that finding a backward move with a knight is difficult in chess, but Tania found the move Nf8 with an idea of Ng6 to attack the rook.
The misplaced rook proved to be the weakness and eventually, Gaal had to give up an exchange. Gaal tried to create an attack but Tania won the other rook with a counterattacking strategy. Gaal resigned and India A won the match.
Lela Javakhishvilli (2476) vs Sahithi Varshini (2312)
A 12-move miniature game saw Varshini blundering a piece and resigning the game. Such incidents are not frequent with top-level chess players, but lack of focus or some other factor may lead to such a mistake sometimes.
Varshini went on to play Nxe4 on move 7 and completely missed the tactic. After losing a piece, she resigned on move number 12.
Special moment
It would surely have been a special moment for Uzbek GM Nodirbek Abdusattorov as he defeated GM Fabiano Caruana in round 4. The USA, the top-seeded team, tied the match 2-2 with Uzbekistan. Caruana's 44.Qxf5 proved to be a mistake and World Rapid Champion Abdusattorov converted the game in his favour.