Chess Olympiad 2022 Round 5: Gukesh becomes India number 3 in live ratings, India B at top with Armenia in open section
Round 5 of the ongoing Chess Olympiad saw brilliant victories for Adhiban B and Gukesh as India B leads the open section along with Armenia.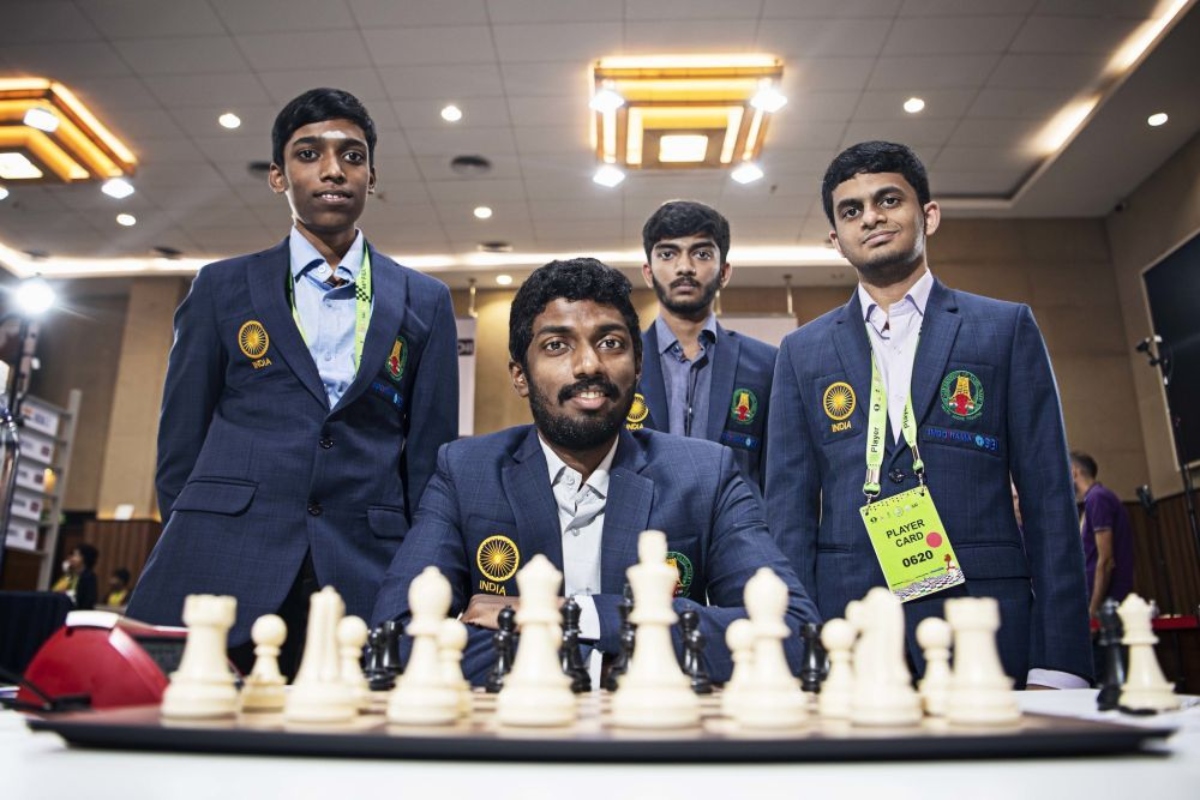 New Delhi: Gukesh D is now India number 3 as he surpassed Vidit Gujrathi in the live ratings. Round 5 of the ongoing Chess Olympiad saw brilliant victories for Adhiban B and Gukesh as India B leads the open section along with Armenia. India's young guns are looking invincible in the tournament as they are scoring win after win.
In the open section, India A won against Romania as youngster Arjun Erigaisi scored a crucial victory after Harikrishna, Vidit and SL Narayanan drew their games. For India B, Adhiban stood up as the most experienced player while Gukesh showed why he has a live rating of over 2700 as they scored important victories in the match. However, R Praggnanandhaa lost to Spanish GM Laime Santos Latasa. India C made a comeback after losing in the last round. They defeated Chile with a score of 2.5-1.5.
In the women's section, Tania Sachdev again proved to be the MVP as she scored the only victory to seal the match for India A. India B played a strong Georgian side and the match ended in the favour of Georgia as Soumya Swaminathan and Divya Deshmukh lost their games. For India C, PV Nandhidhaa scored a win to tie the match at 2-2 against Brazil.
Alexei Shirov (2704) vs D Gukesh (2684)
Indian youngster defeated the Spanish legend, Alexei Shirov to become India number 3 in live ratings. Gukesh went for the Sicilian and had a comfortable position out of the opening. Both players castled queenside and Gukesh pushed his a and b-pawns. As the queens got off the board, the position was roughly equal. It was on move 29 when Shirov went for f5 and helped Gukesh to gain control of the centre.
Gukesh has centre passed pawns, and he pushed them to victory following a good play with his rooks.
Baskaran Adhiban (2598) vs Eduardo Iturrizaga Bonelli (2619)
Adhiban scored his third consecutive victory in the olympiad. Black came out with his queen early in the game, and also tried to create and queen and bishop battery but the position went in the favour of the Indian grandmaster. On move 39, Eduardo exchanged the light square bishops and helped Adhiban to create a passed pawn. After exchanging the minor pieces, Adhiban, the beast, forced his opponent to resign.
Tania Sachdev (2399) vs Andreea Navrotescu (2373)
Tania again stood up to the occasion and scored a victory after he teammates drew their games. Andreea had a fine and comfortable position before she played 25…Bd6. She also allowed Tania's light square bishop to have a nice outpost on d7 square.
Tania's passed pawn was too strong for Andreea to handle. The Indian international master ended the game in style with 38.Be8.
Special Moments
World number 1, Magnus Carlsen came and watched the games by India B in the open section. India B team has for sure made their mark in the tournament, and it would not be wrong to say that the team is a strong contender for a medal.
Asian Chess Federation Treasurer and Sector Arbiter, Mehrdad Pahlevanzadeh, said that this is the best Olympiad out of the 10 he has attended.