Chess Olympiad 2022 Round 6: India A leads in women's section as Vaishali, Humpy score brilliant victories
In the women's section, India A stopped Georgia's winning streak against the Indian teams.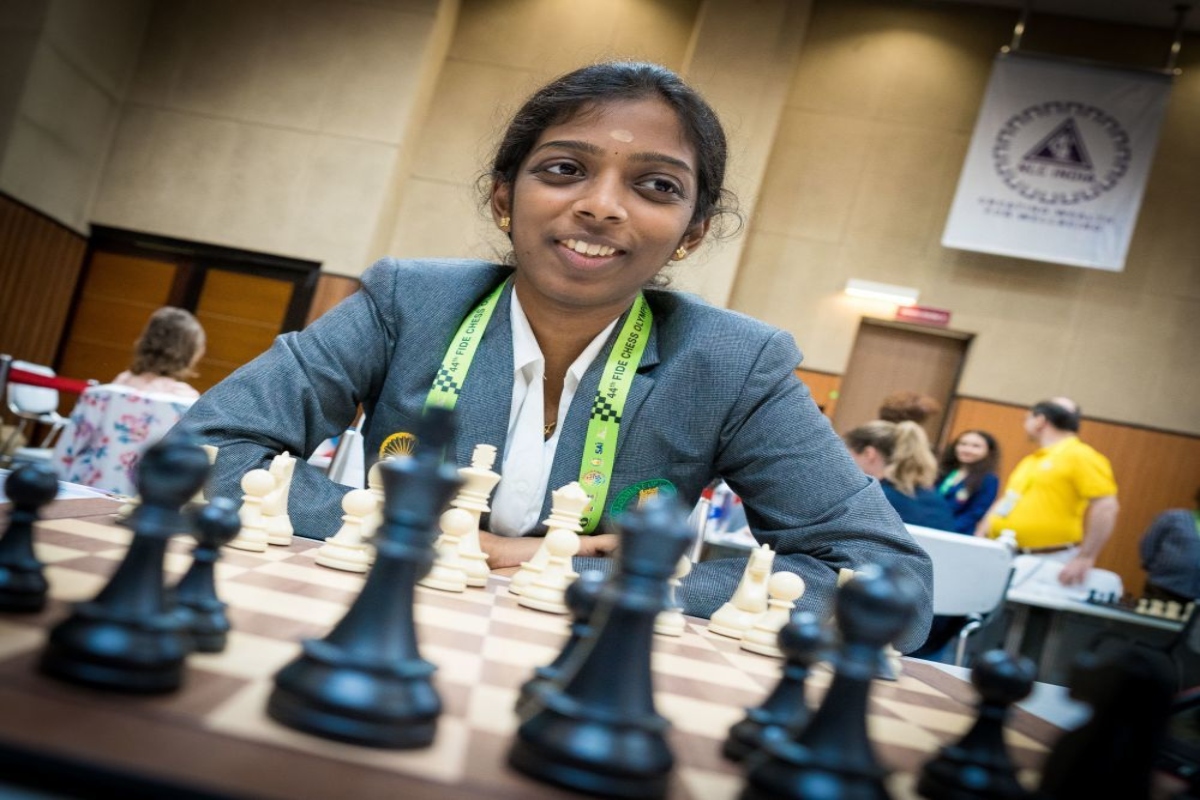 New Delhi: India B's winning streak came to an end in the open section after Armenia won with a score of 2.5-1.5. However, Gukesh played a good game and scored a victory. Now, Armenia in the open section and India A in the women's section are the sole leaders in the tournament.
In the open section, India A held Uzbekistan to the score of 2-2 as GM Harishrishna Pentala scored a clinical victory against GM Abdusattorov Nordirbek, while GM Sasikiran lost his game. India B lost to Armenia GM Adhiban and GM Raunak Sadhwani lost against GM Samvel Ter Sahakyan and GM Robert Hovhannisyan respectively. India C won against Lithuania with a score of 3.5-0.5 as GM S.P. Sethuraman, GM Abhijeet Gupta and GM Abhimanyu Puranik scored victories while GM Surya Shekhar Ganguly drew his game.
In the women's section, India A stopped Georgia's winning streak against the Indian teams. GM Koneru Humpy and IM R Vaishali played masterpieces to defeat their opponents while IM Tania Sachdev and GM Harika Dronavalli drew. For India B, all four games ended in a draw while WGM Mary Ann Gomes and WGM Divya Deshmukh escaped the losing positions against WGM Karolina Pilsova and WGM Kristyna Petrova.
GM Abdusattorov Nordirbek (2688) vs GM Harishrishna Pentala (2720)
Abdusattorov went for an Italian Guioco Piano game. On move 14, he committed the first mistake of the game, he played dxe5 and Hari went on to exchange his knight for white's bishop. With 16…g4, Harikrishna showed that he wants to go for the kill and h5, h4 ensured that he gets a good position to create an attack.
Harikrishna went on to play precisely to win a piece and gain a decisive advantage. It was then just a matter of time before the Uzbek grandmaster resigned.
GM D. Gukesh (2684) vs GM Gabriel Sargissian (2698)
They played the Queen's Gambit Declined and entered an opposite side castle game. Gukesh rolled his pawns on e and f-file as the Armenian grandmaster gave his rook an open file to exploit. On move 25, Gukesh came in with a great positional sacrifice, when he captured the pawn of b4 with his bishop. He calculated well and queened a pawn. Now it was a queen vs rook-bishop endgame in which Gukesh stole a couple of pawns and took the game away from Sargissian.
IM R Vaishali (2442) vs IM Lela Javakhishvili (2476)
Javakhishvili has had a great campaign against the Indian players, and so has Georgia by beating India's B and C teams in the women's section. However, Vaishali played a brilliant game to halt the winning streak. They played the Ruy Lopez-Berlin Defense in the game.
Javakhishvili made a big mistake with 16…Nb7 as it trapped her own bishop. Vaishali stod to the occasion and played a brilliant move, 17.b4, where she gave up an exchange to win the bishop. Vaishali had two minor pieces for a rook and a better position to convert.