Commonwealth Games 2022 (Day 9) India Schedule, Updates: Indian women's cricket team enters finals, medal confirmed
Six wrestlers including two-time Commonwealth Games gold medallist Vinesh Phogat and Olympic medallist Ravi Kumar Dahiya will be fighting for the top spot in Birmingham.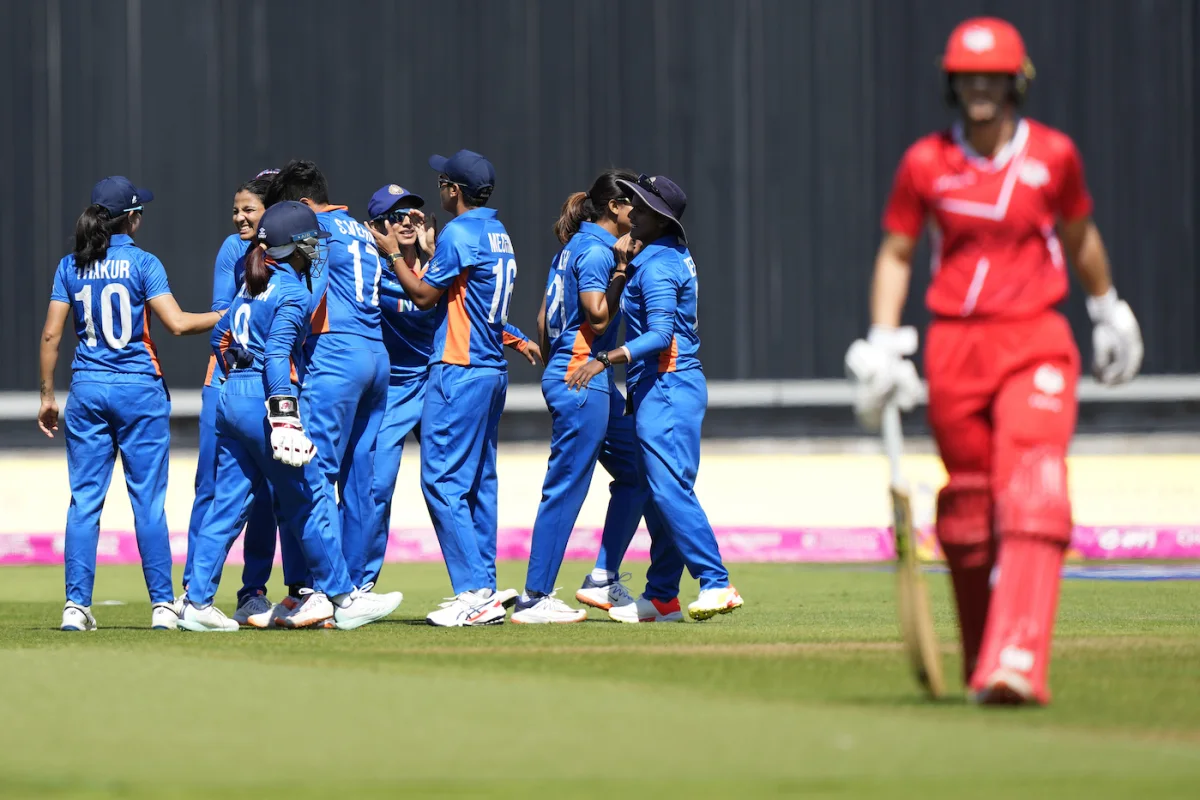 New Delhi: All six Indian wrestlers added medals to the tally including a gold medal by Bajrang Punia, Sakshi Malik and Deepak Punia. This helped India to jump from seventh to fifth position with a total of nine gold medals.
Indian cricket team has entered the finals in the first edition of women's T20 cricket in CWG by defeating England in a nail-biting semi-finals game. Smriti Mandhana shined with the bat, but it was Sneh Rana who bowled the final over and led India to a victory. But it was Avinash Sable in Men's 3000 m Steeplechase and Priyanka Goswami in Women's 10000 m Walk who clinched silvers for the nation. After a brilliant final in Oregon, Avinash hit his personal best in Birmingham.
SILVER FOR SABLE🥈@avinash3000m wins a 🥈in Men's 3000m Steeplechase event at #CommonwealthGames2022 with a Personal Best and National Record (8.11.20)

Congratulations Avinash. India is very proud of you 🤩#Cheer4India #India4CWG2022 pic.twitter.com/lSmP1Ws4sk

— SAI Media (@Media_SAI) August 6, 2022
Indian athletes have a lot of medals at stake on day 9 of the ongoing Commonwealth Games. Six wrestlers including two-time Commonwealth Games gold medallist Vinesh Phogat and Olympic medallist Ravi Kumar Dahiya will be fighting for the top spot in Birmingham. Ravi Dahiya and Naveen have already entered the finals and confirmed medals for India.
Table Tennis will be a sport to look out for as Bhavina Patel will be playing in the Women's Para-Table Tennis finals and Sonalben Patel and Raj Aravindan will be playing in their bronze medal matches. However, India faced an upset on day 8 as star paddler Manika Batra went down in the women's singles and mixed doubles.
Amit Panghal, Nikhat Zareen, Nitu Ghanghas, Jasmine, Rohit Tokas and Sagar have already confirmed medals for the nation and will be boxing in their semi-finals bout. After the women's hockey team lost the semis against Australia, the men's team will be taking on South Africa in the semis. On the other hand, the cricket team will play their semi-final game against England and Renuka Thakur will be the player to watch out for.
With a lot of quarterfinals, semi-finals and gold medal matches coming up on day 9, the live-action will begin at 2:00 pm IST.
Schedule:
Day 9️⃣ at CWG @birminghamcg22

Take a 👀 at #B2022 events scheduled for 6th August

Catch #TeamIndia🇮🇳 in action on @ddsportschannel & @SonySportsNetwk and don't forget to send in your #Cheer4India messages below#IndiaTaiyaarHai #India4CWG2022 pic.twitter.com/ZggENZtuBl

— SAI Media (@Media_SAI) August 6, 2022
Athletics update:
# 4:34 pm: Avinash Sable wins a silver medal in Men's 3000 m Steeplechase with a personal best time of 8:11.20.
PRIYANKA WINS SILVER 🥈#Tokyo2020 Olympian @Priyanka_Goswam wins a🥈 in Women's 10 km Race Walk (43:38.00) at #CommonwealthGames2022🤟

With this win the #Athletics medal count rises to 3️⃣

Proud of you Champ 🤩
Many congratulations!#Cheer4India#India4CWG2022 pic.twitter.com/rMQqUYZpHz

— SAI Media (@Media_SAI) August 6, 2022
# 3:54 pm: Priyanka Goswami has won a silver medal in the Women's 10,000 m Walk with a time of 43:38.00.
Wrestling update:
# 5:37 pm: Pooja Gehlot loses to Canada's Madison Parks as she loses control in the second half. After a 4-0 lead in the first half, she lost consecutive points and failed to defend. She still has a chance to go for bronze.
# 5:22 pm: Another medal in wrestling. Ravi Dahiya wins against Pakistan's Asad with technical superiority (14-4) to enter the finals.
# 5:07 pm: Medal confirmed! 19-year-old Naveen wins again by technical superiority and enters the finals.
# 4:38 pm: Olympic medallist Ravi Dahiya wins against New Zealand's Suraj Singh by technical superiority (10-0)
# 4:19 pm: Naveen again wins by technical superiority (10-0)
# 4:19 pm: Naveen leads with a score of 2-0 against Hong Lou.
# 4:12 pm: Pooja takes 4 points and a huge lead, and eventually won by 5-3.
# 4:11 pm: Pooja loses a point because of passivity. It is 1-1.
# 4:08 pm: Pooja Sihag leads 1-0 as she received a point for the opponent's passivity.
# 4:05 pm: Vinesh wins by points (6-0).
# 4:00 pm: Vinesh defends well and takes 2 more points in the counterattack.
# 3:59 pm: Vinesh Phogat leads 4-0 after the first half.
Indian women's cricket team faces the English challenge in the semis
# 6:40 pm: India into finals!
# 6:38 pm: Katherine Brunt looks to clear the player in the circle off a full toss but gives an easy catch instead. 13 needed off 3.
# 6:37 pm: Single and now 13 needed off 4.
# 6:35 pm: England needs 14 in the final over and Sneh Rana comes to bowl. Only 3 fielders out of the circle due to slow over rate for India.
# 6:33 pm: Nat Sciver runout! Sciver goes and England needs 14 off 7 balls.
# 6:31 pm: Six! Sciver hits a six off Vastrakar, England needs 19 runs off 9 balls.
# 6:28 pm: England stands at 138/4 after 18 overs, needs 27 runs in 2 overs.
# 6:25 pm: Runout! Radha Yadav throws well to get Amy Jones' wicket. Jones departs after scoring 31(24) Score: 135/4 in 17.2 overs
# 6:19 pm: Two consecutive fours by Amy Jones and the score stands at 132/3 in 16 overs.
# 6:17 pm: Misfield and English batters take two runs. India needs to avoid this if they want to play in the finals.
# 6:03 pm: The third umpire says 'not out' and the score stands at 95/3 in 11.3 overs.
# 6:01 pm: India takes a review for LBW.
# 5:51 pm: Sneh Rana Strikes! Daniel Wyatt goes for a scoop/sweep kind of a shot but just paddles it into the wicket. England is at 81/3 after 9 overs.
# 5:42 pm: Alice Capsey run out! The bat was just in the air and India gets a wicket.
# 5:30 pm: Meghna Singh goes for boundaries again. Wyatt hits three in an over.
# 5:23 pm: Wicket! Change in the attack and Deepti Sharma gets Sophia Dunkley. England is now 28/1.
# 5:18 pm: Two back-to-back boundaries against Meghna Singh by Dunkley.
# 5:14 pm: England hits 15 runs in the first over.
# 5:10 pm: Renuka Thakur starts with a no-ball and two boundaries.
# 5:04 pm: Summary– Smriti Mandhana 61(32), Jemimah Rodrigues 44(31), Freya Kemp 22/2
# 4:58 pm: India ends with 164/5 after 20 overs as Jemimah hits a boundary in the final ball.
# 4:56 pm: Pooja Vastrakar departs without playing a ball as she was run out by Wyatt.
# 4:54 pm: Top edge and Deepti Sharma will have to go. Katherine Brunt caught and bowled Deepti with a brilliant delivery.
# 4:46 pm: Jemimah hits three boundaries in an over to get India to 146/3 after 18 overs.
# 4:42 pm: Catch dropped! Deepti Sharma mistimes the shot but was dropped on mid-on. Score: 132/3 after 17 overs
# 4:40 pm: No ball! An extra fielder outside the circle and umpire calls it.
# 4:26 pm: Wicket! Harmanpreet goes for a lofted shot after hitting a six on the previous ball and Maia Bouchier takes a brilliant catch. Score: 106/3
# 4:23 pm: 100 comes up for India. The score is at 110/2 in 13 overs.
# 4:17 pm: Run rate slows down. India is at 85/2 after 11 overs.
# 4:05 pm: Smriti departs! Nat Sciver takes the wicket as Smriti goes after scoring 61 off 32. Score: 77/2
# 4:02 pm: Wicket! Shafali departs on 15(17) off Freya Kemp's ball. A sigh of relief for England.
# 3:55 pm: End of the powerplay and India stands at 64/0.
# 3:52 pm: Fifty for Mandhana in just 23 balls.
# 3:51 pm: Smriti on fire! India is at 51/0 in 5 overs while Smriti has scored 46* off 22.
# 3:45 pm: Six! Smriti Mandhana has scored 30* off 15 balls so far.
# 3:39 pm: Smriti is dealing in boundaries.
# 3:33 pm: A little misfield! The ball goes to the boundary off Smriti's bat.
# 3:31 pm: Smriti Mandhana opens the account with a single on the first ball.
# 3:25 pm: India has won the toss and chose to bat first.
PV Sindhu takes on Malaysia's Jin Wei Goh
# 5:13 pm: Sindhu clinches the second game with 21-14.
# 5:06 pm: Sindhu extends the lead to 14-10, brilliant play by the Indian shuttler.
# 4:56 pm: Sindhu starts the second game well, and takes a 5-3 lead.
# 4:49 pm: Goh wins game 1 with a score of 21-19.
# 4:47 pm: Sindhu makes a comeback after losing the lead. The score stands at 19-18 in favour of Goh.
# 4:40 pm: Goh gives a tough fight but Sindhu leads game 1 with 13-11.
# 4:31 pm: PV Sindhu takes the lead, 7-6.
# 4:28 pm: Tied neck-to-neck at 4-4.
# 4:27 pm: Close fight as the score stands at 3 all.
Amit Panghal plays QF bout against Patrick Chinyemba
# 3:45 pm: Panghal advances to finals! Both the boxers showed aggressive punches while Amit did some good defence too.
# 3:41 pm: Amit Panghal wins round 2 unanimously. His aggressive strategy works.
# 3:37 pm: Amit shows a good combination of attack and defence but judges are not happy. Split decision of 3-2 in favour of Chinyemba.
# 3:31 pm: After Nitu, can Amit make it to the finals?
Wrestling update:
# 5:27 pm: Pooja Gehlot has won her first two games.
# 3:17 pm: Big lead! Naveen wins by technical superiority (13-3).
# 3:15 pm: Naveen takes two more points.
# 3:14 pm: Naveen wrestling against Ogbonna John and leads with a score of 4-3 in the men's 74 kg freestyle.
# 3:12 pm: The match started and ended. Vinesh Phogat wins against Samantha Stewart by fall.
Nitu Ghanghas to box with Canada's Priyanka Dhillon in semis
# 3:10 pm: Dominating! The referee stopped the contest and Nitu advances to the finals.
# 3:08 pm: Nitu dominated round 2 and Dhillon got a standing count too. An obvious decision of judges as all five scored in favour of Nitu.
# 3:04 pm: Close fight in round 1 but Nitu dominated at the last minute. The Indian boxer won the round with a unanimous decision.
# 2:59 pm: Can Nitu enter the finals?
Achanta Sharath Kamal faces Singapore's Yong Quek in QF
# 3:16 pm: Sharath Kamal advances to the semi-finals with a clean sheet.
# 3:05 pm: Sharath dominated game 3 and won with a score of 11-4. Can he go for a clean sheet?
# 3:00 pm: Sharath Kamal starts well. Score: 4-1.
# 2:56 pm: Sharath Kamal clinches game 2 as well.
# 2:53 pm: Sharath Kamal looks comfortable. leads with a score of 8-4.
# 2:50 pm: It is 2 all again.
# 2:49 pm: Sharath Kamal wins game 1 by 11-6.
# 2:47 pm: Sharath Kamal shows that experience matters and leads with a score of 9-5.
# 2:43 pm: Quek seems quick but Kamal uses space to counter. Score: 2-2.
# 2:38 pm: Sharath Kamal will look to continue his campaign is style and win more CWG medals.
Manika Batra and Diya Chitale to play Women's Doubles Round of 16 match
# 2:20 pm: Coming up- Achanta Sharath Kamal, Sathiyan Gnanasekaran and Sanil Shetty to play the men's singles quarterfinals.
# 2:17 pm: Dominating! Manika and Diya advance to the quarterfinals easily.
# 2:14 pm: Mistakes continue for the Mauritian pair as India leads game 3 with a score of 4-1.
# 2:11 pm: The second game also goes to Manika and Diya with the same scoreline as game 1.
# 2:10 pm: Great back-hand play and India takes a 9-3 lead.
# 2:08 pm: The Indian pair starts well with a lead of 3-1.
# 2:05 pm: Manika and Diya win game 1 easily with a score of 11-5.
# 2:03 pm: The Indian pair takes a lead by scoring better in their own services. Score: 7-3.
# 2:02 pm: The Indian pair faces Mauritius' Nandeshwaree Jalim and Oumehani Hosenally.
# 1:49 pm: After being eliminated in the team, singles and mixed doubles, Manika Batra still has a chance to go for a medal.