FIFA World Cup 2022: Brazil's Richarlison scores off stunning bicycle kick against Serbia, fans call it 'goal of the tournament'
After coming from a calf injury and speculations around selection in the national side, Richarlison had a dream start to the FIFA World Cup 2022.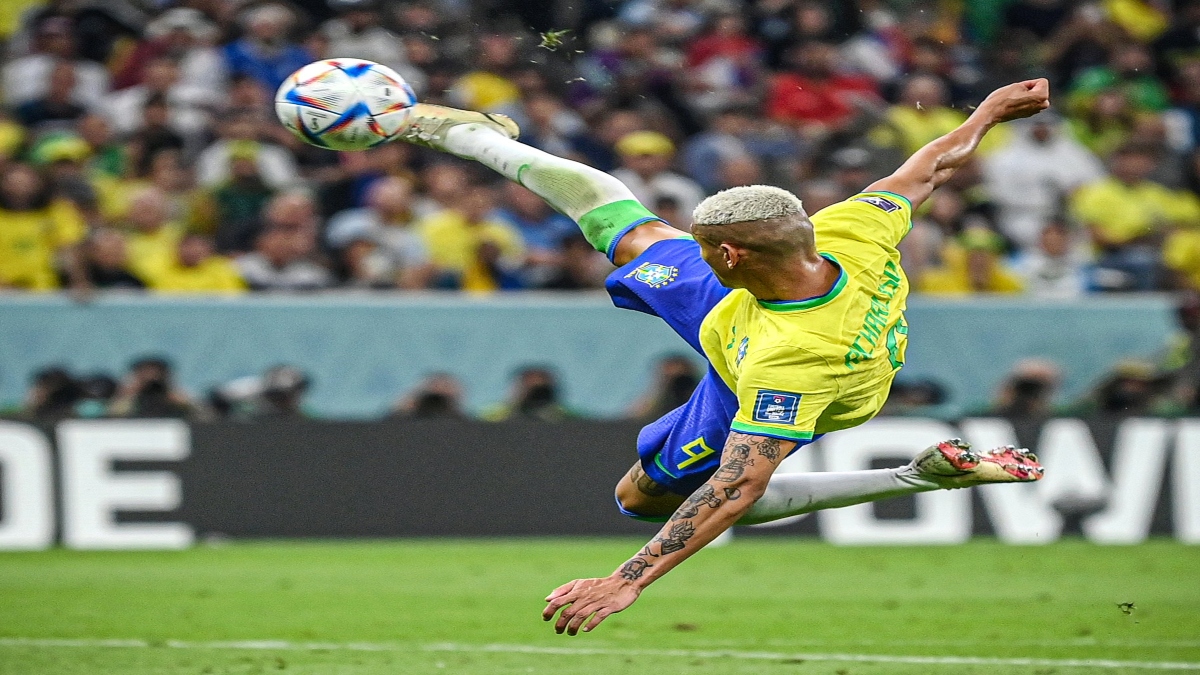 New Delhi: While Brazil won the game against Serbia as expected, there was something else that stunned the football fans. Richarlison was the star of the game having scored both goals in Brazil's opening encounter. It was the acrobatic kick in the 73rd minute that led football fans to hold their breath for a moment. Richarlison turned into a flying gymnast to score a goal off a bicycle or a scissor-style kick.
Sonho de criança realizado 🇧🇷💚💛💙
Obrigado por tanto, futebol! pic.twitter.com/HXJWuuaMZ5

— Richarlison Andrade (@richarlison97) November 24, 2022
After coming from a calf injury and speculations around selection in the national side, Richarlison had a dream start to the FIFA World Cup 2022. While bicycle kicks are never easy, they are fun to watch as an audience. Richarlison has currently left the football world stunned with his kick. Vinicius Jr passed the ball towards Richarlison and he used just one touch to score an acrobatic goal.
Brazil fans are going gaga over the goal, Twitter is flooded with amazing reactions to it.
WHAT A GOAL FROM RICHARLISON!!! BRAZIL 2-0

— 🇵🇹 (@Asensii20) November 24, 2022
Brazil fans got what they were waiting for.
What a goal
Richarlison

This is the excitement we have been waiting for from World Cup. We need to see more of this. Peter Drury want more of this pic.twitter.com/owwCWMAnHz

— Williams Motau (@MotauWilliams) November 24, 2022
It has already been declared as the goal of the tournament by many.
This is the goal of d tournament. If we witness something better than this then it will be miracle. Bicycle kick.#whatagoal #FIFAWorldCup #richarlison #BrazilvsSerbia pic.twitter.com/45U3KCJfbM

— @[email protected] (@electrricpiya) November 25, 2022
RICHARLISON WHAT A GOAL 🇧🇷 what did I just witness 😭😭😭 pic.twitter.com/QyCBwhlsQJ

— Jam (@Jamk___) November 24, 2022
Vinícius Junior's passing ability is the most underrated skill of any footballer in the world right now. He's actually amazing with it, what a goal by Richarlison 👌😮‍💨

— Infinitinho Cards 🇧🇷 (@infinitecards00) November 24, 2022
Richarlison's goal from this angle is incredible.pic.twitter.com/oo6x2qG0l0

— Fast GøaIs (@i6astv) November 24, 2022
Stunning moment of improvised clinicality by Richarlison. 25-Year-Old grew up around poverty and violence in a Brazilian steel town. Like millions he'd have dreamed of scoring World Cup goals like this as a kid. Unlike rest of us, he just made it real 🇧🇷 pic.twitter.com/2KSpCwy2ac

— roger bennett (@rogbennett) November 24, 2022
In the game, though the scorecard was clean after the first half, Brazil was the one in the driver's seat and Richarlison showed why. In the 62nd minute, Vinicius Jr took a shot which was saved and rebounded just for Richarlison to score. And then the duo worked it through for the amazing goal in the 73rd minute. Talking about the goal, Richarlison said that it was a dream come true moment for him. He also told that he scored in a similar fashion in the pre-tournament practice in Italy.