Netizens in split after CSK unfollows Ravindra Jadeja; See reactions
Jadeja has been ruled out from the ongoing IPL owing to bruised rib, which he suffered on the day of the encounter with Royal Challengers Bangalore on May 4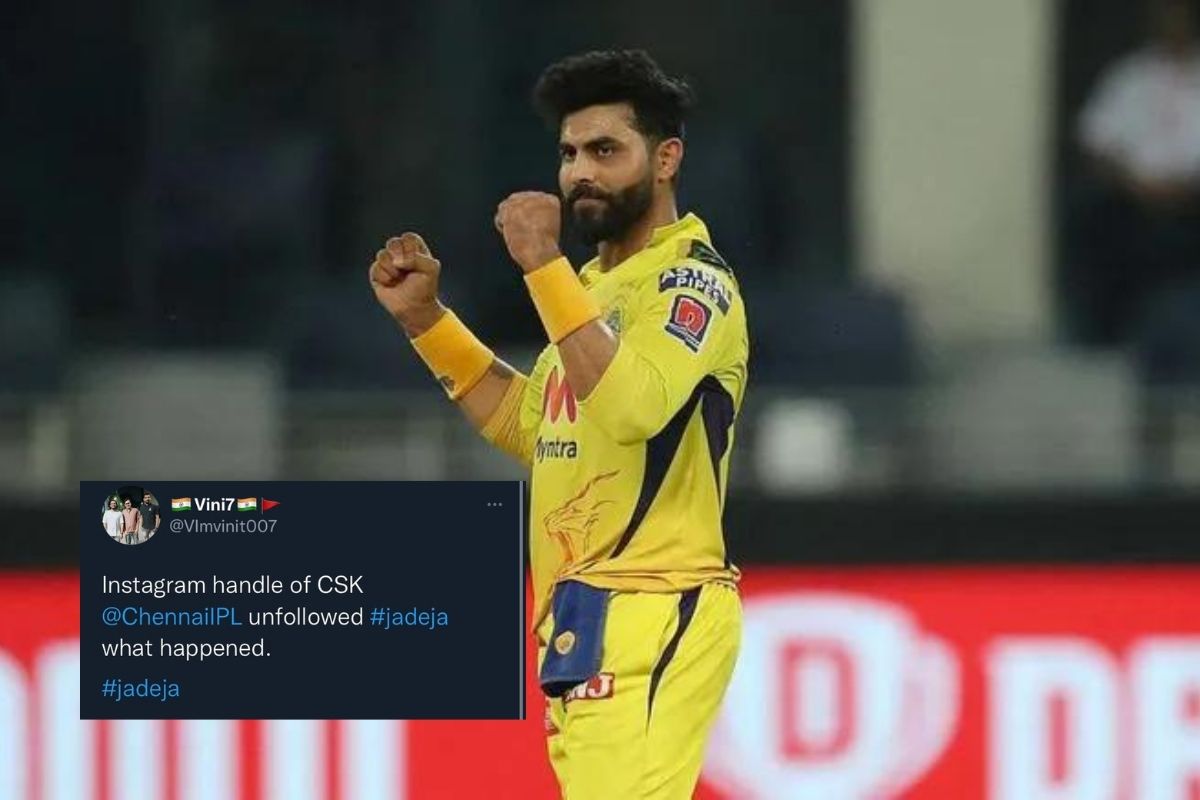 New Delhi: Ravindra Jadeja, one of the best all-rounders in Chennai Super Kings has been unfollowed by the franchise on their Instagram handle. The cricketer has been with the team for almost 10 years now.
Jadeja has been ruled out from the ongoing IPL owing to bruised rib, which he suffered on the day of the encounter with Royal Challengers Bangalore on May 4. Following the injury, an official statement was issued notifying, "Ravindra Jadeja reported a bruised rib and was unavailable for Chennai Super Kings' game against Delhi Capitals on Sunday. He was under observation and based on medical advice he has been ruled out for the rest of the IPL season."
The sudden departure of the 33-year-old player has given rise to several speculations among netizens. Many are hogging on to creating memes while many are in serious concerns that something is "brewing for sometime" between the player and CSK. 
One of the users wrote, "Hoping that everything is okay bt still I'm worried," while another wrote, "CSK management & dhoni played cheap politics with #Jadeja first dhoni made him scapegoat captain to blamed for worst season, then sacked him from captain in just 8 matches, then Dhoni criticised his captaincy, then #CSK unfollowed him & now sacked from IPL BEST PLAYER but insulted."
Hoping that everything is okay bt still I'm worried 😐 #jadeja #csk pic.twitter.com/2WGDYXnJ8V

— MSDian_rp (@itsmsdfg) May 11, 2022
See some of the reactions here:
Instagram handle of CSK @ChennaiIPL unfollowed #jadeja what happened. #jadeja pic.twitter.com/W7oS2WExh8

— 🇮🇳Vini7🇮🇳🚩 (@VImvinit007) May 12, 2022
#Jadeja #CSK
'L-U-C-K' when u need the most…. pic.twitter.com/1lPDyrgPiA

— Kaur rmn (@theHeartyouOwn7) May 11, 2022
#CSK Page unfollowed #jadeja
they removed him from the captaincy.
then benched him last match and now this.
We have seen similar things last year with Warner.

1st pic Pahle ki hai jisme Follow Kiya tha.
2nd Pic aaj ki hai. pic.twitter.com/xIDbjdcMJd

— Tina (@Tina_yaar) May 10, 2022
#jadeja ruled out from IPL after an injury
CSK: pic.twitter.com/jljETiWjMy

— गाभरु🚩 (@Or_taai_aale) May 11, 2022
#jadeja to csk : pic.twitter.com/RM2BgeNaXH

— Sumit Jadhav (@Ekdum_jhakaasss) May 11, 2022
As a fan,i do not like what CSK is doing right now

Injury my ass this is straight up arrogance,you can't even back a player who's served u all these years!
Now they are going to release Jadeja too just like Raina
This team has been going down and down since 2020#jadeja #IPL

— nils (@nerdynilzz) May 11, 2022
CSK dressing room scenes :#jadeja pic.twitter.com/syb0sAvM4l

— Aryan 🇮🇳 (@iAryan_Sharma) May 11, 2022
#RavindraJadeja has been ruled out for the rest of the IPL matches due to injury.
Scenes of CSK dressing room : pic.twitter.com/it5nW4CxRY

— Sarcastic_gopu (@imgopaljal) May 11, 2022
Jadeja has handed over the captaincy to MS Dhoni. The team lost six games out of eight in his captaincy. Jadeja even scored the lowest out of all the seasons. He managed to score 111 runs and took three wickets in all these games.  
Meanwhile, under the captaincy of Dhoni, the team ended up winning two games out of three.