"You're special if you can get Rahul Dravid to act this way": Twitter overwhelmed with 'The Wall's celebration for Pant
In a clip from the match, Dravid can be seen jumping from his seat in excitement with his hand in the air to celebrate his junior's knock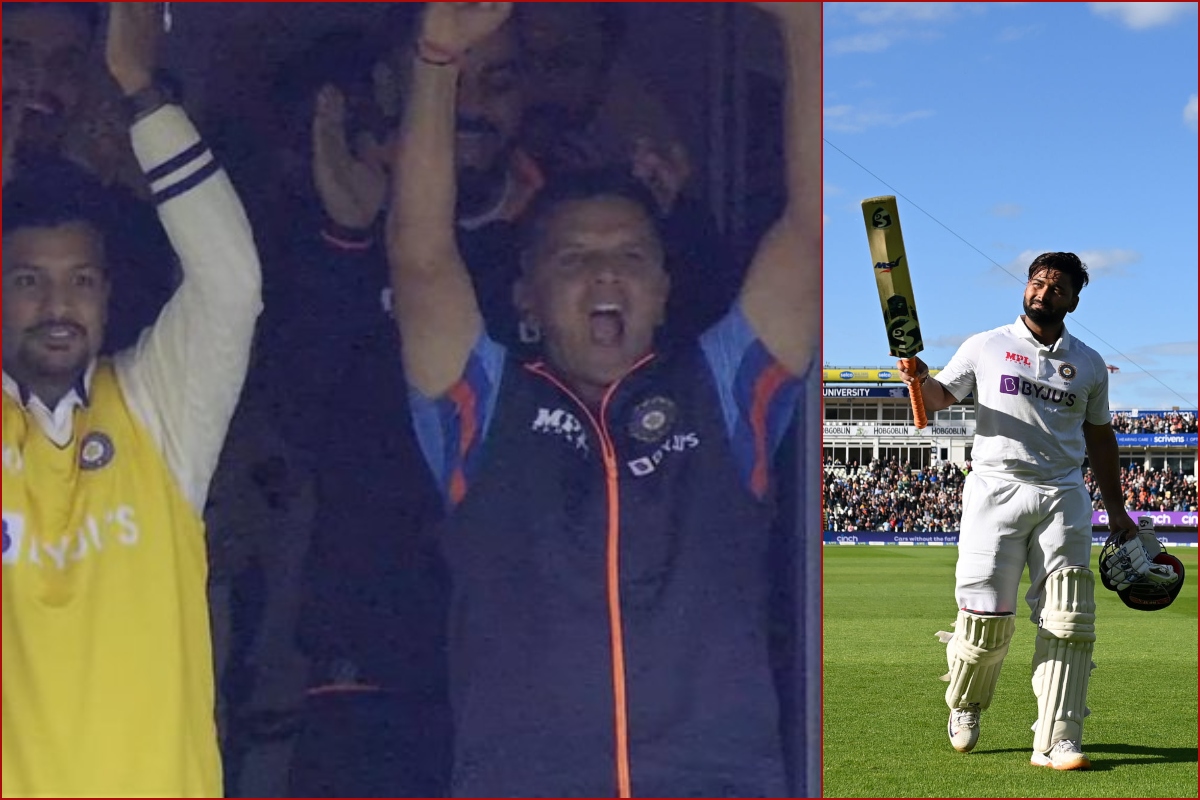 New Delhi: In a smashing performance on Friday, India wicketkeeper and batter Rishabh Pant scored with fifth century on the first day of 5th Test match against England at Edgbaston.
Interestingly, the talented batter who took just 89 balls to attain the target of triple figures in the rescheduled fifth match of the series, has scored over 50+ runs in all his innings of the previous matches.
As the 24-year-old reached the score of 100 runs with a total of 19 boundaries and 4 sixes, India head coach Rahul Dravid's enthralling reaction from the stands was a sight to behold.
Cricket fans and viewers were shocked to see former India captain, also known as 'The Wall' among cricket enthusiasts, as Dravid's reaction towards most of the events is usually neutral. Latter was even seen in a thorough calm mood during the big win on India's tour of Australia 2003-04 during Adelaide Test, wherein he had knocked a smashing double century.
In a clip from the match, Dravid can be seen jumping from his seat in excitement with his hand in the air to celebrate his junior's knock.
The video has gone viral on social media, with Netizens expressing their surprise at India's beloved veteran batter.
Watch: 
The moment where it all came together for #RP17 💙

P.S 👉 You're a special guy if you can get Rahul Dravid to react that way 😉#ENGvIND pic.twitter.com/OBiUVllVYN

— Delhi Capitals (@DelhiCapitals) July 1, 2022
Check top reactions here:
This image sums up rishab pant's innings….
Rahul Dravid showing emotions at this level we dont see that much#INDvsENG pic.twitter.com/G9cNNauwAE

— Ashwin Dhavale (@AshwinDhavale) July 1, 2022
A usually-composed Dravid overwhelmingly applauds Pant for his quick-fire yet brilliant century.
You cannot not love test cricket ❤️#INDvsENG pic.twitter.com/DqX7Bk7SxR

— Raghav (@raghav2496) July 1, 2022
Magnificent inning by Pant. Congratulations. Each shot played by him was Rahul Dravid's trust and confidence for him. Eagerly waiting for those who criticised Rahul Dravid for supporting Pant.#RDTW#RahulDravid pic.twitter.com/oxMVcPzpF8

— Chaitalee (@PravinChaitalee) July 1, 2022
If you can get Rahul Dravid like this it means something:))
Great innings from Rishabh Pant.#Pant #INDvsENG #ENGvsIND pic.twitter.com/FqKnNlWmm1

— Harshal Popa XO (@Harshal_Popa) July 1, 2022
The celebration by Rahul Dravid!!!! This tells the importance of the ridiculous knock by pant!!! And the gravity of it was just phenomenal!!!!

Kudos to pant!!!

Man of the match??? Coming,😃🥺🔥🔥🔥🔥 pic.twitter.com/ra1gsPXPWF

— K (@Khemansingla) July 1, 2022
The wall erupts! Only #Pant can play an innings that makes #Dravid go gung-ho. What a knock. #INDvsENG pic.twitter.com/r5ZRSz5QLa

— Manoj (@manojumapathy1) July 1, 2022
Never watched Dravid this much excited..

Pant made it possible… pic.twitter.com/eIWOWDCm9W

— Ram⚡ (@urstrulyram14) July 1, 2022
For the unversed, apart from being India's head coach, the moment also happens to be special for Dravid as he has trained Rishabh during his tenure as Indian head coach for under-19 cricket team as well.