#Jiodown trends: Twitterati share hilarious memes, jokes after Jio outage
Jio down started trending on Twitter after users complained about facing issue with calling and smg service.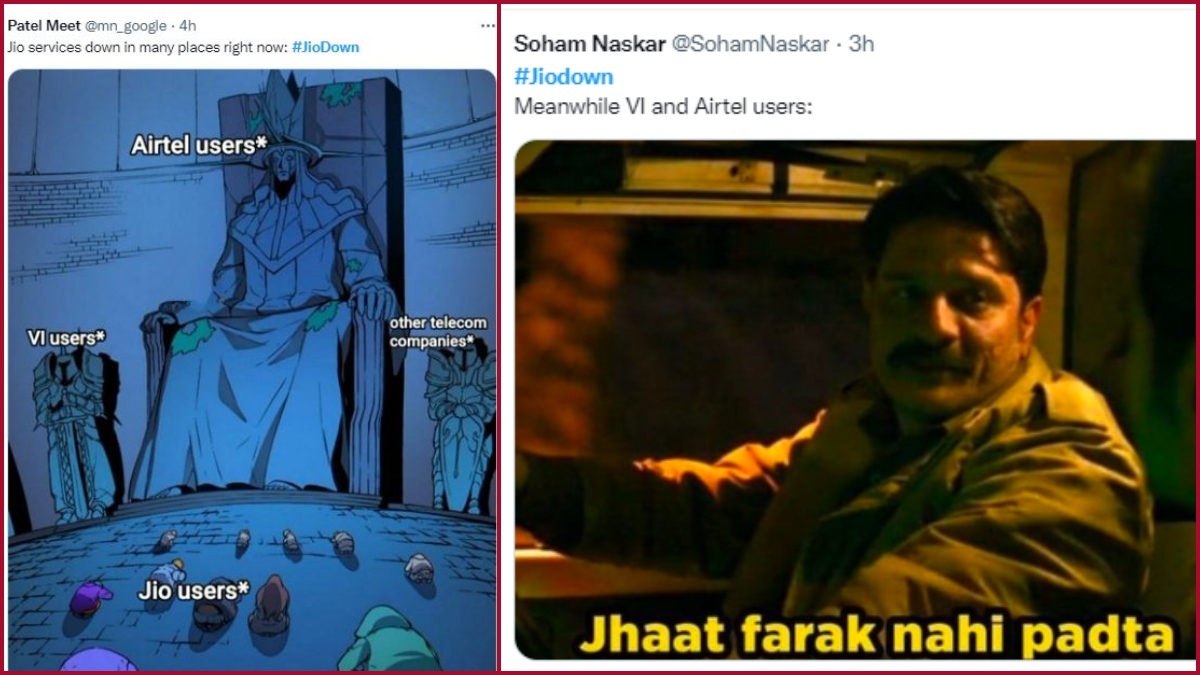 New Delhi: Hashtag Jio down trends on micro-blogging site Twitter after Reliance Jio users started facing an outage earlier today leaving Jio users unable to make or receive calls as well as use SMS.
The Reliance Jio outage started today in the morning (November 29) from 6 am to 9 am.
According to reports, during the three-hour-long disruption, Jio users faced problems in making calls and SMS facility while Mobile Data was working fine
No volte sign since morning & so unable to make any calls. Is this how you are planning to provide 5g services when normal calls are having issues? @reliancejio @JioCare #Jiodown

— Pratik Malviya (@Pratikmalviya36) November 29, 2022
After a number of users raised the complaint and reported the problem on Twitter, there was another section of Twitter users who flooded with mems and jokes on social media platforms.
Here is how Twitterati reacted:
#Jiodown situation when you have jio fiber , jio sim and jio mobile. And the network is down. pic.twitter.com/kI6vagk9SP

— AnishKumar Agarwal (@AnIsH_261290) November 29, 2022
#Jiodown
Meanwhile VI and Airtel users: pic.twitter.com/EAS2uHFUXo

— Soham Naskar (@SohamNaskar) November 29, 2022
Jio services down in many places right now: #JioDown pic.twitter.com/mvJad0y72x

— Patel Meet (@mn_google) November 29, 2022
Engineers right now ?#Jiodown pic.twitter.com/lzJGcRIBi5

— Абхишек (@TheAbhishekz) November 29, 2022
#Jiodown meanwhile my reaction ?pic.twitter.com/K7E8Mk2s8O

— Ashutosh Srivastava (@kingashu1008) November 29, 2022
#JioCinema
After every 30 seconds #Jiodown pic.twitter.com/wv0D0QQAua

— MISHU (@NeerajRjmshr2) November 21, 2022
Pls dont buffer #Jiodown #jiocinemas #FIFAWorldCupQatar2022 pic.twitter.com/udE1xbCZux

— Chandannx (@Chandannx7436) November 29, 2022
VI and Airtel users when #Jiodown #WhatsApp pic.twitter.com/yZ4HKiT2iK

— Suman Rastogi (@SumanRastogi6) November 29, 2022