OYO files for bankruptcy? Twitter asks if this a new twist in the startup game of capital hunters?
People react to the news of bankruptcy of one of the biggedt hospitality firms in India.Some were sad to hear this while some saw it coming for a long time.
April 7, 2021 12:41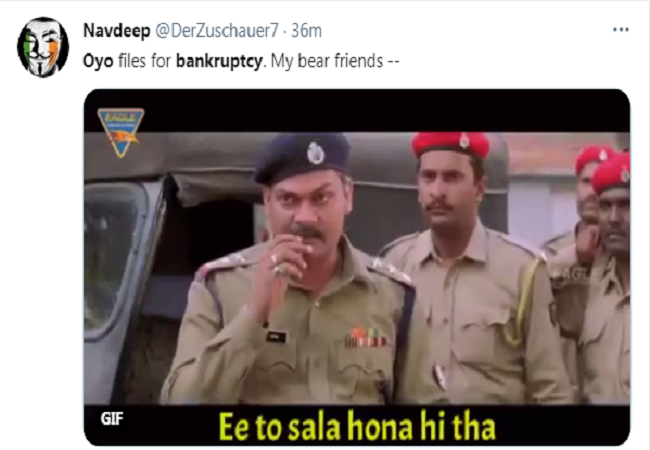 New Delhi: In a shocking turn of events, an insolvency petition has been filed against hospitality firm OYO in the NCLT. As the news spilled out in public domain, people have all kinds of reactions about this.
OYO files for bankruptcy under IBC 2016

|@oyorooms #bankruptcy #OYO|https://t.co/jde8M4opV4

— Newsroom Post (@NewsroomPostCom) April 7, 2021
Reactions
Some users were sad as they were used to getting decent hotels at affordable prices
I am feeling very sad. With OYO I get decent Hotel rooms within my budget. Now I have to stay in bugs infested shacks. https://t.co/13SHJ1acEr

— Satvahana (@Satvahana) April 7, 2021
I hope every one of you has had a splendid time at their lavish hotels! Will be missed. Pride of Gurgaon #OYO https://t.co/aFJiVAUPFs

— LoftyIdeals🎎 (@angirahedgehog) April 7, 2021
While some were surprised to see this shocking news
And the end of OYO is here

Short time popularity and reaching every town… Was a great hit in hospitality segment

Surprisingly OYO files for bankruptcy https://t.co/40FgEFxXjj

— Satheesh Kumar (@saysatheesh) April 7, 2021
Many people blamed COVID-19 for this bad news
Shit…most famed Indian hotel story gone bust due to Covid. Most difficult times for startups !! #Oyo #startup #unicorn #softbank #bankruptcy https://t.co/ZauwBjAysw

— Snehal (@SneDam) April 7, 2021
OyO has filed the bankruptcy shows how couples didn't book the OyO in order to follow the lockdown norms since covid outbreak. https://t.co/B96WsiWffF

— Dopecrowly / Main got Jacked (@dopecrowly_) April 7, 2021
The story of businesses falling apart owing to Covid-19 continues, Oyo Hotels and Homes Pvt Ltd, files for Bankruptcy.

— VigneshKrishnamurthy (@Becksowen2001) April 7, 2021
While some saw this coming for a long time
Oyo files for bankruptcy. My bear friends — pic.twitter.com/6zaJDuQv7h

— Navdeep (@DerZuschauer7) April 7, 2021
OYO Rooms files for bankruptcy.
Oh, no. Who could've seen this coming? https://t.co/Kdt5AZTnKl

— Based Trader (@TraderBased) April 7, 2021