Home » Coronavirus »
Covid-19 Bulletin: Recovery rate nears 60%, gap between recovered & active cases above 1 lakh; Do's & Don'ts of fighting Coronavirus
The samples tested in the last 24 hours have further increased to 2,31,095. The total number of samples tested, as on date, is 82,27,802.Coronavirus Cases in India,
June 28, 2020 20:01
New Delhi: The gap between recoveries and active cases has crossed 1,00,000. The recovered cases have exceeded the active cases by 106,661 as of today. Thus, so far, a total of 3,09,712 patients have been cured of COVID-19. The recovery rate is 58.56% amongst COVID-19 patients.

Difference between recovered and active cases crosses 1 lakh; Recovery rate increases to 58.56%
During the last 24 hours, a total of 13,832 COVID-19 patients have been cured. Presently, there are 2,03,051 active cases and all are under active medical supervision. India now has 1036 diagnostic labs dedicated to COVID-19. This includes 749 in the government sector and 287 private labs. Daily more than 2,00,000 samples are being tested. The samples tested in the last 24 hours have further increased to 2,31,095. The total number of samples tested, as on date, is 82,27,802.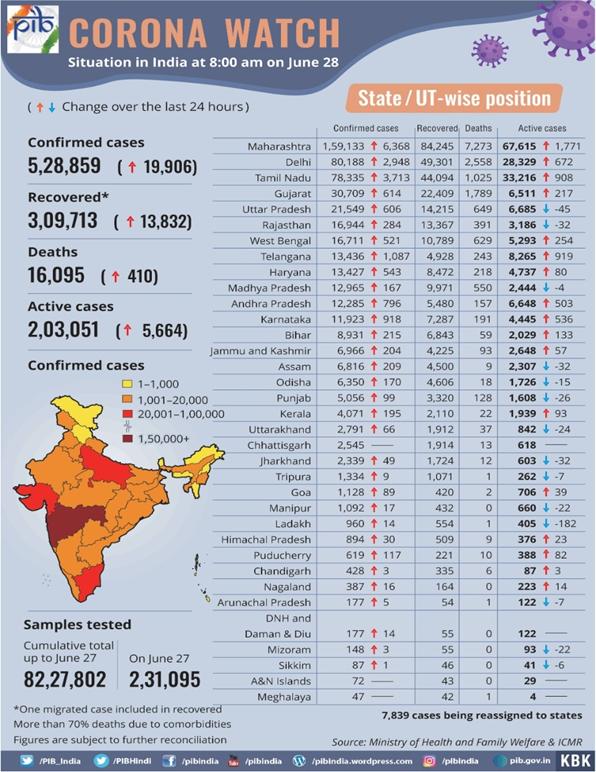 English rendering of PM's address in the 13th Episode of 'Mann Ki Baat 2.0' on 28.06.2020
"My dear countrymen, irrespective of the magnitude of the calamity confronting us, India's sanskar…way of life inspires one and all to serve selflessly. The way India extended a helping hand to the world during difficult times, it has reinforced India's role in ushering in peace and development.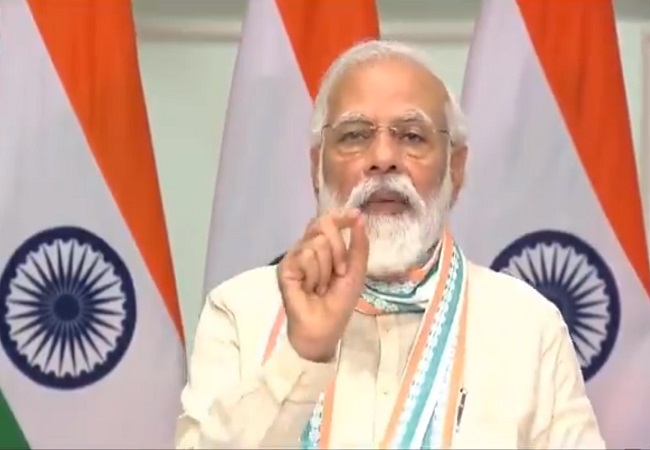 This period also saw the world realising India's spirit of universal brotherhood…at the same time it also noticed India's commitment and might when it comes to safeguarding her sovereignty and territorial integrity. Those who cast an evil eye on Indian soil in Ladakh have got a befitting response. India honours the spirit of friendship…she is also capable of giving an appropriate response to any adversary, without shying away. Our brave soldiers have proven that they will not let anyone cast an evil eye on the glory and honour of Mother India."
Vice President advises people to not press the 'panic' button but reach out for the 'prevention' and 'protection'
The Vice President, Shri M. Venkaiah Naidu has appealed to all countrymen to together protect the lives and livelihoods in the fight against the COVID-19 pandemic.In a facebook post today, the Vice President said that the Government is taking continuous measures to give a boost to the economy and asked everyone to support the government by taking necessary precautions and following the guidelines.
Calling upon the people to collectively fight against this unprecedented health crisis, Shri Naidu said that our country's strength lies in our faith in spirituality and trust in science. Maintaining that solution to COVID-19 lies in precautions, Vice President listed simple steps such as the use of face masks, practising safe distancing and washing of hands frequently as the only known ways of staying safe.
Union HRD Minister highlights India's efforts to build resilience into the education system in face of COVID-19
Union HRD Minister Shri Ramesh Pokhriyal 'Nishank' participated in G20 Extraordinary Virtual Education Ministers' Meeting. This special session has been convened to discuss the effects of the COVID 19 pandemic on the education sector, how different nations have dealt with it and how the Member States can collaborate to further the cause of education in these difficult times.
In his statement, the Union Minister informed all members about India's efforts to mitigate the impact of COVID-19 on all sectors including education. Shri Pokhriyal also shared information about efforts of the HRD Ministry to promote digital learning during Covid-19 crisis. He said that we have developed excellent digital educational content over the years. These are available on various platforms like DIKHSA, SWAYAM, Virtual labs, e-PG Pathshala and National Digital Library to name a few.
Shri Arjun Munda launches tribes India products on GeM and new website of TRIFED through video conference
The unprecedented situation in our country due to the ongoing Covid-19 pandemic has affected all segments of our society. The livelihoods of the poor and marginalised communities have been seriously impacted and the tribals are some of the worst affected in these trying times. To ease the burden of the tribal artisans during such troubled times, TRIFED, Ministry of Tribal Affairs has initiated several immediate initiatives to re-energise the lagging economic activity for sustaining the livelihood development of tribals. . Addressing a video Conference to launch the Trifed Digital Platforms, Shri Arjun Munda, Union Minister for Tribal Affairs said that the Team of "Trifed Warriors" will take Tribal Commerce based on forest produces, handlooms & handicrafts to a new high for transforming tribal lives and livelihoods. He stated that with more and more people going online to meet their various needs, an important strategic push has been to adopt an all-encompassing digitisation drive to map and link its village based tribal producers to the national and international markets setting up state of art e- platforms benchmarked to international standards.
Do's & Don'ts of fighting Coronavirus: