Amazon Prime New Releases in November 2021: Latest OTT web series, TV shows and Movies to watch (Trailers)
In a town full of secrets, a group of teenagers are stalked by a mysterious killer a year after a fatal accident on their graduation night.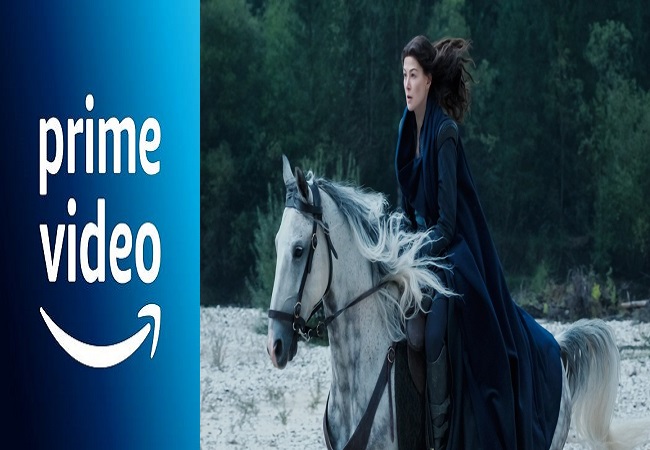 New Delhi: Spooky season is in culmination in the month of November. With a heavily dosed list of entertainment, Amazon Prime Video has made it quite explicit its priorities for the festive season. The November harvest at Prime Video brought in a bumper crop of series and movies, with courtroom drama 'Jai Bhim', starring south superstar Suriya and The 'Electrical Life of Louis Wain' starring Benedict Cumberbatch.
In addition to its fantasy swing, amazon will be bringing 'The Wheel of Time' regenerating a world of magic and dreams to life, following five young people on a treacherous journey around the world.
New releases from November 15 – 21 : 
1. The Wheel of Time (Season 1)
Creators : Rafe Judkins
Release Date : November 19
Set in an epic fantasy world, The Wheel of Time follows Moiraine (Rosamund Pike), a member of the incredibly powerful all-female organization called the Aes Sedai, as she arrives in the small town of Two Rivers. There, she embarks on a dangerous, world-spanning journey with five young villagers, one of whom is prophesied to be the Dragon Reborn… the one who will either save or destroy humanity.
New arrivals from November 8 – 14 : 
2. Always Jane
Director : Jonathan C. Hyde
Release Date : November 12
Jane lives with her typical family in rural New Jersey, which may not seem like the best place for a transgender teenager to grow up. But you haven't met her family, the Nourys. They wear their hearts on their sleeves and find the irreverent humor in daily life, while Jane sets her sights on life beyond their small town.
New arrivals on Prime Video from November 1 – 7 :
3. Jai Bhim 
Director : TJ Gnanavel
Release Date : November 2
The plot of the film tells the viewers about the innocent and hardworking lives of an oppressed tribe who, even with no land to call their own nor a strong roof over their heads, find joy in simple things in life. However, as social injustice and brutality sweeps these innocent lives, advocate Chandru, beautifully portrayed by Suriya, battles for human rights.
4. Electrical Life of Louis Wain
Director :Will Sharpe
Release Date : November 5
The true story of eccentric British artist Louis Wain (Benedict Cumberbatch), whose playful, psychedelic pictures transformed the public's perception of cats forever. Set in the early 1900s, we follow Wain as he seeks to unlock the "electrical" mysteries of the world and, in so doing, to better understand his own life and the profound love he shared with his wife Emily Richardson (Claire Foy).
Releases in October 2021 
Amazon's biggest offering for this autumn is the horror genre, with the latest iteration of 'I Know What You did Last Summer' to stream on the platform on October 15. The exclusive horror list lengthens, with 'Madres' and 'The Manor' premiering on October 18.
Movies, shows releasing from October 18 – 31 :
1. Dybbuk 
Director : Jay Krishnan
Starring: Emraan Hashmi and Nikita Dutta
Release Date : October 29
The movie is a remake of the 2017 Malayalam film Ezra. A couple moves to a new home after suffering from a miscarriage. As they begins to  redecorate the house, the duo discovers an antique Jewish chest, after which they start experiencing paranormal activities in the house. Soon they discover that the chest is possessed with dybbuk – a spiteful spirit from Jewish mythology.
2. Maradona: Blessed Dream (Season 1)
Director : Alejandro Aimetta
Starring: Nazareno Casero, Nicolas Goldschmidt
Release Date : October 29
Maradona: Blessed Dream follows the controversial life of legendary footballer Diego Armando Maradona. A boy from Argentina with a dream of greatness, made his mark in the international football league, earning himself a well-deserved place in history.
3. The Man in the High Castle (Season 3)
Director : Frank Spotnitz
Starring : Alexa Davalos, Rupert Evans, Luke Kleintank
Release Date : TBD
It has been a long wait, but fans of the mind-bending, visually beautiful Prime Original series will be rewarded for their patience. The third season finds the Resistance coming out of the shadows as the Nazis build a new weapon.
4. Akilla's Escape
Director : Charles Officer
Starring : Saul Williams, Thamela Mpumlwana, Donisha Predergast
Release Date : TBD
In a crime-noir about the urban child-soldier, Akilla Brown captures a fifteen-year-old Jamaican boy in the aftermath of an armed robbery. Over one grueling night, Akilla confronts a cycle of generational violence he thought he escaped.
New Arrivals from Oct 8 – 17 : 
5. I Know What You Did Last Summer 
Director : Jim Gillespie
Starring : Madison Iseman, Bill Heck, Brianne Tju
Release Date : October 15, 2021
In a town full of secrets, a group of teenagers are stalked by a mysterious killer a year after a fatal accident on their graduation night. As they try to figure out who's after them, they reveal the true face of an otherwise perfect town and themselves.
6. Madres 
Director – Ryan Zaragoza
Starring – Tenoch Huerta, Ariana Guerra, Evelyn Gonzalez
Release Date – October 8, 2021
Expecting their first child, a Mexican-American couple move to a migrant farming community in 1970's California where strange symptoms and terrifying visions threaten their new family.
7. The Manor 
Director – Axelle Carolyn
Starring – Barbara Hershey, Bruce Davidson, Nicholas Alexander
Release Date – October 8, 2021
After suffering a mild stroke, Judith Albright reluctantly moves into a historic nursing home where she becomes convinced a supernatural force is killing the residents.
8. Sardar Udham Singh
Director : Shoojit Sircar
Starring : Vicky Kaushal, Amol Parashar
Release Date : October 15
The film is a biopic on freedom fighter Sardar Udham Singh, who assassinated Michael O'Dwyer, the former Lieutenant Governor of Punjab in British India in 1940, to avenge the 1919 Jallianwala Bagh massacre.