B-town celebs celebrate 1 billion vaccination mark in India, here is what they said
India is celebrating the 100 crore vaccination mark. Several B-town celebs have taken to their social media handles congratulating India on its massive success.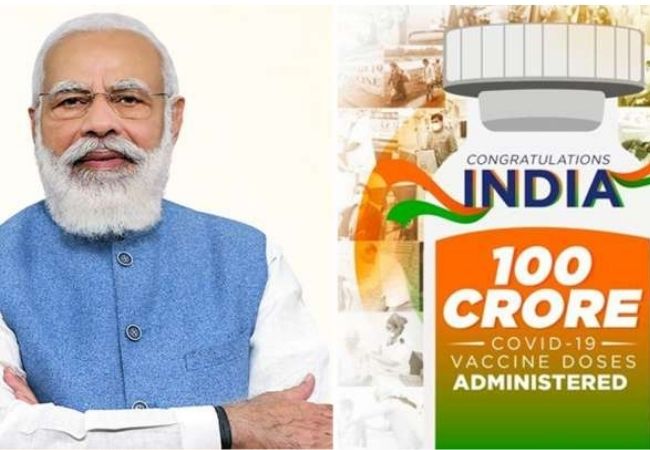 New Delhi: It was never easy! But India finally celebrated the occasion of successfully vaccinating 100 crore citizens against Covid-19 on October 21. The journey of vaccinating adults started on January 16, 2021. Till Thursday, India has witnessed that 75% of its population got the first dose of the Covid-19 vaccine.
Prime Minister Narendra Modi took to Twitter to mark the auspicious day and said, "We are witnessing the triumph of Indian science, enterprise, and collective spirit of 130 crore Indians."
Meanwhile, congratulatory wishes to PM Modi flooded Twitter and other social media handles from not only the politicians across the globe but also our own B-town celebrities.
Kedarnath actress, Sara Ali Khan took to Twitter on Friday to celebrate the achievement by India on getting one billion inoculations against Covid-19.
However, she also warns the citizens to remain "vigilant," ensuring the well-being of the nation. She stated, "One billion vaccines is a tremendous achievement!! However let's continue to remain vigilant and ensure the health and safety of our nation. #IndiaJeetegaCoronaHarega."
One billion vaccines is a tremendous achievement!! However let's continue to remain vigilant and ensure the health and safety of our nation 🙏🏻#IndiaJeetegaCoronaHarega 🇮🇳

— Sara Ali Khan (@SaraAliKhan) October 22, 2021
Also, the superstar Akshay Kumar shared his gratitude towards PM Narendra Modi as the collaborative effort has enabled India to achieve 100 crore vaccination mark. He tweeted, "Incredibly proud day for India as we crossed the 100 crore vaccination milestone. A billion thanks @narendramodi ji, and to every frontline worker. जो दूसरे देश सोच भी नहीं सकते वो कर दिखाया। गर्व है। #VaccineCentury."
Incredibly proud day for India as we crossed the 100 crore vaccination milestone. A billion thanks @narendramodi ji, and to every frontline worker. जो दूसरे देश सोच भी नहीं सकते वो कर दिखाया। गर्व है। #VaccineCentury

— Akshay Kumar (@akshaykumar) October 21, 2021
Anupam Kher shared a video on Instagram celebrating India's feat. In the video, he stated, "Namaskar everyone, India has completed 100 crore vaccinations and India became the first country to achieve this milestone." 
In the video, he thanked all the healthcare workers and doctors for helping India with its massive success. He captioned the video in Hindi saying, "100 करोड़ भारतवासियों का वैक्सिनेशन हो चुका है। ये एक बहुत बड़ी उपलब्धि है! इसके लिए देशवासियों को, medical workers को, सरकार को और देश को बहुत बहुत बधाई और जय हो! ये नया भारत है।ऐसी बात नहीं है! 🙏👏🇮🇳 #OneBillionVaccinated (Verified 100 crore Indians have been vaccinated. This is a very big achievement! For this, many congratulations and hail to the countrymen, to the medical workers, to the government and to the country! This is new India. It is not like that.)"
View this post on Instagram