Bhediya Twitter review: People rate horror-comedy flick, see Varun Dhawan as 'lifeline' of werewolf drama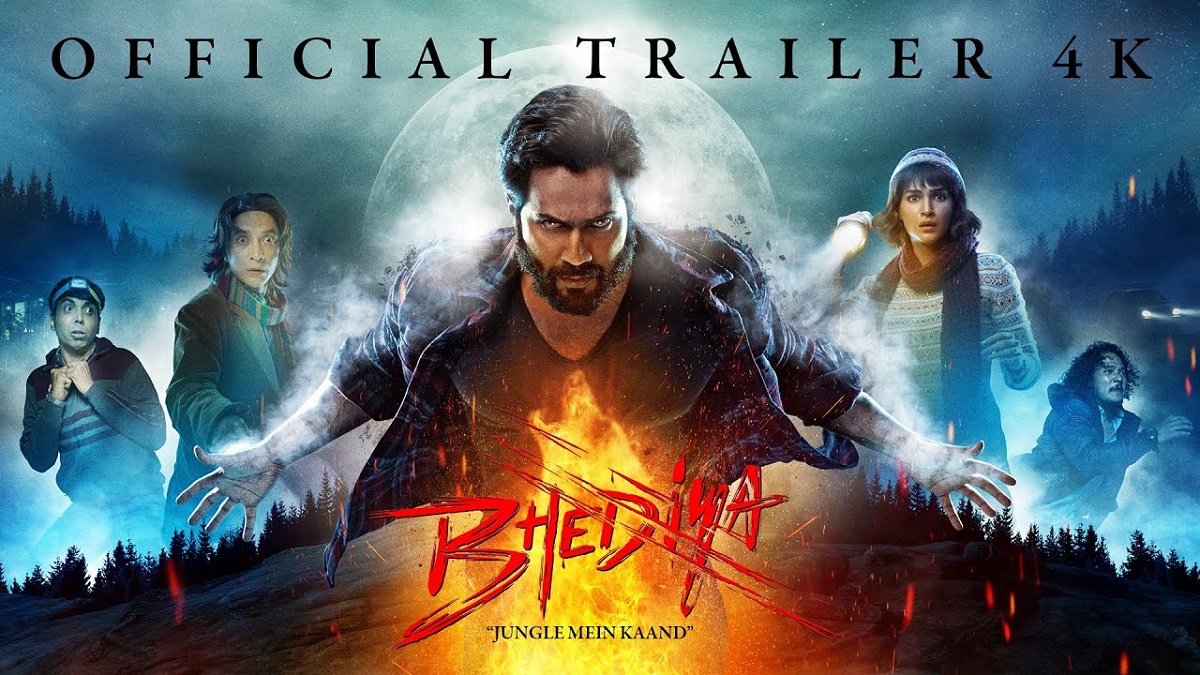 New Delhi: Varun Dhawan & Kriti Sanon starrer 'Bhediya' hit the silver screens across the country today. The movie, belonging to horror-comedy genre, marks Bollywood's attempt to enter into the mystic world of werewolves.
The supernatural thriller stars Varun Dhawan as the lead protagonist of the movie with another lead female star Kriti Sanon complementing him in the werewolf drama.
As the movie released in theaters, it recorded a good opening and majority of people are liking the film. Though the story plot is unique & off the league, Varun Dhawan is being hailed for being the lifeline of movie.
A lot many people took to the social media to share their own reviews of the flick. Varun Dhawan is being lauded & hailed for brilliant performance in the movie and many are also calling Bhediya a full paisa-vasool entertainer.
Earlier film that came from Bollywood in the horror-comedy genre included Stree and Roohi.
Film trade analyst Taran Adarsh was also all praise for the movie and was quite impressed with novel concept, cutting edge technology & visual effects and even suggested audience to prefer big screen watch than wait for OTT.
Audiences also were also moved by songs & Kriti's sensous dance on Thumkeshwari. Many also praised the camaraderie between Varun Dhawan & his co-actors. Kriti Sanon as Dr. Anika is equally amusing as she is quite different from a traditional doctor.
Here is how Twitter rated Bhediya:
#OneWordReview…#Bhediya: CAPTIVATING.
Rating: ⭐️⭐️⭐️½#Stree. #Bala. Now #Bhediya. Director #AmarKaushik gets it right yet again… Novel concept. Cutting-edge #VFX. Super finale… An entertainer that's meant for big screen viewing… Recommended! #BhediyaReview pic.twitter.com/ojBBvK1Piy

— taran adarsh (@taran_adarsh) November 24, 2022
#Bhediya ~ Harmless entertainer. Its engaging throughout with some hilarious scenes, suspense & good VFX work. @Varun_dvn is
superb as werewolf 🐺 & a likeable @kritisanon. End-Credit scene👌🤣 (3.5☆/5) pic.twitter.com/5QMtrHZHqz

— Prince Prithvi (@PrincePrithvi) November 24, 2022
#Bhediya First Review from Overseas! @Varun_dvn gets a chance to dabble in a new genre and he excels thoroughly. He genuinely gives an earnest performance. @kritisanon delivers a fine performance. She is looking Stunning ! Overall, A Pasia Vasool Entertainer. 3.5⭐️/5⭐️

— Umair Sandhu (@UmairSandu) November 24, 2022
#Bhediya ⭐⭐⭐⭐

What a movie🍿 😱😱😱😱
Superb VFX 🙌👌
Starting to ending gripping, engaged, comedy, humour every think perfect. 😇😍
It's must watch movie 🎥🎥🎥🎥@Varun_dvn @nowitsabhi @kritisanon @MaddockFilms #Amarkoshik #DeepakDobriyal @jiostudios pic.twitter.com/oXBsCpduTd

— Er Hemant Prajapat 🤞😍 (@PHemant123) November 25, 2022
Just Watched #Bhediya #BhediyaReview ⭐⭐⭐⭐

Winner 🔥🙏 Mist Watch Movie #BhediyaMovie is Fire 🔥 Believe me…..#VarunDhawan n #KritiSanon
Superb Acting ❤️🔥
After #Badlapur and #October
Varun Dhawan what an Actor bro 🥳✌️ #BhediyaMovie is gonna Dominate Award Shows pic.twitter.com/2T8oEQoRh8

— Natasha Naaz 💚 (@SidmalhotraYT) November 25, 2022
Watch #Bhediya. Superhit!!!! Entertaining, humorous, Enlightening. A lot of fun. Great news for box office !!!! @MaddockFilms @amarkaushik
@nirenbhatt @jiostudios @Varun_dvn
@kritisanon a huge applause 👏
. VFX are outstanding !! Do watch !!

— Atika Farooqui (@atikafarooqui) November 25, 2022
#KritiSanon used to be one of my favourite actors but now, she's my all-time favourite 🥹🥹 Her ability to perform and leave an impact everytime you see her is commendable. #Bhediya is another testimony to the fact that @kritisanon can do anything and everything. The finest! 💥💥 pic.twitter.com/8OfJ407vyq

— Nishit Shaw (@NishitShawHere) November 25, 2022
LOVEDDD #Bhediya!!!! What a mega entertainer and an extraordinary story!! Hugest congratulations to the entire cast and crew!! #AmarKaushik THANK YOU for yet another gem of a film from your "universe"!! A film NOT to be missed on the big screen!!!

— Nimrat Kaur (@NimratOfficial) November 24, 2022
#Bhediya Review: is a unique concoction of humour and horror that floors you completely. At the box office this entertainer surely has a chance to tickle the
audience's funny bone. @Varun_dvn
career best performance.@kritisanon fantastic Acting. #BhediyaReview

Rating: ⭐⭐⭐⭐ pic.twitter.com/0aJDXi8Yzp

— Vishwajit Patil (@_VishwajitPatil) November 25, 2022
#Bhediya is Entertaining Rush !

Rating – ⭐⭐⭐⭐

With Fun element and Attractive VFX
Film Entertains and multiply Excitement at every Block
Characterisation of #VarunDhawan is Top Notch
Adventure with perfect blend of commercial cinema
Good Job Director !#BhediyaReview pic.twitter.com/tijTguGIRf

— BOL INDIA POLL (@PrashantMi555) November 25, 2022