Falguni Pathak's battle against remake of iconic songs goes public; Netizens slam Neha Kakkar, hilarious meme fest follows
Pathak took a stern stand on the remake and even said that she wish she could taken legal action against the singers as well as the makers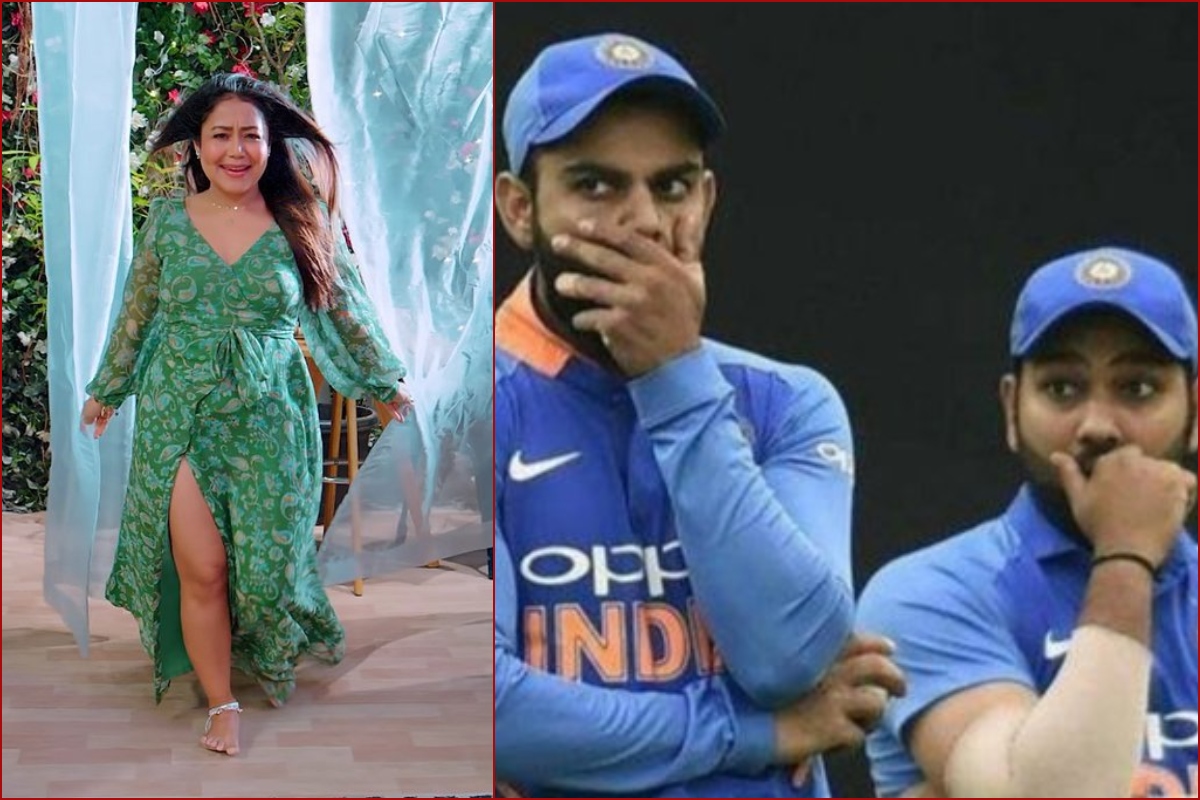 New Delhi: Ever since T-Series dropped the teaser of the latest remake of iconic Hindi song Sajna sang by Neha Kakkar, it has been facing backlash from all directions. The music company and the singer are under fire as social media users are alleging they are ruining the classic songs and memories associated with them.
The matter further escalated after the singer of the original Sajna song Falguni Pathak took a stern stand on the remake and even said that she wish she could taken legal action against the singers as well as the makers of the song.
While the matter has triggered a public discourse on the recent trend of remaking and remixing popular and iconic songs, a meme fest against Neha Kakkar and T-Series has been initiated as well.
Twitter users have been sharing hilarious memes slamming Neha Kakkar and lauding the stance of veteran singer Falguni Pathak on the matter.
Check top reactions here:
A user named Nilay Shah wrote, "Me to #NehaKakkar after listening to #OSajna after ruining another 90s Song masterpiece", along with a TMKOC meme. While another said, "If ruining a Bollywood song is an art, then #NehaKakkar is a Picasso of it..".
Me to #NehaKakkar after listening to #OSajna after ruining another 90s Song masterpiece#FalguniPathak pic.twitter.com/5WFWexDITR

— Nilay Shah (@EHosyari) September 25, 2022
If ruining a Bollywood song is an art,then #NehaKakkar is a picaso of it..#FalguniPathak #bollywoodsongs pic.twitter.com/KX3zDrx4V6

— Sᴀᴍᴍʏ♛Sᴀʟʟᴜ✪ (@SalluSammy) September 25, 2022
Love #FalguniPathak and this song.#NehaKakkar ruins it in the new avatar. https://t.co/DOq9sBn5Fu

— Deepal.‏‎‎Trivedi #Vo! (@DeepalTrevedie) September 25, 2022
#FalguniPathak #nehakakkar #TSeries
Damn 🔥 pic.twitter.com/NqsqGkUOrH

— Socialsatire 💎 (@Socialsatiree) September 25, 2022
Please don't spoil our childhood, it's not cool #NehaKakkar pic.twitter.com/46W9hkgXSL

— बाज़ीगर (@_himmatwala) September 25, 2022
Original Vs Remake #AnuMalik Reaction on #Original #OSajna Vs Remake #OSajnaOutNow and I can't Stop Laughing😂😅#NehaKakkar #FalguniPathak #TunePayalHaiChankayi #OSajna pic.twitter.com/qCHzNf8guf

— Journalist Himanshu Soni (@Vishusoni02) September 25, 2022
Confidence ho to Neha Didi jaisa.
I don't hate her.. But this msg is another level.
"Chori upper se sinajori wali baat h yaha "
If you think you're talented than make your own music girl. Then msg like this #NehaKakkar#FalguniPathak is Legend pic.twitter.com/UGm8YGJbP3

— FandomTrend (@Stars_ki_Duniya) September 25, 2022
If you thought she only remakes (ruins) songs.. 🤦🏻‍♀️

Genuinely missing originality in life. #NehaKakkar pic.twitter.com/03ekxNdwTl

— Ruchi  (@Ruchi4Tweets) September 25, 2022
AR Rahman criticized remix of original songs 2 years ago. #NehaKakkar #FalguniPathak pic.twitter.com/GPIwLbaQ2N

— Ashish Ram (@ashishram21) September 24, 2022
#NehaKakkar ruined the classic 90s song#FalguniPathak : pic.twitter.com/jMQqGpjjBX

— Dr. Ashish Belwal (@drsuperstar1680) September 23, 2022
No one :#FalguniPathak to #NehaKakkar : pic.twitter.com/8mdMRXfRhQ

— Dr. Ashish Belwal (@drsuperstar1680) September 23, 2022
Music lovers after hearing the remake #FalguniPathak #NehaKakkar pic.twitter.com/wo3aLGWC2e

— Anushmita⁷ (@anushmita7) September 24, 2022
#NehaKakkar #FalguniPathak
Nothing just Neha Kakkar ruining another 90's song #FalguniPathak pic.twitter.com/Pa6BzXnTlj

— Tarun Jindal Gejha 🇮🇳 💯% फॉलो बैक (@TARUN__JINDAL) September 24, 2022
90s people to #NehaKakkar :
😂😂#FalguniPathak pic.twitter.com/CqjolxZDsk

— JennyJain🇮🇳 (@missJen2515) September 24, 2022
*Maine Payal Hai Chankai*

Original By Remake By#FalguniPathak #NehaKakkar pic.twitter.com/fLTkwC35hy

— Roshan Rai 🇮🇳 (@RoshanKrRaii) September 24, 2022