Films to Look forward to in 2023: Pathaan, John Wick 4, Oppenheimer and more!
Here are 10 films releasing this year that we've already heard too much about and can't wait for.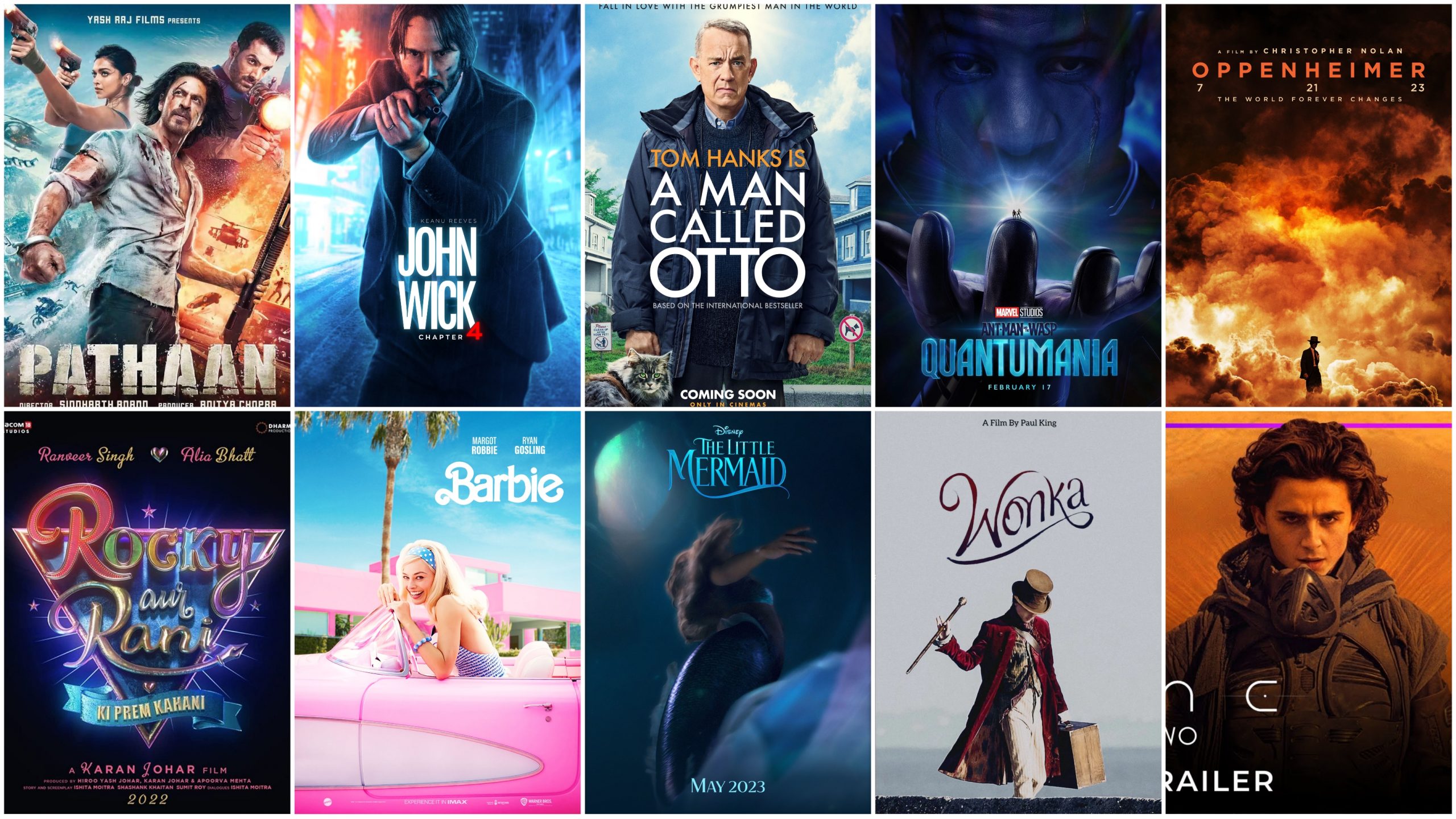 New Delhi: 2023 is here and brings with it hope, zeal and excitement to see what's out there. Standing at the precipice of another year filled with uncertainty there's at least one thing we can be certain of, Films!
Here are 10 films releasing this year that we've already heard too much about and can't wait for.
Pathaan
25th January 2023
Having garnered a lot of attention already, Pathaan is all set to release on the 25th of January. Apart from being a Shahrukh Khan starrer spy movie, it also has Deepika Padukone which has gotten film fans counting the days until its release. After the songs that set fire to our screens, the film has all the eyeballs and we can't wait to see it!
A Man called Otto
10th February 2023
Based on the book 'A Man called Ove' by Fredrik Backman, this Tom Hanks starrer already has a lot of people waiting. Those who read the book are intrigued to see it come to life and the ones who couldn't are happy to know what the buzz is about. The presence of the Forrest Gump star in an already beautiful story has captured all of our attention as we wait to see the final product!
Ant-man and the Wasp: Quantumania
17th February 2023
To all the Marvel fans waiting for a big cinematic experience, this film might be it. We all met Kang in the Loki series on Disney+ Hotstar, but this Kang is different from the one in Loki. Many variants of Kang exist in the MCU and this is one of them. With another powerful supervillain with Paul Rudd's Ant-man, Marvel fans are hoping to get their money's worth in terms of experience in this film, we'll wait and watch!
John Wick: Chapter 4
24th March 2023
Keanu Reeves returns as John Wick and we can't keep calm. Taking his fight to the highest table as Wick seeks out the biggest players in the underworld from New York to Paris to Japan to Berlin. The best action you will ever find now spanned across the globe, 2023 just keeps getting better and better!
Rocky aur Rani ki Prem Kahani
28th April 2023
With a star-studded cast, 'Rocky aur Rani ki Prem Kahani' was discussed at length on the new season of Koffee with Karan in the Alia & Ranveer episode who became friends on the sets of the film apparently. There was also a sneak peek of the film shown in 'Fabulous Wives of Bollywood' where the wives visit Ranveer Singh on the sets of the film and watch him shoot. Rocky aur Rani ki Prem Kahani releases on 28th April 2023 and it just might be the film that the audiences go to watch in theatres instead of waiting for it to hit OTT.
The Little Mermaid
26th May 2023
Halle Bailey's The Little Mermaid created some stir when people objected to this iconic character from children's stories being Black. After this rather racist debacle, the film has the audiences vouching for it and intrigued to see what other new things the makers have done with this loved classic. With Melissa McCarthy and the Bridgerton star Simone Ashley, the film is all set to release on 26th May 2023.
Barbie
21st July 2023
With the gorgeous Margot Robbie as the ideal Barbie and Ryan Gosling as Ken, Barbie has already created a lot of buzz with its teaser trailer. While we can't wait to see Barbie and Ken come to life, the curiosity also stems from the question of how this world manages to bring forth a deeper message of happiness and acceptance.
Oppenheimer
21st July 2023
Oppenheimer addresses an already controversial topic, the Manhattan Project. Including that the film gets more credit and attention as it is directed by Christopher Nolan. The remarkable cast consisting of Cillian Murphy, Robert Downey Jr., Florence Pugh and others make it even more difficult for us to wait for this iconic film to hit the theatres!
Dune: Part Two
3rd November 2023
After creating a massive stir with its first part, Dune: Part Two is releasing on the 3rd of November this year. The audiences are on the edge after how the first part ended, making it a bigger release than the first. Starring Timothee Chalamet, Zendaya, Austin Butler and others, Dune: Part Two will force you to get out and experience it in the theatre probably in 4D!
Wonka
15th December 2023
Revisiting the famous Willy Wonka character previously played by Johnny Depp, Timothee Chalamet takes us on a journey. Narrating the story of a young Willy Wonka and how he met the Oompa-Loompas, this film has some buzz around it considering its supremely talented cast. With Mr. Bean, Rowan Atkinson, Olivia Colman and Hugh Grant, Wonka releases on 15th December this year.
Post-pandemic the way people consume films has changed massively, but there are classics that always have people on their toes waiting to see what happens next. Luckily for us, 2023 is full of such films, so let's sit back and enjoy. Happy Watching!