From Gagubai Kathiawadi to Gunjan Saxena: Popular 5 Bollywood movies based on true life events, stories
Directed by Zoya Akhtar, the movie is closely inspired by the real-life stories of Indian rappers Divine and Naezy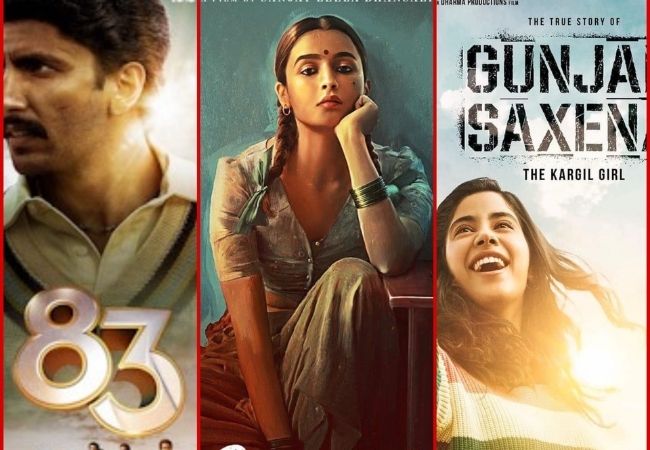 New Delhi: Apart from thrillers, comedy, action, and romance what is hooking the attention of the audience more to the screen are the movies based on true life events.
Bollywood is picking up this new genre and proposing this to be the new venture in the coming years. With the new wave of modernity and content-driven films, the industry is changing in prospect and overall eyesight.
Here are some of the Bollywood of recent times based on true events/stories:
1. Gangubai Kathiawadi (2022)
Directed by Sanjay Leela Bhansali, Gangubai Kathiawadi is based on the true-life events of Gangubai Harjivandas. Portraying the character of the protagonist, Alia Bhatt will be seen in the lead playing the role of Gangubai.
Gangubai was born in Gujarat's Kathaiwadi and she was forced into prostitution at a young age, according to S. Hussain Zaidi's book, "Mafia Queens of Mumbai." In Mumbai's Kamathipura neighborhood, she maintained a brothel that attracted a lot of notorious criminals as clients. She contributed to orphans' well-being and sex work.
2. 83 (2021)
Based on the story of India's captain Kapil Dev, under whose captaincy the Indian team won the first-ever World Cup for the country in 1983. Ranveer Singh beautifully portrayed the leadership that Kapil Dev had during his captaincy.
The movie narrates the journey of the 1983 Indian squad and taught the nation to believe in hopes and have faith in its cricket players. The movie was directed by Kabir Singh.
3.
3. Gunjan Saxena: The Kargil Girl (2020)
The movie narrates the story of Gunjan Saxena, a flight lieutenant in the Indian Air Force. It talks about the journey of the flying officer during the Kargil conflict in 1999 when she piloted the Cheetah aircraft into the battle zones and saved the lives of many. Jhanvi Kapoor performed the role of Gunjan Saxena.
4. Gully Boy (2019)
Directed by Zoya Akhtar, the movie is closely inspired by the real-life stories of Indian rappers Divine and Naezy. Played by Ranveer Singh in the lead, the movie has gathered several acclamations.
It was also a debut movie for Siddhant Chaturvedi, which raised him to fame. Notably, Divine and Naezy are teenage rappers who use desi rap to grab attention to various societal problems.
5. URI: The Surgical Strike (2019)
The movie narrates the Indian Army's surgical strikes against militant launchpads in Pakistan-controlled Kashmir in 2016. They carry out a covert operation against a group of militants that attacked a base in Uri, where many soldiers were killed.
The film revolves around 11 chaotic events that took place during the operation. Vicky Kaushal played the lead role in the film.