Netflix Releases in April 2022: Latest OTT web series, TV shows and Movies to watch (Trailers)
From counting votes to counting the days left for his 10th-grade exams. Will Gangaram pass with flying colors?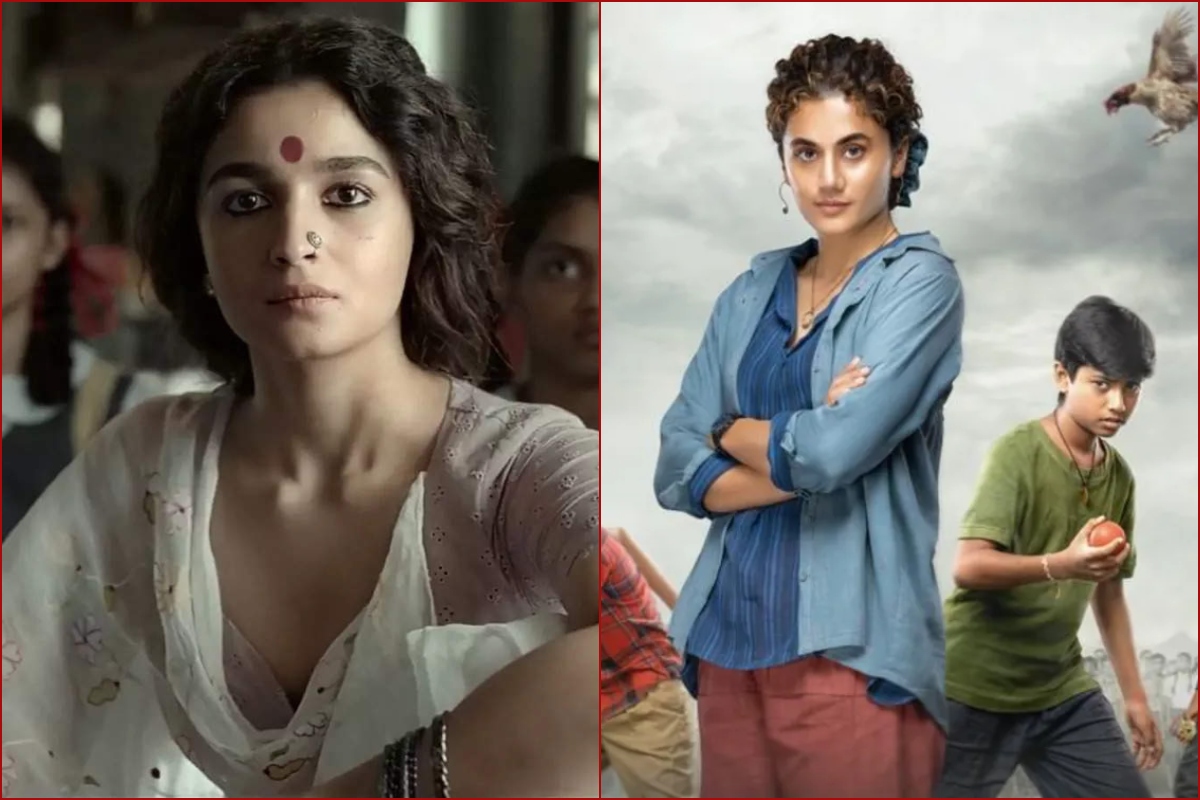 New Delhi: Good news for all the 'Indian Matchmaking' fans! The second season of the show hasn't even hit Netflix yet, but the streaming giant has already renewed the Emmy-nominated series for a third season.
On Thursday, Netflix unveiled the slate of shows that have been renewed for new seasons, while also announcing a list of new shows. While Netflix did not officially announce the third season of 'Indian Matchmaking', Variety reported that season two of the show will premiere this year, and the series has also been renewed for season three.
The Netflix show's first season offered an inside look at the custom of matchmaking in Indian cultures through a contemporary lens.
Meanwhile, before the show finishes off with its filming and more, here we've brought to you the full list of new releases on Netflix across all genres for you to binge-watch throughout the month of April 2022.
Bonus films, shows in April 2022: 
1. Gangubai Kathiawadi
Release Date: April 26
A story of strength, inspiration, and resilience. This year, we celebrate the journey of a girl who not only rose to power but reigned supreme. Young Ganga is tricked by her boyfriend with the promise of a film career and persuaded to leave the countryside for Mumbai. In Mumbai, her dreams of a film career come crashing down and she is lured to the underworld.
2. Dasvi
Release Date: April 7
From counting votes to counting the days left for his 10th-grade exams. Will Gangaram pass with flying colors? A politician finds out the hard way that being good with people doesn't make you good with the syllabus of class 10th. Watch Abhishek Bachchan battle formulas and equations in Dasvi, launching on 7th April, on Netflix.
3. Mai
Release Date: April 15
When Sheel's daughter is ruthlessly murdered, she sets out to avenge her death. Filled with white-collar crimes and ugly politics, the path she is on is definitely not an easy one!
New movies, shows releasing from April 21 – 30:
1. Better Call Saul (Season 6)
Release Date: April 22
Ex-con artist Jimmy McGill turns into a small-time attorney and goes through a series of trials and tragedies, as he transforms into his alter ego Saul Goodman, a morally challenged criminal lawyer.
2. Uncharted
Release Date: April 26
Uncharted introduces audiences to street-smart Nathan Drake (Tom Holland) and showcases his first treasure-hunting adventure with wisecracking partner Victor "Sully" Sullivan (Mark Wahlberg).
3. 365 days: This Day
Release Date: April 27
Laura and Massimo are back and hotter than ever. But the reunited couple's new beginning is complicated by Massimo's family ties and a mysterious man who enters Laura's life to win her heart and trust, at any cost.
4. Mishan Impossible
Release Date: April 27
The Telugu language suspense drama which stars Taapsee Pannu, Harsh Roshan, Bhanu Prakshan, Jayateertha Molugu, and others in the lead roles will stream on Netflix from April 27 onwards.
5. Ozark: Season 4, Part 2
Release Date: April 29
Facing threats from all sides, Marty and Wendy fight to keep their family together, appease the cartel and the FBI — and leave the Ozarks for good.
New movies, shows releasing from April 11 – 20:
1. Hard Cell
Release Date: April 12
Hard Cell is a documentary-style comedy set in the fictional female prison, HMP Woldsley. Set over a 6 week period during which the inmates rehearse a musical directed by ex-Eastender's star Cheryl Fergison. Funny yet surprisingly moving, Hard Cell leans into the comical truth of prison life.
2. ULTRAMAN (Season 2)
Release Date: April 14
The highly anticipated second season of ULTRAMAN starts streaming worldwide from April 14, only on Netflix! The story heats up as six warriors band together! Directors Kenji Kamiyama and Shinji Aramaki take the world of ULTRAMAN into the realm of the unknown.
3. Anatomy of a Scandal
Release Date: April 15
Based on the bestselling novel by Sarah Vaughan, "Anatomy of a Scandal" is an insightful and suspenseful series about privilege and sexual consent. From the creator of "Big Little Lies" and "The Undoing", this six-part series stars Sienna Miller, Michelle Dockery, Rupert Friend, Naomi Scott and Josette Simon.
4. Toolsidas Junior
Release Date: April 19
Toolsidas is an ace snooker player, who 'only plays for his son'. But after Toolsidas loses in an important tournament to his arch-rival, his son decides to fulfill his father's dream. For this, he enlists the help of former snooker champion Mohammad Salam. — TMDB.
New movies, shows releasing from April 1 – 10: 
1. Apollo 10 1/2: A Space Age Childhood
Release Date: April 1
A man narrates stories of his life as a 10-year-old boy in 1969 Houston, weaving tales of nostalgia with a fantastical account of a journey to the moon. The story takes you back to growing up in the 1960s in Houston, TX. Directed by Richard Linklater, the film features Jack Black, Bill Wise, and Lee Eddy.
Release Date: April 1
Amalie is elated when her and Mikael's dance crew is selected to compete in Paris but becomes distracted when she reunites with her estranged mother. The dance drama stars Lisa Teige, Fabian Svegaard Tapia, and Ellen Dorrit Petersen in lead roles.
Release Date: April 1
Made half-human and half-spirit by accident, a young man is employed by a company of grim reapers in the underworld to carry out special missions.
The supernatural Korean drama show features stars Kim Hee-seon, Rowoon, and Lee Soo-hyuk in lead roles.
Release Date: April 5
Ronny Chieng shares his rage at online critics, gratitude for nerds, bewilderment with irrational skeptics, and unique cure for racism in this special. The show will stream on digital giant Netflix on April 5.
Release Date: April 6
A policewoman makes her ex-boyfriend an offer he can't refuse: Either he infiltrates and informs on a gang of hooligans, or his brother goes to jail. After making its initial theatrical release, the movie will mark the digital front on April 6.
6. Jimmy Savile: A British Horror Story
Release Date: April 6
Jimmy Savile was one of the United Kingdom's most beloved TV personalities. Shortly after his death in 2011, an investigation prompted more than 450 horrific allegations of sexual assault and abuse, with victims as young as 5. The documentary examines, through extensive archive footage, the evil within Jimmy and delves into how he managed to fool an entire nation for four decades.
Release Date: April 6
Elon Musk and SpaceX engineers embark on a historic mission to return NASA astronauts to the International Space Station and revolutionize space travel. The much-awaited documentary is all set to stream online on April 7.
8. Senzo: Murder of a Soccer Star
Release Date: April 7
Soccer player Senzo Meyiwa was a national hero before his killing shocked South Africa. Who did it, and why? This docuseries dives into the evidence. The docuseries will stream on April 7 on Netflix.
Release Date: April 8
In 1980s Amsterdam, an enterprising college student stumbles into a new career at a phone sex line started by two wildly different brothers. The series stars Joy Delima, Minne Koole, and Chris Peters in lead roles.
Release Date: April 8
When three working-class teens enroll in an exclusive private school in Spain, the clash between them and the wealthy students leads to murder. The series features Itzan Escamilla, Miguel Bernardeau, and Danna Paola in lead roles.
Release Date: April 9
Three siblings, exhausted by the monotony of day-to-day adulthood, seek to find fulfillment and freedom from their unremarkable lives. Created by Kim Sok-yun and Park Hae-young, the kdrama features Lee Min-ki, Kim Ji-won, and Son Suk-ku.