Netflix Releases in February 2022: Latest OTT web series, TV shows and Movies to watch (Trailers)
The investigators behind infamous serial killer cases reveal the chilling details of their extraordinary efforts in this true-crime series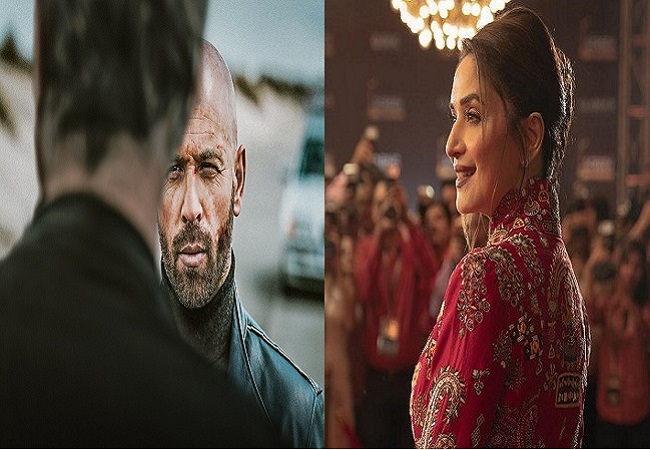 New Delhi: As the first month of the year 2022 is over, wherein the OTT giant Netflix had 'Chandigarh Kare Aashiqui' and 'Yeh Kaali Kaali Akhein' in its kitty especially for its Indian viewers.
As we are here in the Valentine month of the year, exciting news of a collaboration between filmmakers Raj Nidimoru and Krishna D.K. better known as Raj and DK, with streaming service Netflix has come across.
Creators of the popular Indian spy drama series 'The Family Man', are all set to come up with another crime drama titled 'Guns & Gulaabs'.
Meanwhile, here we have brought to you all that Netflix has to offer to you in February 2022.
Movies, shows arriving from Feb 21 – 28:
1. Don't Kill Me
Release Date: February 16
After Mirta dies of a drug overdose with her lover, she resuscitates alone and discovers she's part of a violent world she never knew existed. The teen movie features Alice Pagani, Rocco Fasano, and Silvia Calderoni in the lead roles.
2. Cat Burglar
Release Date: February 22
In this edgy, over-the-top, interactive trivia toon, answer correctly to help Rowdy the Cat evade Peanut the Security Pup to steal some prized paintings. Created by Charlie Brooker, the animated movie features Alan Lee, James Adomian, and Trevor Devall in the lead roles.
3. Race: Bubba Wallace
Release Date: February 22
This docuseries follows Bubba Wallace, the only Black driver currently in NASCAR's Cup Series, as he uses his voice and talent to change the sport. The series explores his professional and personal life, showcasing his spirit and hardships all through his way to success.
4. The Fame Game
Release Date: February 25
When India's most famous actress goes missing, the search for her chips away at the flawless facade of her life and family, revealing painful truths. Created by Sri Rao, the suspense drama features Madhuri Dixit, Sanjay Kapoor, and Manav Kaul in the lead role.
5. Juvenile Justice (Season 1) 
Release Date: February 25
A tough judge balances her aversion to minor offenders with firm beliefs on justice and punishment as she tackles complex cases inside a juvenile court. Created by Hong Jong-chan and Kim Min-suk, the crime drama features Kim Hye-soo, Kim Moo-yeol, and Lee Sung-min in the lead role.
6. Restless
Release Date: February 25
After going to extremes to cover up an accident, a corrupt cop's life spirals out of control when he starts receiving threats from a mysterious witness. The movie stars Franck Gastambide, Simon Abkarian, and Michaël Abiteboul in the lead roles.
7. Vikings: Valhalla
Release Date: February 25
In this sequel to "Vikings," a hundred years have passed and a new generation of legendary heroes arises to forge its own destiny — and make history. The much awaited movie features Sam Corlett, Leo Suter, and Frida Gustavsson in the lead roles.
8. Business Proposal
Release Date: February 25
In disguise as her friend, Ha-ri shows up to a blind date to scare him away. But plans go awry when he turns out to be her CEO — and makes a proposal. The K-drama features Ahn Hyo-seop, Kim Se-jeong, and Kim Min-gue in pivotal roles.
Movies, shows arriving from Feb 11 – 20: 
1. Inventing Anna
Release Date: February 11
Audacious entrepreneur or con artist? A journalist chases down the story of Anna Delvey, who convinced New York's elite she was a German heiress. Created by Shonda Rhimes, the limited series features Anna Chlumsky, Julia Garner, and Arian Moayed in the lead roles.
2. Anne+: The Film
Release Date: February 11
Under pressure to finish her novel and move to Montreal for her relationship, a queer 20-something in Amsterdam searches for what she wants in life. The movie features Hanna van Vliet, Jouman Fattal, and Thorn de Vries in the lead roles.
3. Devotion, a Story of Love and Desire
Release Date: February 14
A seemingly happy marriage begins to dissolve when the husband's faithfulness is called into question, and both spouses become tempted by other desires. The movie stars Michele Riondino, Lucrezia Guidone, and Carolina Sala.
4. Fishbowl Wives
Release Date: February 14
In a luxury apartment tower, six different women in unhappy marriages end up crossing the line into infidelity. Based on the manga series by Kurosawa R.
5. jeen-yuhs: A Kanye Trilogy
Release Date: February 16
The lives of an emerging superstar and a filmmaker intertwine in this intense, intimate docuseries charting Kanye West's career, filmed over two decades. The docuseries stares rapper Kanye West aka Ye in the lead role.
6. Fistful of Vengeance
Release Date: February 17
A revenge mission becomes a fight to save the world from an ancient threat when superpowered assassin Kai tracks a killer to Bangkok. The fantasy series features Iko Uwais, Lewis Tan, and Lawrence Kao in the lead roles.
7. The Texas Chainsaw Massacre
Release Date: February 18
In this sequel, influencers looking to breathe new life into a Texas ghost town encounter Leatherface, an infamous killer who wears a mask of human skin. The movie features Sarah Yarkin, Elsie Fisher, and Mark Burnham in the lead roles.
New arrivals from Feb 1 – 10:
1. My Best Friend Anne Frank
Release Date: February 1
Based on the real-life friendship between Anne Frank and Hannah Goslar, from Nazi-occupied Amsterdam to their harrowing reunion in a concentration camp. The film stars Josephine Arendsen, Aiko Mila Beemsterboer, and Roeland Fernhout among others.
2. Raising Dion (Season 2)
Release Date: February 1
A widowed mom sets out to solve the mystery surrounding her young son's emerging superpowers while keeping his extraordinary gifts under wraps. Created by Carol Barbee, the series features Alisha Wainwright, Ja'Siah Young, and Jason Ritter.
3. Dark Desire (Season 2)
Release Date: February 2
Married Alma spends a fateful weekend away from home that ignites passion, ends in tragedy and leads her to question the truth about those close to her.
4. MeatEater (Season 10, Part 2)
Release Date: February 2
Hunter, author, cook and conservationist Steven Rinella treks into the world's most remote, beautiful regions, bringing game meat from field to table. The docuseries features Steven Rinella in the lead role.
5. The Tinder Swindler
Release Date: February 2
Posing as a wealthy, jet-setting diamond mogul, he wooed women online then conned them out of millions of dollars. Now some victims plan for payback. The docuseries is based on the real interviews of the victim of a global conspiracy.
6. Finding Ola
Release Date: February 3
After a life-altering event, Ola embarks on a journey of self-discovery while dealing with the challenges of raising two children and making ends meet. The show features Hend Sabry, Hany Adel, and Sawsan Badr among others.
7. Murderville
Release Date: February 3
Eccentric detective Terry Seattle teams up with clueless celebrity guest stars to investigate a series of murders in this improvisational crime comedy. The TV mystery series features Will Arnett, Haneefah Wood, and Lilan Bowden among others.
8. Looop Lapeta
Release Date: February 4
When her boyfriend loses a mobster's cash, Savi races against the clock to save the day — if only she can break out of a curious cycle of dead ends. The Hindi adaptation of hit Russian film 'Run Lola Run' features Taapsee Pannu, Tahir Raj Bhasin, and Shreya Dhanwanthary among others.
9. Sweet Magnolias
Release Date: February 4
Lifelong friends Maddie, Helen and Dana Sue lift each other up as they juggle relationships, family and careers in the small, Southern town of Serenity. The US TV show features JoAnna Garcia Swisher, Brooke Elliott, and Heather Headley among others.
10. Through My Window
Release Date: February 4
Raquel's longtime crush on her next-door neighbor turns into something more when he starts developing feelings for her, despite his family's objections.
11. Child of Kamiari Month
Release Date: February 8
A year after losing her mother, a young girl learns that she must journey across Japan to the annual gathering of gods in the sacred land of Izumo. The Japanese anime was released in theatres last year and is now all set to stream online.
12. Catching Killers (Season 2)
Release Date: February 9
The investigators behind infamous serial killer cases reveal the harrowing, chilling details of their extraordinary efforts in this true-crime series.
13. The Privilege
Release Date: February 9
A wealthy teen and his friends attending an elite private school uncover a dark conspiracy while looking into a series of strange supernatural events.
14. Until Life Do Us Part
Release Date: February 10
Three generations of a family living together in an idyllic villa juggle the demands of their wedding planning business and their own personal crises.