OTT releases: Horror comedy to espionage tales, know all that is lined up this week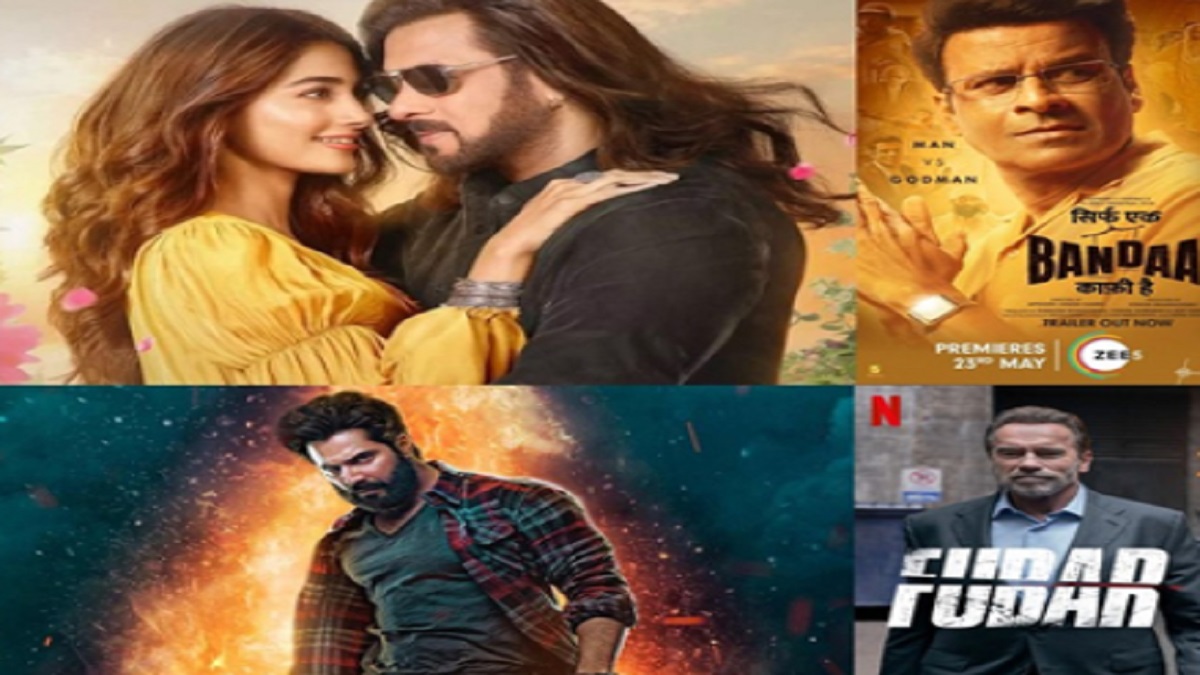 New Delhi: As we head towards the last week of May 2023, a range of web series are slated to hit the OTT platforms ranging from Bhediya to Sirf Ek Bandaa Kaffi hai to English series The Kadarshians Season 3.
These web series cater to various different genres ranging from courtroom drama to horror comedy to espionage cases, therefore offering viewers a wide range of movie-watching experience.
Manoj Bajpayee starrer Sir Ek Bandaa Kaafi Hai is gaining much attention while Varun Dhawan & Kirti Sanon starre Bhediya will be available for consumption from this week.
1) Sirf Ek Bandaa Kaafi Hai – Zee 5 (May 23)
The movie portrays the story of a lawyer PC Solanki, essayed by Manoj Bajpayee, whose doggedly pursues the case of a sexually abused minor girl against a self-styled godman.
The movie is about the struggles & travails of a lawyer in seeking justice for the minor girl who was violated by the influential godman. It takes the lawyer 5 years to get justice and in that period he has to go through many grueling phases. The web series captures this difficult phase of lawyer & his client and how the duo continue to struggle for truth and finally get justice at end.
2) Bhediya – Jio Cinema (May 26)
This is one of the Bollywood big movies starring Varun Dhawan & Kriti Sanon, though it couldn't well at the Box Office. The horror-comedy fillm also stars Deepak Dobriyal and Abhishek Banerjee in supporting roles.
The movie is about the story of a person who transforms into a wolf in a bid to save his love interest from supernatural power.
3) Alice, Darling — LionsGate Play (May 26)
Alice, Darling is the story of Alice who goes on vacation with two of her besties. Alice's two friends wanted her to maintain distance with her love interest during this period but to their amazement, the relationship looked more strange than ever.
The movie stars Anna Kendrick, Wunmi Mosaku, Kaniehtiio Horn and Charlie Carrick
4) The Kadarshians Season 3 – Disney + (May 25)
This is an English web series and based on some reality drama, starring Kris Jenner, Kim Kardashian, Kourtney Kardashian, Khloé Kardashian, Kendall Jenner and Kylie Jenner. The movie shows their daily struggles of handling motherhood, co-parenting & creating their own paradise.
Crackdown Season 2 – Jio Cinema (May 25)
The Crackdown Season 2 is a continuation of the much-liked web series, starring Saqib Saleem, Mohammed Iqbal Khan and Shriya Pilgaonkar.
The series is about espionage and is filled with some action-packed experiences. In the web series, one could see star cast conducting covert operations and overcoming heaps of challenges.