SRK's Pathaan Vs Gandhi Godse: Which film will captivate cinebuffs, what people are saying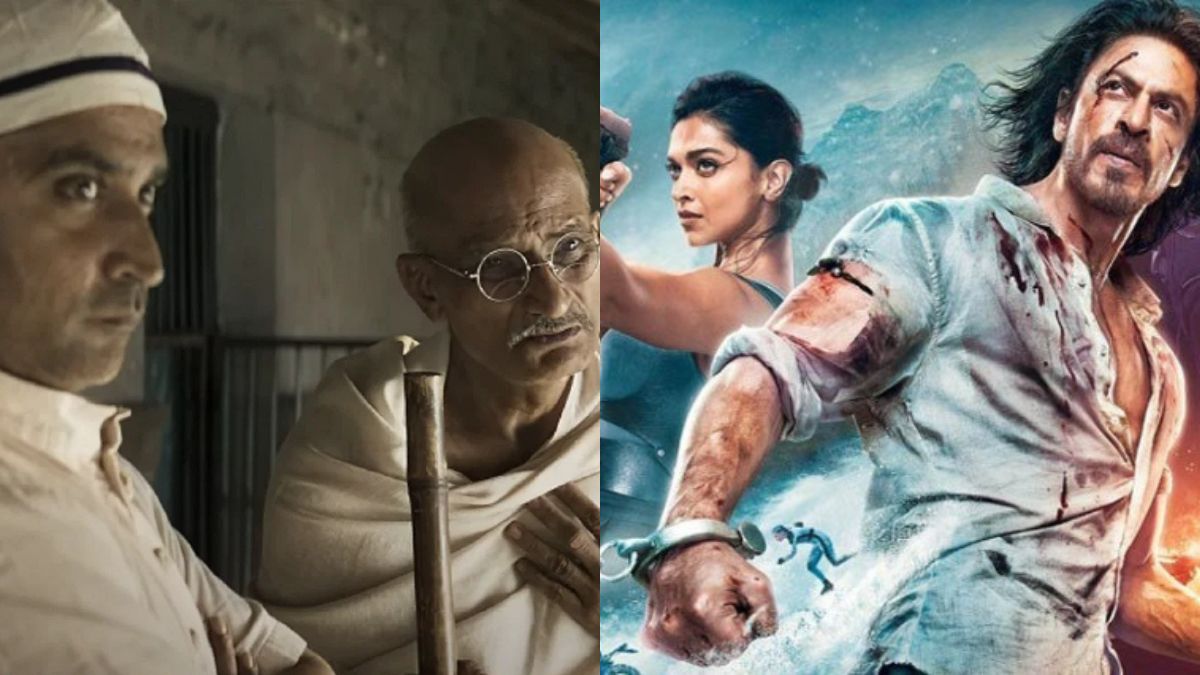 New Delhi: It is very rare that we see an unconventional small-budget movie daring to clash with Mega starrers at the box office, especially when that Mega Star is Shahrukh Khan who is making the most anticipated comeback in an action role.
But hey let's not underestimate Rajkumar Santoshi's Gandhi-Godse Ek Yudh, which already has built hype on the internet since its trailer release.
On the other hand, Pathaan promises exciting action thriller sequences and a tried and tested harmless storyline.
The crux of this clash would be the conflicting plot of both movies, despite both promoting the apparent idea of patriotism.
But one thing is for sure, that both movies have their fair share of controversies. So which movie will sway the hearts of cinephiles? Well, we are going to make some predictions ahead on the basis of Pathaan and Gandhi Godse Ek Yudh's trailer.
So, let's dive in each one by one
Pathaan
Pathaan's trailer was being widely anticipated after the movie's songs took the Internet by storm. So, when the trailer got finally released on 10th January, Netizens went gaga shortly.
Packed with prolific stars like Deepika Padukone, John Abraham and obviously the King Khan of Bollywood, Pathaan's trailer has already garnered 1.2 million likes on YouTube.
Bite-size clips from the trailer are already trending on Twitter along with 'first-day first show' which indicates that theatres are going to be jam-packed on 25th January.
#Pathaan Climax Scene Goosebumps Guaranteed ? pic.twitter.com/yWm9IWdf1r

— ˢʰⁱᵛ (@salmandairy) January 13, 2023
From the trailer, we can say that Pathaan will have you on the edge of your seat with CGI heavy-duty action scenes and galvanizing sound effects.
Fans are in awe of Shahrukh Khan's dialogue delivery and body language.
SRK's body language and dialogue delivery in the #Pathaan trailer is getting a lot of appreciation ?

He elevated normal dialogues and made them sound powerful and iconic. I missed SRK the actor so much. He's better than the best! pic.twitter.com/ExYDAVqTdZ

— Gurdeep ⚡️ ᴾᴬᵀᴴᴬᴬᴺ (@ayewaqtrukjaa) January 12, 2023
Riding the south India wave, Pathaan will be released simultaneously in Telugu, Tamil, and Hindi. Team Pathaan is making full efforts to take the movie to every corner of the country.
Glad to see #Pathaan poster in a small town in Andhra Pradesh. @yrf is promoting #Pathaan at every corner of the country ❤️?

Good job team ?? pic.twitter.com/8dcyHAPtph

— Satish Srkian (@iamsatish__) January 13, 2023
Just as the trailer took off, fans started making speculations about Deepika Padukone's mysterious character on the screen.
Blonde Deepika is a vibe>>>#DeepikaPadukone #Pathaan #PathaanTrailer pic.twitter.com/iIQkC1xij4

— Carpe Diem?? (@CarpeDiem5523) January 10, 2023
Gandhi Godse Ek Yudh
From the looks of its trailer, Gandhi Gadse appears to be following in the footsteps of Vivek Agnihotri's superhit The Kashmir Files.
The movie's director Rajkumar Santoshi has taken a 180° turn with Gandhi Godse as his last movie was an action comedy Phata Poster Nikala Hero.
As per the trailer, the movie seems to be set back in 1947 and years afterward the turmoil of partition. The movie has some very heavy political overtones that seem to line with the idea of communalism with the premise of Gandhi surviving Godse's assassination event.
With such an engaging plot, the trailer was received well so far with many fans saying they are waiting impatiently for the movie. Some say that the movie will give tough competition to Pathaan.
The trailer is looking too good. it's going to be tough for #Pathaan to standout? https://t.co/p5GGbSD0pq

— Mohit ? (@_Mukhtaliff_) January 11, 2023
Literally had goosebumps while watching this. It's time to learn about both side of story. #GandhiGodseEkYudh pic.twitter.com/PRegdyqjxs

— जिज्ञासा (@imcurious__) January 12, 2023
Godse's fanbase really rejoiced about this movie as they felt like their point of view is finally being presented.
Time to learn about Godse's side of story now!! #GandhiGodseEkYudh#BoycottPathaan #BoycottBollywood #BoycottbollywoodCompletely pic.twitter.com/OUd5fcONH2

— Hindutva Swag? (@Hindutva_Swag) January 11, 2023
The filmmakers have claimed that it sympathizes with both Godse and Gandhi.