Suriya's 'Jai Bhim' features on Oscars' YouTube channel, fans call it 'proud moment'
Earlier, 'Jai Bhim' also entered the Golden Globes 2022 as a nomination under the category of Best Non-English Language Film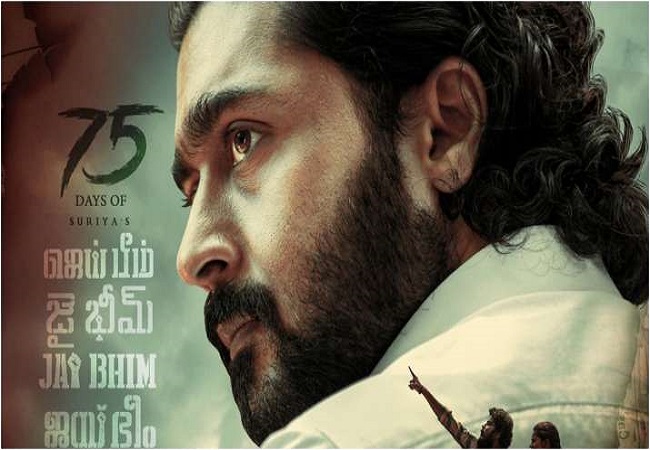 New Delhi: It has been three months since Suriya's 'Jai Bhim' had released, and still making headlines for one reason or another.
The latest news is that a scene from the film along with the director's story narrative has been featured on the official YouTube channel of the Oscars. Directed by TJ Gnanavel, 'Jai Bhim' is a hard-hitting courtroom drama about the fight for the oppressed and caste-based discrimination.
The film features Suriya in the role of real-life lawyer Chandru, who dedicated his life fighting for the oppressed without charging a single penny.
And in the Oscars' video, Gnanavel can be seen discussing how the story narrative was formed and executed.
After seeing a glimpse of Suriya's movie in the Oscars' video, fans took to social media to express their happiness:
Thank you @Suriya_offl sir for making all of us proud! Jai Bhim is hands down one of the best films in recent times. And #TGGnanavel sir, take a bow! 🙏🏼🙏🏼🙏🏼 #SceneAtTheAcademy #jaibhim pic.twitter.com/3Sf5GF7GAF

— Ajesh (@ajesh_ashok) January 18, 2022
Yet another feather in the hat for @Suriya_offl's #JaiBhim as it becomes the FIRST Indian film to be featured in Oscars YouTube channel. pic.twitter.com/ATx3q7R5Ox

— Manobala Vijayabalan (@ManobalaV) January 18, 2022
Film clippings with director @tjgnan interview featured on @TheAcademy's official youtube channel –

— Ramesh Bala (@rameshlaus) January 18, 2022
Pride of Indian Cinema @Suriya_offl #JaiBhim 🇮🇳 pic.twitter.com/3rSUL2wvRa

— Hansraj Meena (@HansrajMeena) January 18, 2022
Wow 😲😭 #JaiBhim Best movie off 2021 Vera level @Suriya_offl Sir 👏👏👏 #ET #Valimai pic.twitter.com/JrLZNNgvYo

— Valimai Arun 💙 (@ValimaiArun) January 15, 2022
#JaiBhim reviews in Japanese 😮 💥
The whole world is making an impact .. @Suriya_offl pic.twitter.com/J2wPtSlpn8

— தூரிகா (@thooriga_shaji) January 15, 2022
#JaiBhim storm continues. As usual getting recognized worldwide as always! @Suriya_offl making International standard films and making Cinema industry proud each time 🔥#EtharkkumThunindhavan @tjgnan pic.twitter.com/kXIHijB8Qb

— Get Suriyafied (@Get_Suriyafied) January 18, 2022
For the unversed, 'Jai Bhim' also entered the Golden Globes 2022 as a nomination under the category of Best Non-English Language Film.